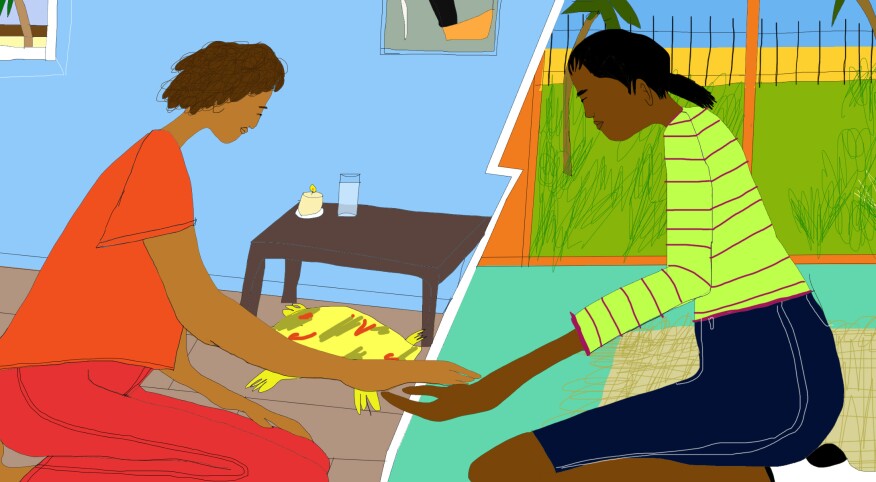 When I met my partner T, I was enjoying being single and my second year of celibacy. I was reveling in solitude; she was in need of human connection. We met somewhere in the middle, but more than two and a half years in, we are still 1,800 miles apart.

I'm from the Bahamas, spending most of my time here, but we'd met at a conference in St. Lucia and she lives in Guyana. I became single at the start of 2015, after a four-year relationship. We'd lived together, worked together and had a lot of the same friends, so I felt the need to be intentionally single. I wanted to enjoy my own company and discover changes I may have missed. I didn't want to have sexual relationships with anyone for at least a year.

By the second year, I had fully embraced solitude, which I have defaulted to since childhood, and the process of learning, unlearning and becoming more authentically myself. Throughout the conference, T was plainspoken, honest and caring, always prepared to do what she could to make things easier for people. I didn't expect to ever enter a relationship again, but I met T and decided to explore the possibilities.

I've always visited her because my schedule is generally flexible. Inter-Caribbean travel is expensive and Guyana has a much lower cost of living, so we've agreed it's more cost-effective for me to go there.

This is the way I am. Practical. Realistic. Financially responsible.

She's said it often feels like I have no emotions. She wants things to feel good. I want things to make sense. We're in a "committed, monogamous relationship," which we often say to each other. For us, it's been more than a label. It's the responsibility to hold each other up.

It's been more than a year since we last saw each other. We usually see each other two to three times per year including two weeks during the holiday season and two to three months during the summer. Outside of visits, we rely on WhatsApp for communication, and she still wants more romance and togetherness, and I still, quite honestly, enjoy time away.

In the summer of 2019, I stayed in the Bahamas to conduct research. We agreed that I'd visit her in October, but in September two islands in the Bahamas were devastated by Hurricane Dorian and she suggested I stay, knowing I was coordinating relief efforts. I thought we'd spend the holidays together, but she visited her mother. We settled on this May, but COVID-19 invaded.

Being long distance isn't ideal now, and there's no telling when we'll see each other again. I believe it is irresponsible to travel right now and don't plan to leave the country any time soon.

During this time of uncertainty, I have enjoyed having time to myself. I don't think I would be as calm, organized and healthy if I had to debrief daily. I wouldn't — the relationship wouldn't — survive the prolonged proximity curfews impose on people who live together. I've been saved by solitude, silence, routine and thinking less about what I need to do or say for anyone else. I'm embracing selfishness, recognizing it as a way I intentionally, unapologetically care for myself. But while I don't want to lose myself, I do need to be empathetic to my partner.

I have never been good at depending on anyone else or sharing my burdens. I power through whatever comes my way; she reminds me that I don't have to. She takes pride in being able to help. My inflexibility can be disempowering to the person who wants to love me the best way she can.

I want to be with her, enjoying her company, traveling and embarking on shared projects, but I struggle to figure out how. I've learned that every relationship does not last forever. I don't care as much about the longevity as I do about the quality. Better to respect the integrity of something good than to wait for it to go bad and be left with the bitter taste. When this no longer serves us, we will need to let it go. It would be the loss of a significant investment of time and money, as well as a future we have been trying to imagine for ourselves.

Now, in the midst of this pandemic, I realize she isn't asking for much. I can make room for her, just like she fills space I leave empty. I'm learning to reserve time and energy. I don't fill my days with calls and leave the exhausted version of myself for her. I try to let her take care of me. When she offers to order dinner for me, I don't refuse. I resist the urge to remind her about her bills or mention what I've already prepared. I keep the "sense" for myself and accept the romance. I let her feed me. She appreciates the effort and has told me that she feels more connected when she can make small everyday things happen that she would take care of if we were in the same place.

This is love — for me, for her, for us — without compromise. It's a journey that is teaching me that I can be alone and enjoy it without being my own island. Maybe, eventually, we can both be on the same one.