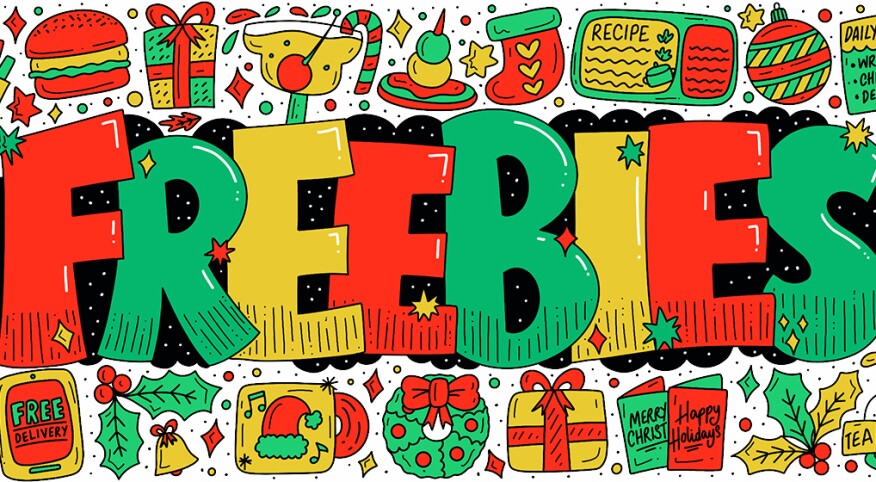 With price increases on just about everything these days, we could all use a little more "free" in our lives. Here are 10 freebies you can grab this holiday season.


Free Peppermint Chip Milkshake and Holiday Short Film — Chick-fil-A

Enjoy some holiday entertainment and a specialty drink for you and a friend. First, head over to EvergreenHills.com to view an animated short film (perfect for watching with the little ones in your life). Once the movie is over, play a brief interactive game, and you'll get two coupons in the mail for a Peppermint Chip milkshake.


12 Days of Deals — McDonald's

Count down the days to Christmas with Mariah Carey and McDonald's. The fast-food chain is offering some of the singer's favorite menu items for free from Dec. 13-24. You'll need to make a $1 minimum purchase with the McDonald's app to score the freebies.


Free Coffee

Many coffee chains and convenience stores are offering free coffee deals throughout the season:

Wawa: Free Coffee Tuesdays for Wawa Reward Members through the end of the year
Panera: New MyPanera+ subscribers get free unlimited iced or hot coffee and hot tea through Dec. 31.
Sheetz: My Sheetz Rewardz cardholders get a free coffee through the app every week in December.
Plus, if you're out and about on Christmas Day, stop by any Cumberland Farms, Fastrac, Quik Stop or Turkey Hill location for a free hot or iced coffee.


Free Food Delivery

When the busyness of the season calls for ordering in, take advantage of free delivery. McAlister's is offering free delivery on Saturdays through Jan. 1 (except on Christmas Day) when you order online or through the app. And Schlotzsky's is offering free delivery on weekends through Dec. 26 (excluding Christmas Day) when you order online or via the app.


Free Holiday Recipe Inspiration — Smithsonian

Tune in to the Smithsonian's Instagram Live (@smithsonianNPG) on Dec. 15, from 5-6 p.m., for holiday cocktail and appetizer recipes inspired by Leah Chase, the Queen of Creole Cuisine.


Free Holiday Music — Pandora

Music streaming service Pandora is celebrating the season with over 60 holiday stations. Listen to your favorite holiday tunes and discover new ones from stations like Soulful Holidays, Gospel Christmas and Kwanzaa Celebration — perfect for relaxing at home, on the go or entertaining.


Free Holiday Workshops — Home Depot

Check out a variety of DIY holiday workshops you can access online at any time. Learn how to make a holiday wreath, advent calendar, tree-shaped charcuterie board and more. Or discover creative wrapping paper alternatives. While you're there, also explore the chain's free seasonal how-to guides.


Free Holiday Entertainment
Find tons of free holiday performances and events online and near you. Head to eventbrite.com and narrow your search to "free" or "online" or do a Google search for your town or city plus "free events."

Free Greeting Cards — American Greetings

Take advantage of American Greetings' 7-day free trial membership and send out printable or digital holiday cards for free.


Free Holiday Planning Resources — Day Designer

Get organized for the season with Day Designer's free printable library. Access downloadable planning worksheets, including a holiday menu planner, bucket list and prep list.