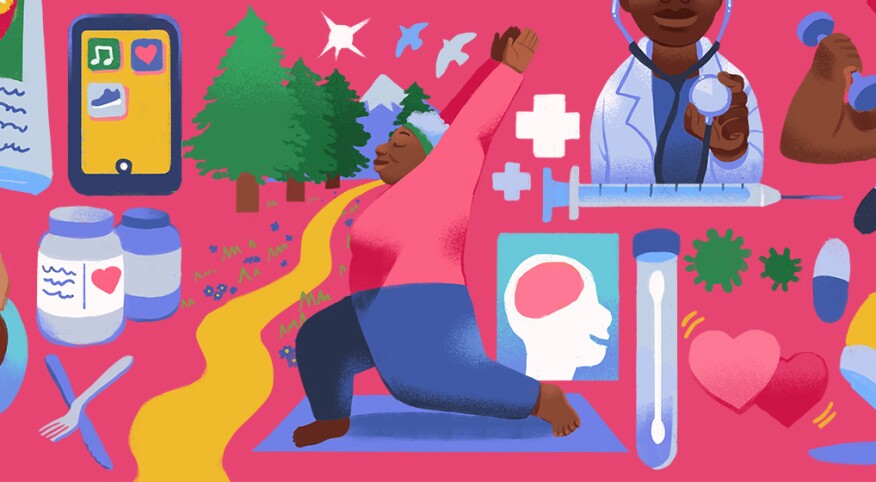 It takes sustained habits to stay fit and healthy. It takes daily affirmation that we are worth it. It takes showing up for ourselves. Often, it takes a bit of cash. Fortunately, there are many free resources and freebies to help ease the cost of healthy living — and Sisters knows where to find then. Consider ways that you might level up and enjoy your wellness journey with these free goodies. (Tip: Always check with the organization or retailer that an offer remains valid, and know what the terms and conditions are.)


Free gym passes. Many fitness chains give out complimentary passes or trial memberships so you can "try before you buy." For example, Anytime Fitness, Crunch, Gold's Gym, Planet Fitness, LA Fitness and 24 Hour Fitness all offer free passes ranging from one day to one week. Also, your local YMCA or independent gym may offer complimentary passes.
Free yoga classes at Lululemon. Attend free in-store yoga classes at participating locations, or access a library of online videos ranging from beginner level to advanced. You can also find free local community classes on Eventbrite or Meetup.
Fitness apps. Explore a wide range of workouts through free fitness apps like Nike Training Club, Adidas Runtastic, Map My Fitness by Under Armour and Yoga for Beginners. Create your own home gym experience by casting the apps from your phone to your TV or accessing them on your smart TV or streaming device.
Running guides. Always wanted to run a 5K? Lululemon has free downloadable training guides for runs ranging from 5K to a full marathon. Also, apps like Asics Runkeeper, Nike Run Club and Map My Run by Under Armour can help you track your walks and runs, and provide coaching, running plans and additional resources.
Workout playlists. Bring some extra energy into your workouts with the right beats. Check out our curated playlists, or browse the numerous exercise playlists available on Spotify, Pandora or iHeartRadio.
Free national park admission. Take in some fresh air at your nearest national park. ​​The National Park Service has a free entrance day on November 11, Veterans Day. All sites that typically charge admission will waive the fee for all visitors.
Free fitness challenge. Add variety to your exercise routine by participating in Walgreens' four-week health challenges. Not only are they free, but you can also earn Walgreens Cash rewards. First, you must become a myWalgreens member, which you can do for free.
Prescriptions. You may be able to get free medications from your local supermarket or pharmacy. Grocery store chains like Meijer and Price Chopper provide select drugs for free regardless of your insurance coverage or copay.
Dietitian services. Many supermarkets offer healthy eating and lifestyle advice from registered dietitians at no charge. Resources vary by the supermarket chain but can include individual consultations, in-store events, webinars, meal planning and online videos.
Diabetes resources. Price Chopper's Diabetes AdvantEdge Program provides customers with free diabetes resources and supplies, including a blood glucose meter and medication. Also, November is National Diabetes Month, so look for an abundance of resources throughout the month. Supermarket chain Stop & Shop is offering a complimentary diabetes education series that includes three online webinars, a nutrition consultation with a registered dietitian, a medication review with a pharmacist and a downloadable resource guide.
Meal plans and recipes. Your local grocery store is an excellent source for healthy meal plans and recipes, in addition to websites and blogs. Browse your supermarket's website, or stop by customer service, where you may find printed recipes, healthy-lifestyle magazines and other resources.
Free health screenings. Some pharmacy chains offer complimentary health screenings. For example, Project Health, available at select CVS store locations and mobile units, provides free blood pressure, glucose and cholesterol screenings. The program also offers free counseling for smoking cessation. Check out the pharmacy at your supermarket; many, like Meijer and Price Chopper, have complimentary blood pressure screenings and other tests.
Free COVID tests. The free at-home COVID test program administered through COVID.gov is currently on hold, but you can still get free in-person tests at many pharmacies and testing sites, even if uninsured. Find a testing site near you.
Flu shot freebies. Get rewarded for receiving your flu shot this season. Kroger is offering a $5 coupon when customers get their flu vaccination by November 5, and CVS is offering $5 off a purchase of $20 or more.
Heart health resources. Stay heart-healthy with a wealth of free resources from the American Heart Association. The organization's Life's Essential 8 checklist and My Life Check are great tools to assess your heart health and make improvements.
Free health and wellness samples. Browse free product samples on the freebie site FreeFlys, or go directly to your favorite companies' websites to see if they're offering samples. Current samples include Truvia, Medcoat Pill Coating and Ensure Life.
Free brain health resource library. Learn how what you eat, what you listen to, how you sleep and even the company you keep can support resilient and healthy cognitive, memory, behavioral and emotional functions. AARP's Global Council on Brain Health offers dozens of resources to help you enjoy mental well-being. Check them out here.
Nutrition apps. Record your meals, count calories and get nutrition advice with free apps like Lose It!, MyFitnessPal, MyPlate Calorie Counter and Start Simple with MyPlate.
Fitness support. AARP Online Fitness Powered by LIFT session features free live and prerecorded expert webinars on a wide selection of topics, including healthy living, nutrition, fitness, sleep and more. Webinars are presented by a diverse team of health professionals, from nutritionists to fitness instructors, and hosted by LIFT session, a digital fitness and wellness platform for companies, fitness clubs and wellness providers around the world. Webinars are available to all and do not require a subscription.
Free health courses. Explore just about any health or fitness topic you can think of on free course platforms like Coursera, edX and Udemy. Current offerings include Nutrition, Heart Disease and Diabetes; Managing Your Health: The Role of Physical Therapy and Exercise; The Science of Well-Being; and Plant-Based Diet to Reverse Health Damage.