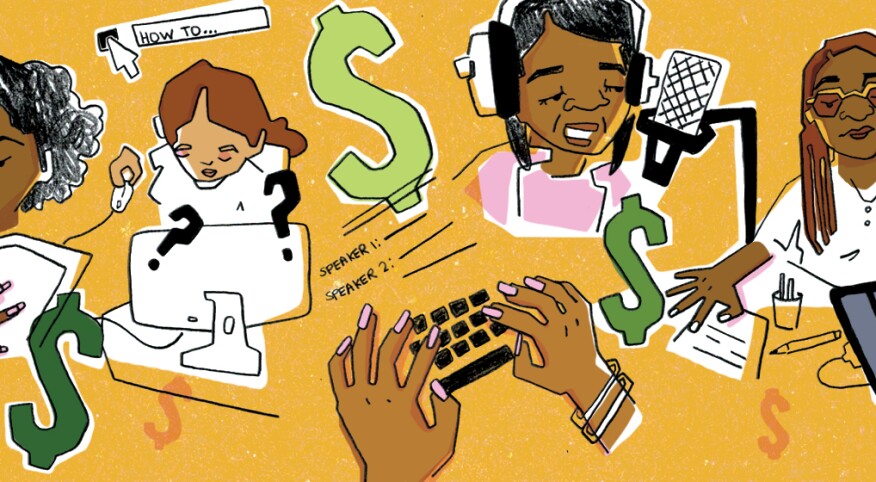 I'm always down to try a new side hustle. But if it entails gabbing with a ton of people or trying to strong-arm someone into buying my product, I'll pass. As an introvert, I prefer gigs that let me unleash my creativity and showcase my talents in my own time and personal space. If I can do it without interacting with anyone at all — even better.

The good news is you don't have to be a people person to make some extra money. If you're an introvert like me, consider these five hustles that won't leave you feeling drained.


Transcriptionist

While sitting through meetings may be one of the last things an introvert wants to do, transcribing one isn't so bad. In fact, a side hustle transcribing speeches, conversations or interviews can bring in a steady amount of cash. To be a good transcriber, you simply need the ability to listen to conversations and type efficiently.

Transcription services typically pay a set amount per minute or hour of audio transcribed. For example, Rev.com pays between $0.30-$1.10 per audio minute, Scribie.com pays between $5-$25 per audio hour and Transcribeme.com pays between $15-$22 per audio hour. The faster you type, the more you can make. According to transcription service Rev.com, top earners can bring in $1,495 per month, while top earners at Transcribeme.com bring in more than $2,000 per month.

You can work faster and earn more by improving your typing skills at sites such as SpeedTypingOnline.com and TypingTest.com.


Book reviewer

If your idea of a good time is a cup of hot chocolate and a book, consider a side hustle as a book reviewer. Your job would be to read the book, then provide an assessment that helps other readers determine if the book is worth their time.

The fees can be modest. For example, OnlineBookClub.org pays between $5-$60 per review and Booklistonline.com pays $15 for a review of about 150 to 175 words. However, if you enjoy reading books and you can review the types of books that you naturally gravitate to, you can technically get paid for engaging in a hobby.

Other book review sites include BookBrowse.com, KirkusReviews.com and TheUSReview.com.


Voice-over artist

Just because you don't want to talk to people all day doesn't mean you wouldn't enjoy a side hustle that allows you to use your voice. If you think your voice has a nice tone, you might make some extra dollars by working as a voice-over artist.

Every time you listen to an audiobook or hear a narrator explaining something on a video, you're benefiting from the skills of voice-over artists. Such talent is also needed for artistic products like commercials, video games, animated films and computer programs.

The average rate for voice-over projects is $33 per hour, according to ZipRecruiter. You can set your own rates for projects at sites such as Voices.com and Fiverr.com.


Online expert

How would you like to get paid for answering people's questions about something you are already knowledgeable about? That's the premise behind a few expert sites that pay to pick your brain. Typically, you work during your free time and select questions submitted from Internet users and write down a response.

JustAnswer.com features experts in such topics as wellness, finance and home improvement. The site claims experts can earn between $2,000-$7,000 per month.

Another site, PrestoExperts.com, lets you set your own fees to provide advice to Internet users on topics such as shopping, design and social media.

StudyPool.com is slightly different, letting you make money helping students answer homework questions. Your job isn't to do the work for them but to help them understand their lessons by explaining the concepts the question is designed to teach. You set your own rates, and if you choose, you can also offer video tutoring sessions through the site.


Graphic designer

If you're artistic and enjoy working alone, a side hustle as a graphic designer can earn you, on average, $19 per hour, according to Indeed. Sure, you will have to interact with clients a little bit to find out what they need, but for the most part you can work independently on such projects as brochures, web sites, logos, book covers and flyers. You can offer your services on such sites as Upwork.com and CreativeMarket.com.

You don't have to be a skilled schmoozer to pad your pockets with cash each month. Be empowered by finding a gig that leverages your strengths and your personality style.