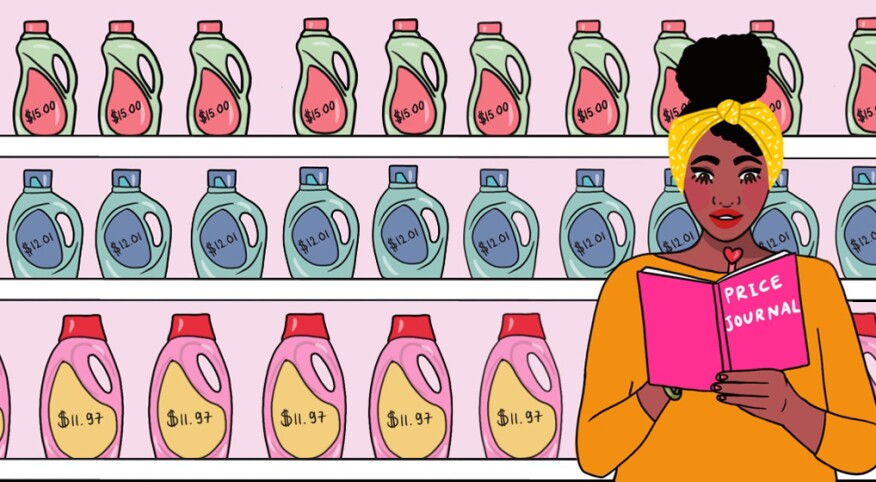 How does significantly cutting your grocery bill or getting $200 off the price of a new kitchen appliance sound? Spending less on what we buy means more money in our pockets to save, invest, pay off debt and play! Whether you're shopping online or in-person, whether you're buying groceries or appliances, there are multiple ways to save money on the things you purchase. In addition to keeping an eye on sales, the savviest shoppers take advantage of tools, store policies and strategies to maximize their spending dollars. I know they work because my frugal friends and I use them all the time.

Incorporate these tips into your shopping routine to get lower prices on your purchases

Leverage price-matching

Many retailers, including Target, Home Depot and Nordstrom, to name a few, have price-matching policies. This means they will honor a competitor's price for the item you're purchasing. All you have to do is present an ad or website showing the lower price.

Of course, there are limits to these policies. In most cases, the item you're price-matching must be in stock at the competitor, and it must be an identical model or style, size and color. Some retailers have further guidelines. Most, like Walmart, for example, specify which online stores they will match. Others, like Kohl's and Dick's Sporting Goods, extend their price-matching policies to their own prices. This means they will honor their online price if it's lower than an in-store price and vice versa. Additionally, some companies price-match at the time of purchase or after.

Other than following the rules, using this strategy is pretty easy. And you can leverage it whether you're shopping in person or online and use it on anything — from clothing to big-ticket items. When shopping for a new fridge, a girlfriend of mine, Salest, took advantage of Best Buy's price match guarantee and saved around $200.

Take advantage of price adjustments

Have you ever scooped up an item only for it to drop in price after you bought it? Ditch the buyer's remorse and say hello to price adjustments. Retailers who offer price adjustments will refund you the difference between what you paid for an item and its lower or sale price. Some will also honor new discount or promo codes.

To use this strategy, you'll need to present the receipt for your purchase in the store or contact customer service online. Most retailers limit the time you have to request a price adjustment to, typically, around 14 days; however, this varies among stores. For example, Macy's only gives customers 10 days. On the other hand, Costco allows members up to 30 days to request price adjustments, and Sears will honor a price drop for a full year on specific mattresses.

I like to leverage this strategy when I suspect the price on an item will drop, but I don't want to risk missing out altogether by waiting. This especially comes in handy during the holiday season. If your store doesn't have a price adjustment policy, you may get help from your credit card. Some credit card companies offer price protection and will refund you the difference between the purchase price and sale price within a specific period.

Check your receipts

Do you make a habit of checking your receipts? If not, you could be passing up savings. Some retailers and supermarket chains have a "scan-right" promise or similarly-named policy on grocery and food items. Under these policies, if a product rings up higher than its shelf price, the company will give you the item for free. You'll need to point out the mistake, request the free item and abide by any other guidelines.

These policies vary according to state law. Often there is a cap to how much the retailer can refund you. For example, Connecticut's "Get One Free" law limits the value of the free item to $20 and specifies which products are eligible. Check with the stores you frequent to see if they have such a policy.

Comparison shop (the easy way)

When buying online, do your comparison shopping without the back-and-forth of going to multiple sites. Simply do a Google search and hit "shopping" to pull up the prices at thousands of retailers.

Alternatively, use one of many sites and browser extensions like Capital One Shopping, Honey, RetailMeNot and Rakuten to compare prices or find discount codes for your purchases. Amazon Assistant will specifically let you know what a product is going for on Amazon. These tools help you find deals without too much effort on your part. Additionally, some also give you cash back on your purchases or award you points you can redeem.

Keep a journal of best prices

A great way to maximize savings on your purchases is to know the prices of the items and services you buy and use regularly. For example, grocery store prices fluctuate. Even when something is on sale, that may not be the best price. So if you learn the lowest prices for the products you buy, and try to purchase them only at those prices, you'll increase your savings potential.

An excellent way to do this is to keep a price journal of the 10 to 15 or so products you purchase all the time and document their prices for several weeks. You could take this a step further and document prices at multiple stores and online. After learning the lowest prices for your go-to items, try to purchase them only at that price, modestly stocking up to last you until the price drops again. And keep in mind that the best price may be at a store down the road. A friend, Izzy, recently learned she could cut the price of her weekly supermarket trips from $150 to about $75 just by switching stores.

Bonus tip: Maximize your savings by combining any of these strategies when permissible. For example, I often price-match items and combine the savings with a retailer's coupon for a further discount. I scored a pair of sneakers for more than 50 percent off by doing this recently. Your results may vary, so be sure to always find out what your store's rules are.