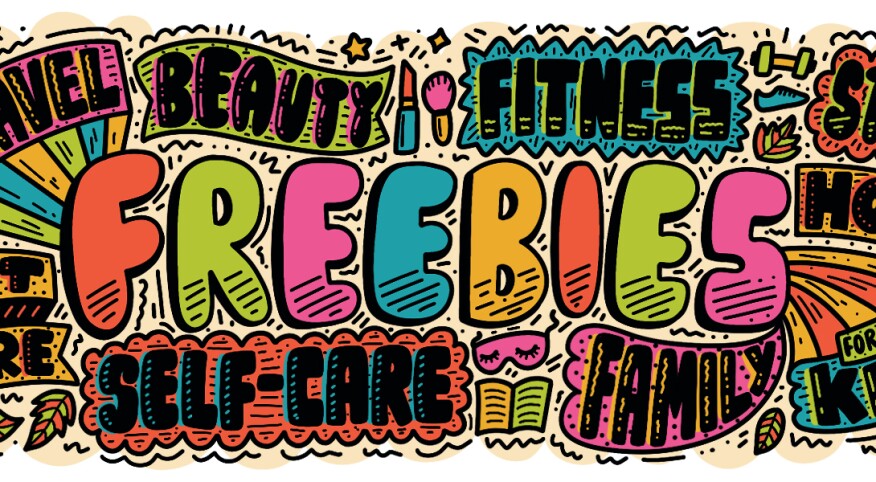 We love a bargain, don't you? In fact, free is our favorite four-letter word. To share the super-saver wealth, we've compiled 50 travel, self-care, beauty, pet care, family and home improvement freebies for fall. We've added links where search terms aren't obvious. Enjoy!

Trip savvy
1. National parks waive their entry fees on certain fee-free dates each year. Here's a list of parks, state by state, that you can check for operating hours and event schedules. In 2019, admission is free to 400-plus national parks — as well as national monuments and other sites — on the listed days including Nov. 11, Veterans Day.

2. On the road again? Use your iPhone or Android smartphone to download GasBuddy, an app that locates nearby stations with the best prices, and start saving about $340 a year on gas!

3. Not knowing the language is no longer a barrier to traveling abroad. Let Google Translate be your guide. The one-stop translation spot allows you to type in a word or phrase and instantly have it translated into more than 100 languages. It even translates 59 languages without an internet connection.

4. Whether it's a business trip, a family vacation or a quick fall getaway, TripIt will organize all your travel plans and documents in seconds. Simply download the mobile app and forward your confirmation emails to plans@tripit.com. For safety, TripIt will share your itinerary with those picking you up at the airport or anyone else who needs to know.

5. More money, more problems. Not with the XE Currency app for iPhone and Android, which offers current exchange rates, historical charts and on-the-go currency conversions.

6. Kick back and relax during your next hotel stay with a few homey freebies, including a warm welcome chocolate chip cookie at DoubleTree, access to your Netflix account at Marriott properties, hosted wine hours at Kimpton Hotels and a complimentary hot breakfast buffet at the budget-friendly Residence Inn and Comfort Inn hotels.

7. Oh snap! Save money on passport photos by taking your own picture and ordering it for free through ePassportPhoto.com.

8. Planning your autumn escape is easy with Free Travel Guides, free print and digital vacation planning and visitor guides from hundreds of destinations across the country. Find the latest attractions, where to eat, places to stay and discounts and coupons at travelguidesfree.com.

9. For those who prefer a personal touch, there are free tour guides you can ask to show you around your destination. The Global Greeter Network helps you find local volunteers in more than 200 foreign and domestic locations who love their city so much, they'll accompany you for free.

10. If you'd rather go off on your own, girl, you can download free city audio guides from services such as iAudioguide.com.

11. Traveling on your birthday? Pull up your Starbucks app and sip your free pumpkin spice latte while you wait for your flight. Or get a caffeine boost at Au Bon Pain, which offers a free travel mug and daily fresh brew discounts when you join the email club.

12. Yay for Yapta — short for "your amazing personal travel assistant" — which monitors prices on all your company-booked flights and hotel rooms. When a price drops, yapta.com immediately shoots out a savings alert.

13. If you look up "third night free," you will see dozens of offers from hotels that give you the last night free if you book a stay for three nights or longer. Participating hotel brands include Four Seasons and InterContinental Hotels & Resorts.

14. Planning to go over the river and through the woods to Granny's house for Thanksgiving? Keep the kids busy by printing out some free travel games. Here are a few places to find them: Mama Cheaps, MiniTime and Pinterest.

Kitty care and puppy love
15. Our furry friends can be finicky. So check out the Feed Pet Purveyor to sample a new brand of pet food or treats.

16. Vet bills are costly. But you can set up a free pet health exam at your local VCA animal hospital by filling out this VCA form.

17. Join the Petco Pals Rewards Club, and your pet will enjoy a special treat and message on their birthday. Even better, Petco offers free 30-minute dog-training classes (scroll down on their site to "Our Programs") at select locations. PetSmart will also send a birthday surprise to your pet if you sign up for its rewards program.

18. You can nab a free Pet Safety Pack, which includes an ASPCA Animal Poison Control Center magnet and a pet rescue window decal, by filling out the ASPCA's online form.

19. Ask and you shall receive — many restaurants including Chick-fil-A, Dairy Queen, Dunkin' and Sonic will provide your pet with a free treat. Your canine or feline friend can also stay free at a variety of hotels, including Red Roof Inn and Kimpton Hotels.

20. K9-Cuisine is another company that generally will give you free dog food samples and treats.

21. Both cat and dog lovers can snag food and product samples from leading pet brands for free by signing up for PinchMe.

Home improvement
22. Home Depot offers do-it-yourself classes for both adults and kids — for free. You can learn how to do everything from installing a ceiling fan to refreshing the look of your walls. Michaels craft stores also offer classes for both adults and kids. Some are free and some are available for a fee.

23. Planning to redesign or remodel a room? A free online room-design application can help. And you don't even have to know anything about home-design software. A few to check out are Floorplanner, 3Dream and the Roomstyler 3D Room Planner.

24. And if you're having trouble choosing a color? Try a free online color tool such as My Perfect Color, ColorSnap (snapyourcolors.com/) or Paint Colors Critique Corner.

25. Speaking of planning, you can also utilize free online tools to plot out the contents and layout of your next garden. You might want to check out Smart Gardener, Plan-a-Garden or the Online Kitchen Garden Planner. You can get a free 2019 Gardener's Idea Book here — while supplies last.

26. One woman's trash is another woman's treasure. The Freecycle Network is a grassroots nonprofit that allows you to give and receive free stuff in cities and neighborhoods across the country by visiting freecyle.org. The idea is to keep good stuff out of landfills. Items range from free furniture to fabric, shelves and a whole host of other free household items.

27. You can also get free items for your home and garden on Craigslist just by going on the site and searching for, well, "free stuff."

28. Looking for a hacksaw or a hammer? Instead of buying a tool, why not borrow it? Search for a local tool bank through the site LocalTools.org.

29. To visualize how wallpaper will look in your home, order a few free wallpaper samples. On Walls Republic, you can order five free samples. Wallpaper Direct also offers free samples so that you can try before you buy.

30. Cleaning house? When it comes to household products, many companies like TheFreeSite.com, Hunt4Freebies or FreebieBlogger offer free samples.

Self-care and fitness freebies
31. Trying to drop a few pounds before winter hibernation? Join an online weight loss support group or community on a platform like Supportgroups.com. Or for face-to-face motivation, go on Meetup to locate a weight loss support group near you.

32. Wanna get in shape without breaking the bank? A site called GymTicket offers a directory of more than 20,000 gyms across the country. You can find out which gyms give out free guest passes or are offering deals and promotions. Some gyms, such as Crunch Fitness and Anytime Fitness, will give you a free seven-day pass to try it out.

33. Focus on your breath and tune out stress with a free guided meditation that you can practice on your own. The UCLA Mindful Awareness Research Center offers several meditations you can stream or download both in English and Spanish. When it comes to free mindfulness apps, you might want to check out Headspace and Stop, Breathe & Think.

34. Keep your mind sharp and work your memory muscles by playing a variety of brain games from AARP. There's everything from Sudoku to Mahjongg to crosswords.

35. Get free health screenings at Costco — available to both members and non-members. These screenings include heart, diabetes and osteoporosis checks. To find out what your local Costco offers, go to Costco.com and click on "Pharmacy" in the main menu.

36. Sam's Club often offers free health screenings for members, including blood glucose. Cholesterol screenings are typically available to members for a small fee. Go here to find out more.

37. For older adults, there's Medicare. And while Medicare isn't free, of course, there are services with no out-of-pocket costs for Medicare beneficiaries. To help you determine what items and services are covered, check out Medicare's relatively new free app called "What's Covered," which is available on both the App Store and Google Play. Just search for "What's covered" or "Medicare," and download the app to your phone.

38. Keep on walking with free apps like Map My Walk, Endomondo and the Fitbit App MobileTracker, which doesn't require a Fitbit, to track your daily steps, speed, distance and calorie burn.

39. One of the most widely used apps is RunKeeper, which makes it easy to set up a running routine and to stick with it by tracking your progress. You can also use the app to track cycling and even ice-skating. Avid cyclists might also want to try Strava, which not only plots out your trips on a map, but also compares your abilities to others who have traveled the same route.

40. For workout inspiration, check out a variety of free fitness and workout playlists on Spotify. Start with the motivational Sisters from AARP "Woke Workout."

41. Run by the American Council on Exercise, the ACE Exercise Library offers a treasure trove of total-body exercises or movements that target specific areas of the body — for free. Whether you're a beginner or a seasoned exerciser, there's plenty here. And each comes with photos to ensure proper form.

42. Spice up your fall flavors with healthy and yummy recipes from the National Heart, Lung and Blood Institute's website and the American Diabetes Association's Diabetes Food Hub.

Beauty and style
43. Happy birthday to you! Many beauty and fashion brands give out free birthday gifts. But read the fine print: You usually have to sign up for a free loyalty program in order to participate. Brands include The Body Shop and Bath & Body Works.

44. Influenster is a product review platform for consumers. Sign up on the home page and you'll soon receive offers by email, event invites and freebies. The site's ongoing list of recent reviews of a variety of products is also interesting to peruse.

45. Sephora stores are notoriously good at giving out free samples of products, when asked. On the website, you're also allowed to select up to two free samples when you place an order. These samples include everything from clay masks to lipsticks to sunscreen.

46. Find free samples of produts related to health, fitness and wellness at MySavings.com, JustFreeStuff and Freaky Freddie's.

47. Nordstrom department store salespeople will often give you a few samples if you are interested in trying a product. In addition, you get to choose three free samples when you make a purchase online of a skin care, fragrance, grooming or makeup item.

For your kids
48. Your favorite college students can enjoy six months of Amazon Prime for free through Amazon Prime Student. Not only does this include free two-day shipping with no minimum purchase, there's also the unlimited free streaming of movies and TV shows with Prime Video, unlimited Prime reading and unlimited storage for your photos. Just remember that after the six-month free period ends, they'll automatically renew you for Amazon Prime at a special student rate. But you'll have the opportunity to cancel before this happens.

49. Many museums across the country offer free or heavily discounted admission fees to students. For example, MoMA is free for New York City college students all year. (Children age 16 and younger are always free at MoMA.) Many museums on campuses also are free to students.

50. Depending on your location, kids age 5 and younger may be able to score free books once a month through Dolly Parton's Imagination Library. There are also a growing number of Little Free Libraries popping up across the country, giving kids access to free books. And kids in certain states can get free books through Read Conmigo, an English-Spanish book program that supports bilingual learning in kids from preschool through fifth grade.