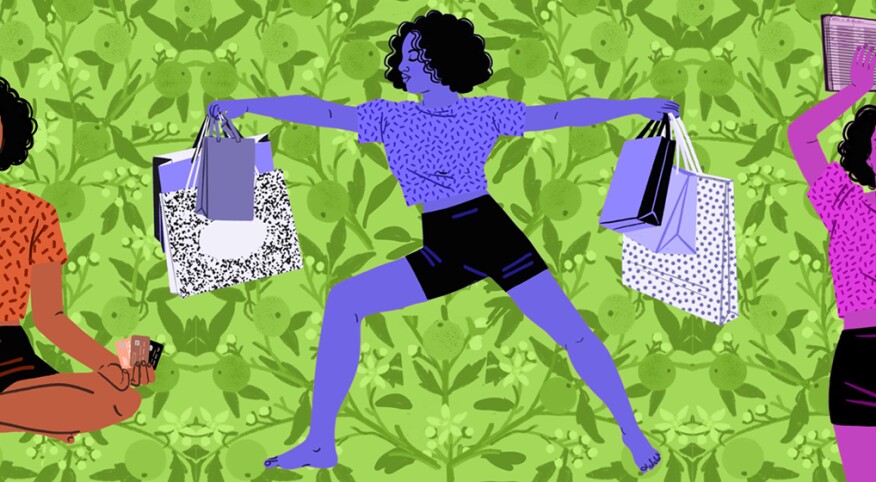 If COVID-19 has thrown you for a loop or caused financial stress, or if you're coming to terms with a job loss, divorce, death of a loved one, disease, disability or any experience that has left you feeling less sure of yourself or prepared for the future, then this is especially for you.

Keisha Blair has learned firsthand how to recover from earthquake events — those times in our lives when things beyond our control shake our world and threaten to throw us off course. Earthquake events tend to be unexpected and highly disruptive and disorienting. In Blair's case, first it was nearly dying during childbirth. Then (three years later and just eight weeks after the birth of their second child), her husband died unexpectedly. Quite out of the blue, she was 31 years old and a widowed single mother with two children. More recently, and like all of us, she's had to navigate the many disruptions that have arisen out of and during the COVID-19 pandemic.

Blair, an economist, wrote an article after the passing of her husband that went viral. A seed was planted. "My Husband Died at 34. Here Are 40 Life Lessons I Learned from It" led to the first edition of Blair's Holistic Wealth book. What is "holistic wealth"? In Blair's words, it's "having balance and harmony — having a life of abundance and prosperity and living a life of purpose and meaning, and really enriching ourselves spiritually, mentally and emotionally. And, of course, being financially well." For example, once widowed and with two small children to raise, Blair realized she had to be intentional about how and with whom she spent her time to protect her energy and wellness. That led her to come up with the idea of the holistic love bank account and to view everything as either a deposit or a withdrawal.

Blair also identified four personal financial identity archetypes: anxious spender/investor, maximalist, minimalist and risk-taker. No one financial identity is better than another; each has its strengths and weaknesses. Blair describes herself as a risk-taker, comfortable making investments that would cause her mother (an anxious spender/investor) to worry. Taking the quiz confirmed that I'm a minimalist. I don't need extravagance, but I do value quality. And I don't take large financial risks.

Most recently, Blair has updated and expanded her book in light of COVID-19. The title says it all: Holistic Wealth: 36 Life Lessons to Help You Recover from Disruption, Find Your Life Purpose, and Achieve Financial Freedom.

Sisters spoke with Blair about how to take the first steps to generating more wealth, developing financial resiliency and building a balanced foundation that supports the life we want to live.


What are some common mistakes people make when they think about wealth and money?
For starters, women, especially Black women, grew up with many messages around money [that were] not necessarily good. "It's so hard to come by. Work yourself to the bone and do everything you can. Climb the corporate ladder and reach the top. That's how you're going to make it." But it doesn't necessarily happen that way. And for some of us, it doesn't happen period. And then frustration sets in. And for women of color, Black women in particular, it's very, very dangerous, because we start to face setbacks at an earlier age because of systemic racism. We face a series of disruptions over time. And if we tie our self-worth to our net worth, it makes it harder for us to bounce back.

Another one is that many of us don't know our personal financial identities. We just follow the crowd. I developed the Personal Financial Identity quiz so that women could take it, learn about themselves and have the words to communicate, for example, "I'm not comfortable buying lavish lunches because I'm a minimalist, so don't ask me to go the expensive restaurant every day."


What is something anyone can do today to begin the journey to holistic wealth?
There are a couple of microsteps people can take. One of them is outlining a personal mission for yourself. In the Holistic Wealth companion workbook, I have some keywords that people can use to craft their personal mission statements.

The personal financial ID is another microstep that's very quick and easy to implement. It's a two-step process where you become more self-aware and then you start a new story. That starts with having a new perspective and really reclaiming what you want your life to be and embracing that new money story.


What advice do you have for other widows or single moms?
I always say focus on financial resilience. When we can't bounce back financially, it's hard to make it. Make sure you have an emergency savings fund — and I would say nine to 12 months. Before [COVID] the recommendation was three to six months, and now we see that's not enough. If you can, have multiple streams of income, whether it's investment income or you have a little side hustle.

A lot of people have asked me, "If I want to invest and I have no funds, what do I do?" Invest with others, whether it's in real estate or stocks. Even if it's starting really small, it helps.


Your book talks about the importance of community support. How should someone find a mentor?
Formulate a networking plan. Have tangible goals and targets. Look for someone who has a similar background, similar experience, maybe even a similar struggle. Getting a mentor who understands your perspective, your struggles, the barriers you're potentially going to face is hugely important.

The other thing that I always tell people is you want an ecosystem of mentors around you where you're not just sticking to one person, but you're getting different perspectives. You can have your own personal board of advisors.