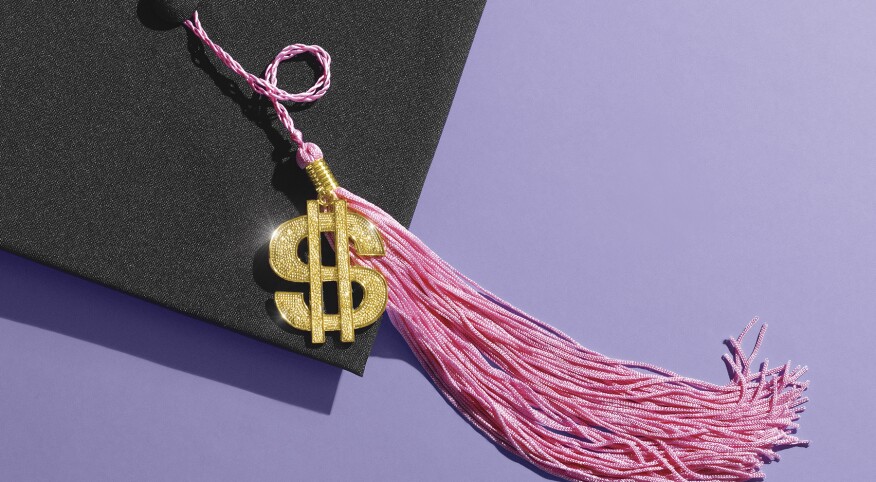 Young people getting started in their careers may be the poster children for college debt, but a growing percentage of older Americans are being bogged down by student loans.

Of the $1.6 trillion in student loan debt owed by Americans in 2020, people 50 and over accounted for about $340 billion, up from $47.3 billion in 2004, according to the Federal Reserve Bank of New York.

Such financial obligations can put a damper on retirement savings, says Ben Reynolds, founder of "Sure Dividend," a newsletter for long-term investors. "People close to or in retirement who are unhindered with student loans don't have the burden of maintaining those monthly payments, freeing up more money for retirement accounts and investments," Reynolds says.

One way to relieve some of the burden is through the Public Service Loan Forgiveness (PSLF) Program, which lets borrowers who work in public sector jobs — such as government, public education and law enforcement — have their outstanding loans forgiven after they have made 10 years' worth of payments.

Here's what you need to know to take advantage of public service loan forgiveness.

Understanding the Requirements

In order to receive student loan forgiveness, you were obligated to make 120 on-time qualifying payments, meaning the payment had to have been for the total monthly amount owed and paid within 15 days of the due date. Under new rules announced Oct. 6, any prior payment made will count as a qualifying payment, regardless of loan type, repayment plan or whether the payment was made in full or on time. All you need is qualifying employment.

This change will apply to student loan borrowers with Direct Loans, those who have already consolidated into the Direct Loan Program, and those who consolidate into the Direct Loan Program by Oct. 31, 2022.

While you typically don't get credit for months you don't make a payment, that's not the case during the pandemic. To provide relief to borrowers during the COVID-19 crisis, student loan payments and interest have been suspended until May 1, 2022. However, those months will count toward PSLF even if you don't pay a cent.

Only federal Direct student loans qualify for forgiveness. However, that doesn't mean you're out of luck if you have a Perkins Loan or Federal Family Education Loan (FFEL). You can consolidate your loans into a direct consolidation loan, but you'll have to weigh the pros and cons of doing that first. To get forgiveness with other types of loans, you must apply for consolidation into a Direct Loan by Oct. 31, 2022. Use the PSLF Help Tool to help with the PSLF form and submission process.

Since PSLF is designed to encourage people to explore public service careers, you must work for employers that fit that criteria while making those 120 payments. Generally speaking, you should be fine if you work for a federal, state or local government agency or a not-for-profit organization. However, to be on the safe side, fill out an Employment Certification Form each year or at least whenever you start working with a new employer. Then send it to the U.S. Department of Education either through the FedLoan Servicing website or via fax or mail. You'll be notified if your employer doesn't fit the bill. You must also be an employee of the qualified employer; if you are an independent contractor, your service does not count.

Work on Plan B if You Don't Qualify for Loan Forgiveness

While the idea of loan forgiveness is likely to appeal to anyone with a lengthy career in public service, reaping the benefits of PSLF may not be as easy as it sounds.

The U.S. Department of Education noted in September 2019 that out of 90,962 borrowers who had applied for PSLF so far, only 845 had been approved, while the rest were either rejected or pending. The new regulations are designed to increase student loan forgiveness.

If you're rejected for loan forgiveness and you've completed all of the steps, it may make sense to seek out legal help, says Jonathan Cohen, cofounder of the Cohen & Winters law firm in Concord, New Hampshire. "A student loan lawyer will be knowledgeable about your options and can guide you through your legal rights," Cohen says.

More importantly, be proactive about managing student debt. Here are steps you can take if you've fallen behind on payments.

This article is adapted from aarp.org. To learn more, click here.