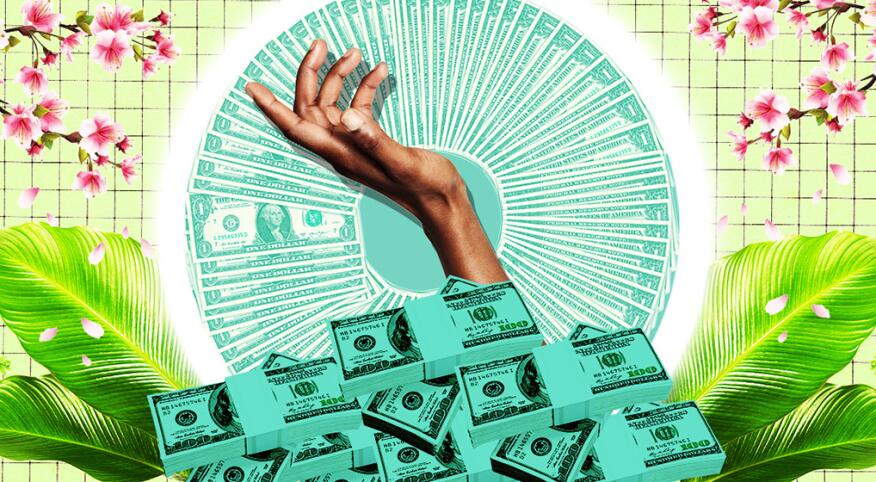 Between the losses and restrictions of the pandemic, an ailing economy and social and political conflicts, our prospects have been clouded by financial insecurity, disruption and grief. How do we pivot? My personal journey, and the stories of some inspiring women I'd like you to meet, suggest a path forward.

Once before, in 2009, the life I knew ended suddenly. My husband died tragically, just eight weeks after I gave birth to our second child. After slowly figuring out a path forward, guided and supported by others, I paid it forward with an article entitled, "My Husband Died at Age 34. Here Are 40 Life Lessons I Learned From It." While my experience was unique, the human response to trauma and grief is universal: 50 million people globally viewed my post.
"Bet on yourself. When you tap into your passion, that's when you tap into your destiny."
entrepreneur Joanna Davis
My soul-baring moment led to my book Holistic Wealth: 32 Life Lessons to Help You Find Purpose, Prosperity and Happiness. The message resonated with people from all walks of life, including Thrive Global founder Arianna Huffington and the producers of Jada Pinkett Smith's web TV series, "Red Table Talk." I know that we can overcome the chaos of adversity to thrive financially, physically, emotionally, spiritually and in relationship to others. So, I founded a coaching program, podcast and training institute.

As world events compel us to reset our lives, I'm inspired by sisters who value passion-powered work. Joanna Davis is a former caterer who recently launched a successful line of seasoning blends after the pandemic cancelled a year's worth of bookings. She advises, "Bet on yourself. When you tap into your passion, that's when you tap into your destiny."

That energy drives a global "passion economy" estimated at $38 billion, and led by coaches, self-improvement experts, influencers and other entrepreneurs. What's your passion? Sisterpreneurs offer tips for turning it into prosperity.

Rachel Rodgers, 39, CEO, Hello Seven

Previous career: Attorney
Her passion economy business: The Hello Seven club for women entrepreneurs, that teaches members how to build and scale a business
Years in business: Over 10
Startup cost: $300
Annual revenue: $5 million
Career journey: Rodgers graduated law school during the 2009 recession. She took a one-year clerkship. With limited jobs available after it ended, she started her own practice.
Why she felt stuck: She enjoyed selling and marketing; less so her profession. "I absolutely loved running a business. I didn't love doing the legal work though."
Turn in the road: Rodgers scaled her legal practice's annual revenue from $60,000 to $700,000 over the course of about seven years. Increasingly, other women sought her business advice. She started a coaching practice on the side.
Signposts: When a key employee left, she took it as a sign. "It almost gave me permission to shut down the law practice. I officially took the leap."
New direction: During COVID-19, Rodgers scaled up from private coaching to her newest product. "Our core offering is [now] the club."
Fuel for success: After the events surrounding George Floyd's death, Rodgers was outraged and used her voice to speak out. Connecting authentically grew her following and customer base. "I think if there was any formula that caused our growth this year, that was it. It wasn't a business model, it was just a I'm-outraged-and-I-need-to-speak-my-truth-right-now move."
Advice for others: "95 percent of your success or failure can be predicted based on who you spend time with. Surround yourself with other ambitious women, with people who are going after what you're also going after."


Deana Stevenson, M.D., 54, CEO of Doc Deana Enterprises

Previous career: Medical doctor
Her passion economy business: An educational consulting business teaching other educators how to open consultancies
Years in business: 6
Startup cost: Under $500
Annual revenue: Over $500,000
Career journey: Stevenson had pursued medicine to please her parents. "I was great in math and science, my [high school] counselor said, 'You should really think about going to medical school.' My parents [approved]. And being an only child, being a people pleaser as a young adult, I did it."
Why she felt stuck: "I was successful as a physician, but it wasn't fulfilling. It took up most of my time. I did not see a future with a family."
Turn in the road: "I made the decision to leave medicine and started teaching at a medical school. I realized very quickly that I didn't like medical students, but I love teaching."
Signposts: "I was excited about it and got a certification as a physics, chemistry and biology teacher and became a middle school teacher." Stevenson hit a crossroads when she became a principal in her school district, assigned to institutions that were low performing.
New direction: As a doctor, she'd learned to treat systems, not symptoms. "[In my role as an educator,] I used the same strategies and processes that I used to diagnose patients, and was successful at it, but it's taxing. I quit."
Fuel for success: Shifting from the tedious work of turning around failing schools, Stevenson became a consultant. "My colleagues in that district were calling for advice. 'How were you able to change processes and systems in your building? How'd you get the union onboard to support you?'" She launched her signature course, the Educational Consultant Lab, and created tools to support building principals.
Advice for others: Identify your skill set that solves a problem, come up with a marketable solution and monetize it.


Chioma Isiadinso, 50, CEO Expartus

Previous career: University admissions executive
Her passion economy business: Principal of a consultancy helping students crack the application process and achieve admissions to top universities and graduate programs
Years in business: 19
Startup cost: Under $2,000
Annual revenue: $50,000-$80,000 per month
Career journey: Isiadinso studied psychology in college and knew that she enjoyed helping people. After completing her master's degree in psychology and counseling, she found work in higher education. "I worked at Carnegie Mellon University for five years, and then I worked for Harvard Business School admissions for two years."
Why she felt stuck: Her desire to serve students and families directly and tap into her counseling skills was a major factor in her decision to start her business. "I have seen how transformational education can be, and so it was only a natural thing for me to want to empower young people."
Turn in the road: Isiadinso and her family moved from New York to Boston and needed to start over. "I was reflecting on what my next step would be, whether I should take a job working in the same industry or do something different. My heart just kept calling me back to … helping [students] figure out their educational dreams."
Signposts: Inspired by family history, Isiadinso realized that she could help more students by serving as a funnel into the institutions rather than as a filter for them. "My late dad was the son of petty farmers in a small village in Africa. He had access to a scholarship, went to Cambridge University and did his Ph.D., and that changed the trajectory of his life."
New direction: Isiadinso branched out, helping professionals get into graduate programs, and she transitioned from consultant to principal of consultancy.
Fuel for success: Doing self-reflection; identifying unique strengths
Advice for others: If you put every ounce of energy into cultivating one thing, you will be successful.


Did you know that becoming a certified small business owner may help you expand your network, grow your business faster, access new funding and more? Learn about the different certifications and how being certified may help take your business to the next level by signing up for AARP's free virtual webinar series. Top experts from the Small Business Administration (SBA), Women's Business Enterprise National Council (WBENC) and the National Minority Supplier Development Council (NMSDC), including Senior Director, Network Delivery Services Constance Jones, will help explain the process and answer your questions. The series kicks off on May 11, so register here today.