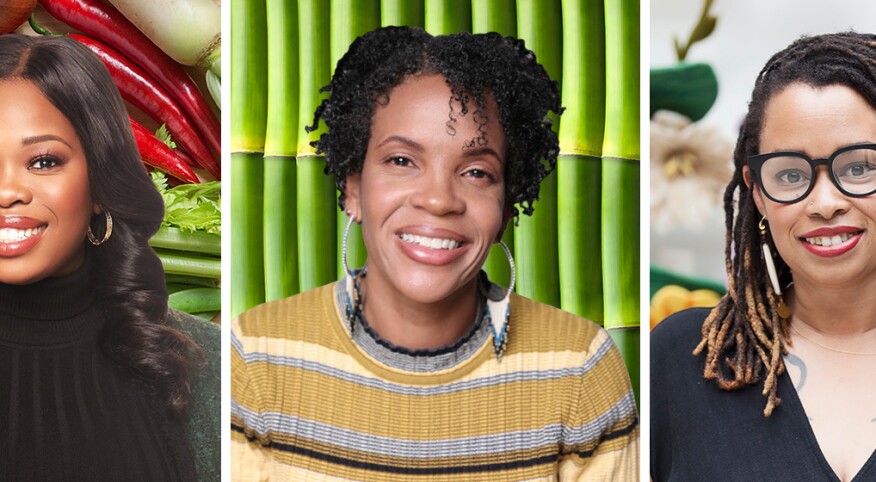 Consumers will spend as much as $150 billion on green, or sustainable, products this year, according to market research firm Nielsen. On top of that, Nielsen says 73 percent of consumers would change the products they buy in order to reduce the negative impact on the environment.

While making money can be a strong motivator to work, I get the most satisfaction when something I write makes a difference in somebody's life.

Green entrepreneurs, those whose businesses benefit the environment, work under a similar philosophy. While they aim to make a profit, they also seek to leave the planet better off than it was before.

Turns out, that's a good business strategy. Consumers will spend as much as $150 billion on green, or sustainable, products this year, according to market research firm Nielsen. On top of that, Nielsen says 73 percent of consumers would change the products they buy in order to reduce the negative impact on the environment.

Meet three savvy sisterpreneurs who are setting themselves apart in the environmental space.


Goodr

Founder: Jasmine Crowe
Age: 38

Jasmine Crowe was providing food to the homeless in Atlanta when a video of her volunteering went viral on Facebook. When someone asked her who donated the food, she replied, "Nobody." She explains, "I was couponing, price matching and cooking all the food myself."

But that question led the 38-year-old to research what happens to the excess food that businesses and restaurants throw away. "And I couldn't believe how much food was going to waste when so many people are going hungry," she says.

Crowe founded Goodr in 2017 as a way to eliminate waste and get leftover food to the people who need it most. An app helps companies track and manage surplus food, and then Goodr picks it up and delivers the food to nonprofits that use it to feed the hungry. Every pound of food they deliver stays out of a landfill, Crowe says. Companies that use the app reap savings in the form of tax deductions for charitable donations. They also have a tool to track reduced greenhouse emissions and landfill waste as they work towards sustainability goals.

The company is particularly interested in fighting hunger among seniors. "We do pop-up grocery stores where we bring groceries directly to senior homes," she says.

With $7 million in annual revenues, "we are a company that is for people, for planet and for profit," Crowe says.


Ecoslay

Founder: Adria Marshall
Age: 45

Adria Marshall was building a career as a software developer, but two passions were taking up a growing amount of her time. She loved coming up with products for her natural hair, and she had a passion for gardening and the environment. In 2015, she combined those two interests and came up with an edge brush that would not only be good for hair, but good for landfills.

Though a lot of women use toothbrushes to lay their edges, "most toothbrushes are made of plastic and nylon, which isn't great for the environment," she says. Her solution: a bamboo brush "because it is a sustainable product."

In addition to the bamboo brush, her company, Ecoslay, sells a vegan line of products, such as cleansers, conditioners and stylers, but is careful to use sustainable packaging, such as pouches and reusable mason jars. Ecoslay's products are available in about 70 retailers across the world, in countries as far as Bahrain and Australia.

As the business expands, everything will still be made by hand. "We have a little house and a staff of seven, and it's a formula that really works for us, so as we continue to grow, we just plan to buy another little shop," she says.

Not only is the business successful, but it gives Marshall a sense of purpose. "I'm a person of faith, so I believe that God really put us here to care for the environment."


SustainAble Home Goods

Founder: LaToya Tucciarone
Age: 42

A trip to Guatemala with her husband in 2017 changed the course of LaToya Tucciarone's career. A photographer, Tucciarone decided to bring some products made by local artisans and merchants back to her home in Atlanta to sell. "They sold so quickly I thought, maybe this is a thing."

Tucciarone's instincts were right and that effort evolved into SustainAble Home Goods, a company that partners with a global network of artisans who create environmentally friendly home products such as vases, wall masks and ceramic pots, as well as jewelry. Her artisans use materials such as clay, wool and sustainably sourced wood. She also carries nontoxic cleaning supplies and natural health and beauty aids.

"I'm very passionate about creating a space for people and telling stories through the things that you bring into your home," she says. "When I looked at the retail landscape, I saw that there weren't very many opportunities for people to shop ethically for their home."

After initially selling products online, Tucciarone opened a brick-and-mortar space at Ponce City Market, a shopping center in Atlanta. Since the business started, Tucciarone says the company has seen a 262 percent growth in sales. "We have a full office staff and a shipping manager. We are also taking steps toward creating our own line of in-house products created by our artisan partners, which will allow us to grow into offering wholesale products to other retailers around the world," Tucciarone says.

"One thing that we're really mindful of is making sustainability accessible," she says. "We only get one planet. Let's take care of it."


Gear Up for Green Business Success

Build entrepreneurial muscle via the Small Business Resource Center for the 50+ Brought to you by AARP in partnership with Private Public Strategies, this site offers information, education and resources for aspiring entrepreneurs and established business owners. Here, you'll find information you can trust about:

Starting your business: includes your first steps, your business plan, funding, operations, marketing and building your team
Managing your business: reviewing your business plan, marketing tactics, essential tools, crisis management, preparing for retirement
Growing your business: hiring and recruiting, finding funding, workplace culture and more

You can also explore the journeys of successful business owners, including Black women, through the "Meet the Founder" video-interview series, hosted by Felicia Brown, an AARP senior advisor and expert on financial resilience. Plus, learn about upcoming events. If you're a business owner with employees on your team who are caregivers for loved ones, you'll find a guide on how to support them while managing operations smoothly. Visit the Small Business Resource Center for the 50+ here to learn more and explore the possibilities.

Learn more about starting a sustainable business via Green America. The Green Business Network, a program of Green America, is America's leading not-for-profit organization focused on building a green economy that works for all. With 2,000 sustainable businesses among its members, the organization functions something like a chamber of commerce , helping to provide tools, information and access to a network of eco-minded consumers.