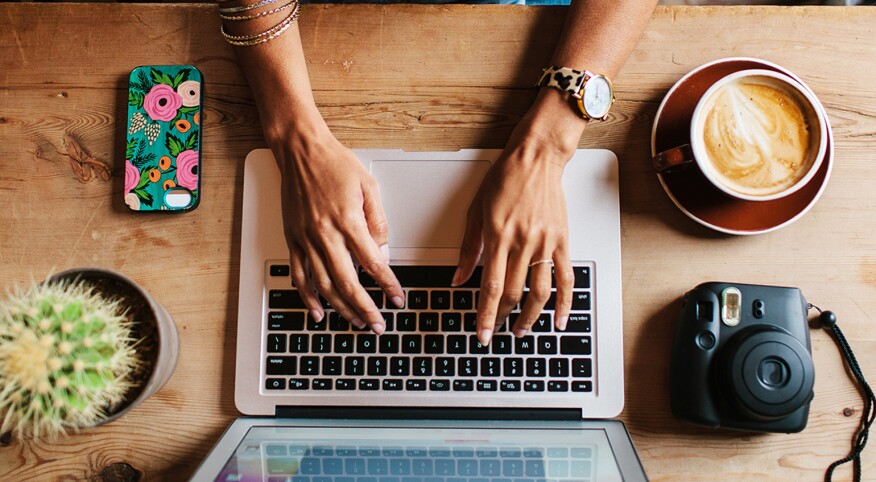 As a full-time employee, cofounder of a professional networking group, and freelance journalist, I juggle many tasks on a daily basis, constantly pinging between different email accounts, scrolling across timelines and pitching stories to editors. And while I'm grateful that my personal creativity is multifaceted, it's easy for my work priorities to get lost in the shuffle. Having a full-time job is a major responsibility, and most employers aren't big fans of their employees splitting their time while they're on the clock (trust me, I've learned this the hard way.) So to avoid getting into trouble with your boss and ensure that your priorities are in check, here are a few ways to find balance between that 9-to-5-just-to-stay-alive and your passion projects.

Get organized. From the Passion Planner to the Daily Greatness Business Planner, there are a ton of paper tools on the market to encourage you to manage your time effectively and creatively. I already collect too many books and journals for my own good, so my productivity tools are primarily digital. If you're like me and want to save a few trees, look to your Google calendar, Google Drive and project management tools like Asana or Trello in order to keep all of your thoughts in one place. Whichever method you choose, it is also critical to designate time for both work and play in your schedule.

Transparency is a major key. We're not meant to work on accomplishing our dreams alone. In setting big, scary, personal and professional goals, you want to have a few people in your corner that will help you see them to the finish line. And sometimes, those personal goals may collide with professional responsibilities. If there is ever a personal opportunity — say, a speaking engagement that takes place during the workday — communicating with your boss ahead of time about taking time off will eliminate any concern when it comes to potential absences. This also could open a door for more professional development opportunities.

Find your happy workplace. Some people love coworking spaces, others can work from the comfort of their home offices or bedrooms. I personally enjoy going to one of my favorite coffee shops early on a Saturday morning, finding a seat next to an outlet and zoning out for three to five hours to work on my side-hustle projects. News flash: working on your passion project during work hours can only go so far before someone complains that you aren't doing your job. If you must side-hustle during the day, use your lunch hour to pop into a coffee shop and chisel away at your personal to-do list. And if your office is pretty flexible, working remotely on a Friday could also be an opportunity for you to change your environment so that you are able to maximize your productivity.

Sleep, sleep, sleep! We live in a culture where the news cycle is constantly changing and our attention is being pulled in thousands of directions. Getting at least six to seven hours of sleep per night is not only important to our productivity, but important for our health. We want to be our most alert and effective in the workplace daily, so pulling all-nighters like college students isn't going to fly anymore. A few ways that I've learned to properly prepare for bed include setting a bedtime and sticking to it, writing my to-do list for the next day and reading a book so that I'm not scrolling aimlessly on my telephone before I lay my head on my pillow. These activities can help slow your mind down and prepare your body for a good night's rest.

In this day and age, it is completely acceptable to work a full-time job and have thriving side hustles. The key to your success will come in managing your time, communicating effectively and ensuring your employer that you are going to show up fully even as you actively pursue your personal endeavors.