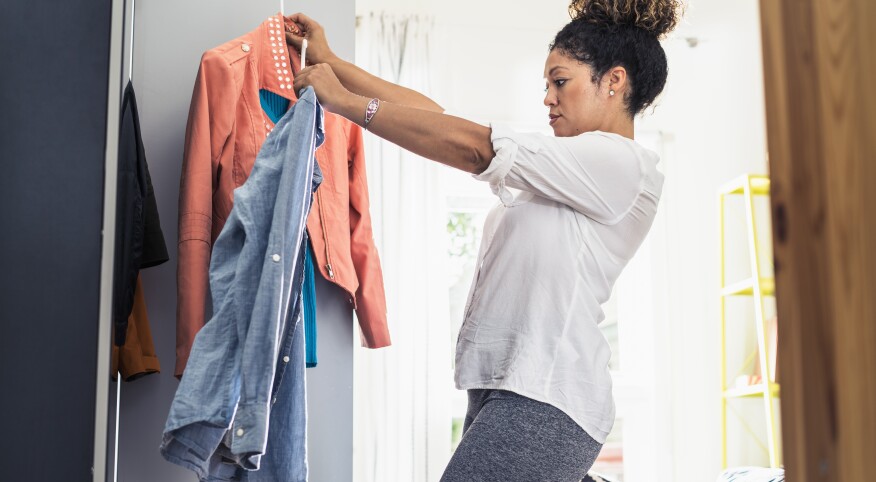 One afternoon while I was doing what I do best (shopping), a woman behind me in line at Target asked, "Hey, aren't you that coupon lady?" Well, I did have a coupon in my hand, but I was perplexed by her question. Then I realized she recognized me from an article in the local paper about how my husband and I aced a live-a-week-on-$100-or-less challenge.

"Yeah, it's me," I replied, with a tentative smile.

Cheapskate? Don't say it like it's a bad thing. I got the shopping bug from my mom — she's my best friend, and we bond over our trips to hit up the mall. But where mom likes to splash out on a spree, I'm more about the hunt for bargains. I'm a super saver. Like a magnet, I've always been drawn to tables strewn with discounted jewelry and racks packed with hidden treasure. Now, as a full-time freelance writer, being frugal comes in handy. But that doesn't mean I don't make the occasional splurge on youth-boosting beauty serums, weekend getaways with my hubby and mimosa-fueled brunches with my girls. How can I afford these indulgences while sticking to a budget? By purchasing brand-name boots, bags and blouses at bargain prices I save at least $1,000 a year, and then reselling my unwanted items earns me nearly $2,000. I'm actually paying myself to shop!

Wanna know the secret sauce to shopping that will keep you looking fab for less and help you stash some extra cash?

Become a coupon lady

The first rule for staying fiscally frugal while being fashionably fly is to remember that only suckers pay full price. Whether it's for Prada or Payless, I take every coupon — online or on paper — offered. This summer I used my $10 off $25 Gap Factory GapCash in-store coupon and picked up a cute pair of orange espadrilles, flamingo print flip-flops and a pineapple graphic tee for only $15. I also join the rewards and loyalty program for my favorite stores.

Dig in at thrift and consignment shops

For me, thrifting is like a walking meditation. Whenever I'm stressed out by a deadline or just need a break from my computer, I'll hit up a few thrift stores — and it always puts my mind at ease. My weekly ritual is going to the Salvation Army on Wednesdays ("Family Day"), when nearly everything is half price. Recent hauls have produced a pair of Diesel jeans, a Target trench coat, and skirts and tops from LOFT — each under $8.

But wait, it gets even better. Once, while vacationing in Los Angeles, I walked into a Goodwill by-the-pound store and couldn't believe my eyes — all textiles were $1.49 per pound! My usual thrifting zen state leveled up to total euphoria as I literally lunged into the oversized bins (Pro Tip: Come prepared with latex gloves) and scored several tops and frocks from H&M, Zara and J. Crew, for a mere $18.

At flea markets I've skillfully stuffed many a bag full of name brands for only $5 to $10 per sack. Prize takeaways include a trendy $39.94 Old Navy dress and a $59.50 timeless Lauren Ralph Lauren shirt with the price tags still attached.

Recently, I persuaded a skeptical girlfriend to join me at a school charity sale where everything was $1. We spent hours sifting through tables overflowing with quality clothes for women, men and children, and later she admitted, "That rummage sale spoiled me. Now when I see a rack of $3 tops, I think twice."

Buy to sell

My thrift and flea finds serve a dual purpose. I often shop specifically to flip and resell at consignment shops, where savvy shoppers bring in contemporary and vintage wares in new or nearly new condition. While I regularly hit up my fave mom-and-pop consignment shops, I also visit national chains. At Buffalo Exchange, ( buffaloexchange.com), I receive 30 percent of the assessed selling price in cash or 50 percent in store credit. Clothes Mentor (clothesmentor.com) is another national consigner. On average, I earn about $700 a year selling my unwanted stuff, and I usually have $35 to $65 in store credit for when I need a little retail therapy.

Online consignment shops like Poshmark (poshmark.com) and ThredUp (thredup.com) work similarly. By selling items I source from fleas, outlet stores and secondhand shops on these platforms, I rake in another $1,200 a year. The key is supplying a bounty of current and seasonal styles. My biggest feat was selling a silk Anthropologie top, which I purchased from the Sally Army for $3, for $63 — a profit of $60.

Host or find a clothing swap

Clothing swaps — where a group gets together to exchange clothing, shoes and accessories in new or good condition — are a social way to shop and save. I've hosted swap parties, and I'm a member of a Meetup ( meetup.com) group that hosts several a year.

At my events, my swap sisters and I sip rosé, munch party mix and mingle over old-school jams. But be prepared to referee — die-hard swappers can get feisty when they have their sights set on that Coach bag or Banana Republic dress. The hunt for a bargain can bring out the fierce in any fashionista.