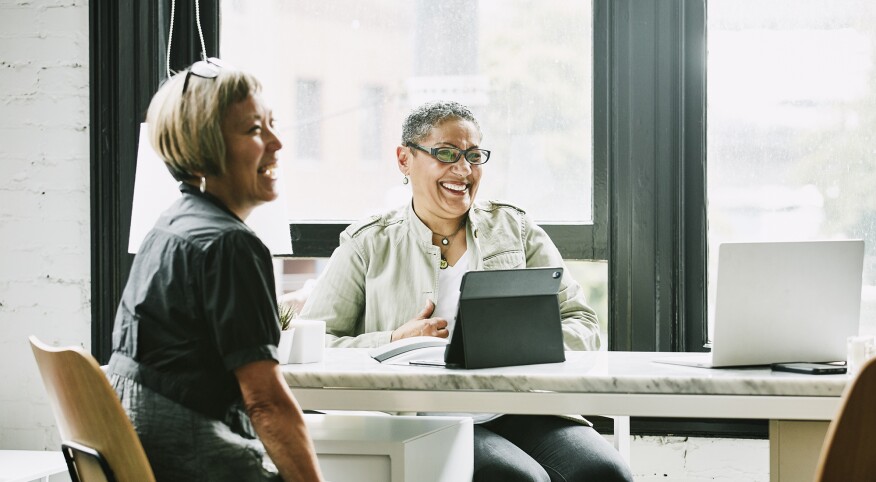 Here's a true thing: No matter how much you love your job, there will be days that try you. Your boss might move up a deadline. Someone may steal your idea. Or Karen will jump out of pocket (again), and you'll need a safe space to vent. Here's another true thing: Those days will be easier to handle if you have a crew willing to offer ideas, pitch in and help remove hurdles from your path or stick up for you, according to career development site MindTools.com. These are the people we all need not just to make it through the workweek, but to advance up the ladder with our sanity and rep intact.

What's the best way to attract others willing to offer loyalty, support, image-building, recognition, understanding and respect? Be known as someone who will reciprocate with the same kinds of backup. The following are a few allies I've come to depend on. Which of them remind you of potential allies at your workplace? Which of these roles do you fill?

The Sister Who Sees You There's nothing like a majority-white workplace to a make a Black woman feel both hyper-visible and invisible at the same damn time. This sister knows the special pain of being one of a few — or the only — just like you do. That's why she makes it her mission to make you feel both seen and heard every day. "Yes, shoes!" rolls off her tongue when you make an entrance, and she deftly blocks questions from the folks who can't understand how your hair went from a teeny-weeny Afro to waist-grazing braids overnight. If she's not a member of your department, connect with her and others through an employee resource group.

The OG Talk about institutional memory — this woman has seen top executives come and go and knows where they buried the bodies before they left. She has hacked the system and can tell you the most efficient shortcuts and workarounds for everything, from getting approval for a last-minute order to generating quick reports in Salesforce. If you know a sister like this, take notes!

The Tech Master You can act like you know what an OTP or a Bluetooth dongle is if you wanna. However, when you can't connect to the VPN or your password is locked, you want to be on a first name, "Is the baby sleeping for more than four hours yet?" basis with the IT department's most in-demand pro. (Ditto the office mate who's always scrolling through Wired or CNET on that next-gen tablet). Consider telling these rock stars how much their work means to yourwork — then emailing their bosses with the same message.

The Teammate You kick butt solo, but even superheroes team up to slay the big bad. This talented, trusted collaborator can often be heard singing your praises. And you don't hesitate to amplify her voice on calls — "Actually, Bob, Sheila just proposed a similar idea at the top of the meeting." She has no problem sharing the spotlight because she knows that you can bothshine, together.

The Mentor This isn't necessarily the most senior person on staff. She (or he) may or may not be a member of the same generation, race or political party as you. And she might even avoid the word "mentor," but she is willing to share her knowledge. She knows where the traps are laid (and who set them) has a knack for uncovering folks' true motivations and has the map you need to safely navigate your organization's culture. She also has zero problems telling you about yourself. Consider grabbing lunch with her before you complete your self-assessment at review time.

The Support Hero Many folks act like the people in administrative roles aren't as important as they themselves are. But you know that's bull. When a colleague like this goes on vacay, there are no filters for the coffeemaker, videoconference meetings start late due to connection issues, nobody knows the visitor Wi-Fi password and deliveries seem to disappear. She may be the only person who everyone on the floor speaks with, trusts and likes. That means she likely knows which VP is falling short on his numbers, who tipped out for an interview at lunch or which venture capitalist is considering buying your company. Plus, having a coworker like this is a true delight because her priorities are aligned with the real world, not the echo chamber that is your office.

The Office Spouse Whether she's your homegirl who forces you to leave your desk to eat lunch every day, or the dude who kicks you under the table when your face is giving away your boredom in the staff meeting, this is the person who keeps you sane at work. You can trust him or her not to disclose your rants about your boss's microaggressions or about the client who withholds feedback at critical stages only to tell you the finished product "isn't what I had in mind." And when your spouse is done listening, you may find yourself laughing about these situations.

The Connector Need an event planner? He has one on speed dial. Interested in serving on the board at the local women's shelter? He just sent an email of introduction to the chair. Have to impress clients visiting the city, but the play they want to see is sold out? He has a guy. Lean into his wisdom. And connect him with others who belong in his contacts app.