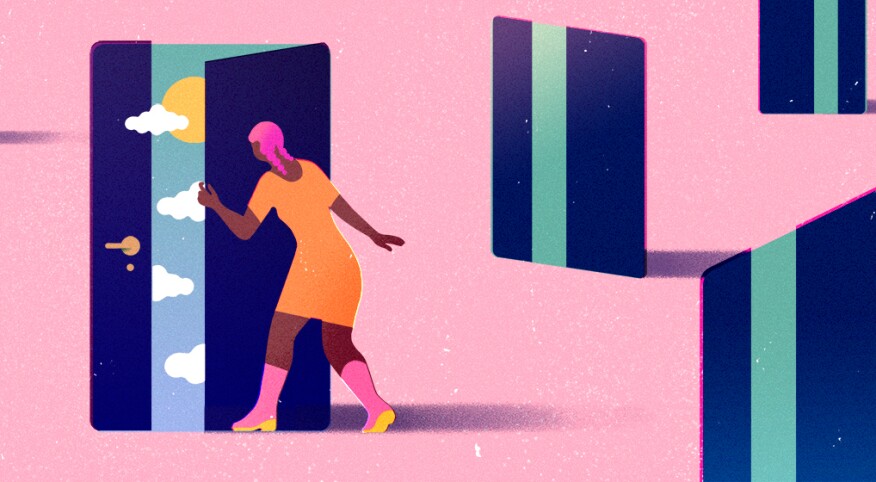 I have a financial confession to make. Even though I had $100,000 in credit card debt back in the early 2000s, I still use credit cards a lot, for everything from online shopping and utility payments to gas for my car and meal-delivery services.

Why would someone with a history of being heavily in debt still have a wallet full of credit cards and use them so frequently?

I see credit cards as a tool, not inherently evil or bad. (By the way, about my past debts, I paid them all off in three years, and I never missed a single payment. I even wrote a book, Zero Debt: The Ultimate Guide to Financial Freedom, about all the strategies I used to conquer my debt, and it became a New York Times best seller.)

I've also learned plenty about when it's smart to use a credit card — and when you shouldn't.

Here are four reasons using credit is better than whipping out a debit card.

Boost your credit rating

Credit scores range from 300 to 850 points. The higher your score the better, since great credit helps with everything from getting certain jobs to obtaining mortgages.

Unfortunately, the Urban Institute reports that only 21 percent of Black households have credit scores above 700. Additionally, 33 percent of Black households have "thin" credit files or no credit score at all.

Using a credit card is one key way you establish and build your credit rating. In fact, paying your credit card bill on time each month increases your credit score. But that doesn't happen when you use a debit card, because those purchases aren't factored into credit scores.

Avoid bank overdraft fees

Has your bank or credit union ever hit you with one of those nasty overdraft fees? The Consumer Financial Protection Bureau (CFPB) says most overdraft fees result from small debit card transactions of $24 or less. So get this: You might use your debit card to grab a quick lunch for about $15, and then get slapped with a $35 overdraft fee if there's not enough money in your account!

People who frequently overdraft pay $450 more in fees annually, the CFPB says. And who's most likely to face overdraft fees? You guessed it — people of color. According to the Center for Responsible Lending, Americans paid nearly $12 billion in overdraft fees in 2019.

You won't have to worry about hefty overdraft fees when you're shopping online or making an in-store purchase and you opt instead for a credit card to complete the transaction.

Get stronger fraud protection

Credit cards also offer better safeguards against fraud if your card gets lost or stolen. Under the Fair Credit Billing Act, if someone makes unauthorized charges on your credit card, your liability is limited to $50. But debit card fraud is regulated by a different law, the Electronic Fund Transfer Act.

So depending on when you report your debit card missing, you could be on the hook for $500, or even the entire amount spent if a thief uses your debit card. That's a big deal, given the amount of fraud and identity theft on the rise nationwide.

In 2016, the number of fraudulent debit card payments totaled 31.3 million transactions and the value of debit card fraud hit $2.34 billion, according to the latest data available from the Federal Reserve.

And since the Fed reports that the average loss on a single fraudulent debit transaction is $149, simply using your credit card, and not a debit card, can be a good fraud protection strategy.

Stock up for future travel rewards

One other major advantage of credit cards is that you can earn all kinds of travel rewards for spending that you were going to do anyway. Credit card perks range from cash-back deals to airline miles to complimentary hotel stays.

For now, most of us have curtailed travel quite a bit, if not entirely, due to the ongoing coronavirus pandemic. But let's be honest: Are you longing for (or already planning!) a girlfriends' getaway or a romantic trip with your partner just as soon the COVID-19 vaccines roll out widely? I know I'm planning a nice, long overseas trip with my hubby once it's safe to travel again.

So take a tip: By using credit now, instead of most debit cards, you can amass some juicy travel rewards that will make your next vacation — say in late 2021 or early 2022 — much cheaper.

With some strategic spending on your credit card by charging stuff you already routinely buy, you can accrue travel benefits galore: upgrades to first class, discounts on car rentals or maybe some free nights at your favorite hotel when the pandemic is under control.

Use those cards wisely

Despite their advantages, I don't want you racking up debt or hurting your credit score by excessively using credit cards. What's excessive? You're charging too much if you can't pay the bill in full when the statement comes.

So before making any credit card purchase, ask yourself: "Do I already have enough money in my bank account to cover this charge and pay this off today?" If the answer is yes, go on and buy what you want — and then go make an immediate payment on that credit card in the amount of your purchase. Basically, you're paying your credit card bill early, before the due date.

Sometimes, it'll be a stretch. But this strategy can help you stay disciplined, only charging what you can truly afford.