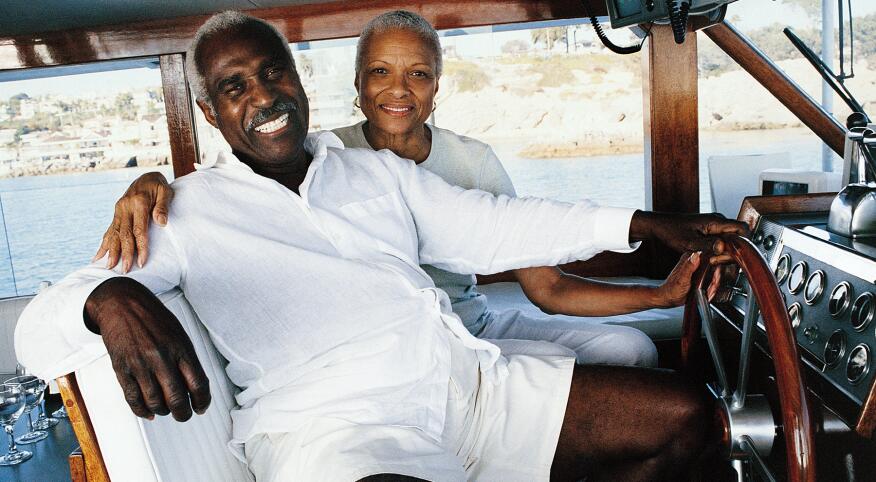 I'm always looking for a way to up my financial game, so when I heard about the Black Wealth Summit, a conference focused on teaching the Black community wealth-building principles, I was intrigued.

Turns out the Black Wealth Summit was founded in 2020 by entrepreneur Cedric Nash as a way to close the racial wealth gap. This year's conference, held Oct. 27 to 29 in College Park, Maryland, featured such speakers as author and motivational speaker Iyanla Vanzant, media personality Angela Yee and entrepreneur Daymond John.

The conference emphasized that we may have more power over our financial destinies than we think. Here are seven lessons I came away with to help Black women assess our finances and level up.


We could change our money beliefs

Many of us inherited our money beliefs from our parents, said Vanzant in a keynote address. "One of the main things I was taught about money is 'There's never enough,' " Vanzant said. She was always broke until she changed her thinking.

If you don't believe wealth is possible, you won't bother to look for opportunities to build it, such as by negotiating for higher pay or starting a side hustle.

To change your money mindset, pay attention to your thoughts. Then look for examples that prove your negative money assumptions to be false. Vanzant started to believe money could be plentiful and pointed out that banks always have more than enough.


We could seek out financial role models

Only half of women are confident about managing investments, compared with men, said Tiffany Eubanks-Saunders, a senior vice president with Bank of America. In a session on how Black women can build generational wealth, Eubanks-Saunders recommended that we find someone who we believe has handled their money well and emulate them. We might even ask them how they managed to retire early or how they got out of debt. Of course, that means we must start talking about money in general — something that's often taboo in our community.

To create community around finances, start a money accountability club where you and a couple of sisters you trust share your money moves and learn from each other.


We could approach debt strategically

Taking on debt can help us buy a house or get a college education. But if we don't manage it wisely, it can keep us from saving and investing. In the case of education, we have to be careful that we don't take on more debt than we can afford.

We know that higher education is a key to better-paying jobs, Eubanks-Saunders said. "The question becomes: How much are we leveraging our future in order to get it?"

To spend less on education for children and grandchildren, explore in-state colleges, seek out scholarships and apply for grants. If you're currently paying off student loans, services like the Savi Student Loan Repayment Tool (see below) can help better manage it.


We could partner with other Black businesses

Black women are more likely than white men or white women to start a business, according to research conducted by the Harvard Business Review. In a session on entrepreneurship, Stephenie Whitfield, a senior vice president and market executive for Bank of America, recommended that we look for other Black-owned businesses to create joint ventures that can uplift us both.

Network with other Black business owners so you know who to go to when your business needs a particular service. "You may not be a coder, but you can hire coders or you can partner with somebody who already knows how to do that," Whitfield said.


We could cash in on our businesses
Speaking of businesses, Black women sometimes hold on to our companies to our detriment, said Eubanks-Saunders. Other entrepreneurs build businesses and sell them and use the money to invest in something else. "We've got to pivot and think about building a business that you can sell and then taking those proceeds, so maybe the next time you go into two businesses versus one," Eubanks-Saunders said.

To learn more about selling a business, read Reasons for Selling: Business Stories and Business Owners Guide to Successful Exit Strategy, by Ri Ace.


We could leverage our benefits

Entrepreneurship isn't the only way to build wealth. If you work a 9-to-5, your employer's benefits plan can improve your financial standing as well.

In a session titled "Real Talk: 9-5 Millionaire," Jey Price, a program manager for the Black Wealth Summit, said her previous employer had an employee stock purchase program, which let workers buy company stock at a discount. She plans to use some of that money to purchase a piece of property next year.

To make the most of your benefits, take advantage of any company match by saving money in a 401(k) plan, and check out other vehicles for saving money, such as health savings accounts. Don't forget about lifestyle benefits. For example, a gym benefit can save you the monthly gym membership fees.


We could transfer wealth on our terms

A will ensures that our house, bank balances and other assets go to our loved ones. Powers of attorney ensure that someone we designate will act on our behalf if we are physically unable to do so. Another legal vehicle to consider is a trust, Eubanks-Saunders said. A trust lets you control how your money is distributed and spent after you die. For example, you might want your grandchildren to get a set amount of money, but with a trust you can "designate that in order for you to get this money, you've got to finish a four-year degree," Eubanks-Saunders explained.

Overall, I came away from the conference feeling empowered and looking forward to attending it again. I also resonated with this sentiment from Vanzant: "Wealth isn't about money. Wealth is about the integrity of your soul and your spirit and what you believe is possible for you."



Plus: Got School Loans? A Helpful Offering From AARP

The Savi Student Loan Repayment Tool is a new offer to help AARP members, their families and the general public take charge of their student loan debt.

• The tool provides a personalized assessment of a borrower's student loan repayment and forgiveness options, based on the types of loans they have.

• Many borrowers are unaware that there are free options to lower their payments or have difficulty navigating and qualifying for these programs.

• With this tool, Savi automatically examines your student loan records to determine which payment plans you are eligible for, and also looks at your employment to see if you may be eligible for loan forgiveness options you may not have known about.

• The tool can help identify eligibility for repayment options, which may result in reduced monthly payments.

• The Savi Student Loan Repayment Tool presents free and objective options on federal loans that are widely available for managing your payments. Savi does not direct to any options for refinancing your loans with a private company, a step that could be potentially risky and detrimental to receiving loan forgiveness.

• In addition, AARP has worked with Savi to help provide this tool to low-income older adults at no cost through AARP Foundation. As older adults are the largest growing age group of student loan borrowers, AARP and Savi are committed to helping them access the tools they need to tackle student loan debt.

• The tool is available via smartphone, tablet or computer. Visit aarp.org/studentloans.