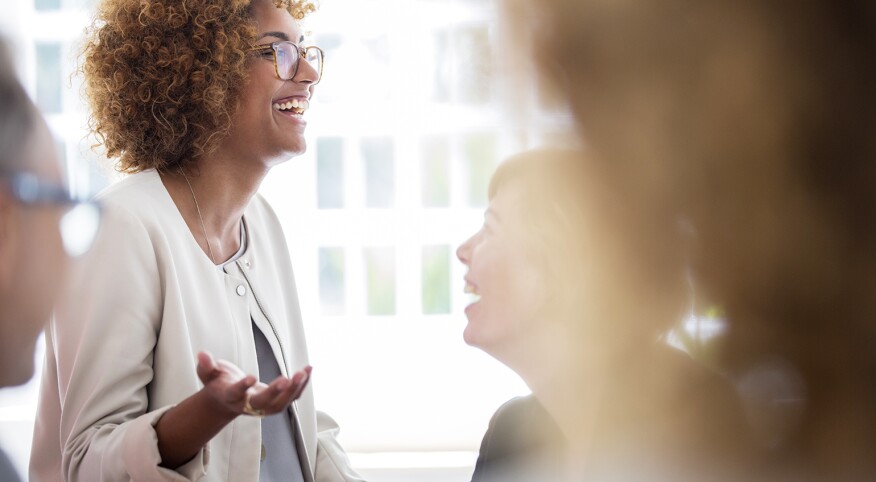 Shonda Rhimes didn't get to the top by selling her accomplishments short. "I am going to brag," she said at a recent awards ceremony for women in Hollywood. "I am the highest paid showrunner in television."

We don't need the powerhouse producer's mega-success to follow her lead. In fact, Rhimes went on to say that women have to become as comfortable as men at sharing our greatness if we want to score the promotion or get the higher paycheck.

If the idea of bragging about your accomplishments makes you cringe, you've just got to flip the way you look at it, says Natascha F. Saunders, a career coach in Boston. She shares three ways that we can promote ourselves at work while leveraging our natural strengths.

Use bragging to bond. When we think about bragging, we may picture that obnoxious person who talks about herself nonstop. Instead, remember that sharing goes both ways. Next time you are speaking with a colleague, the time may be right to ask him or her about an accomplishment. "Once they are finished, then you share," Saunders says. When you show genuine interest in others' achievements, it's easier to showcase your own — and your coworkers are likelier to be receptive.

You: "There was record attendance at the conference you planned. How did you do it?"

Colleague: "Yes, we doubled attendance this year through a lot of marketing on social media."

You: "I just got tapped to organize a job fair. Maybe you can share a few pointers."

Share insights along with accomplishments. Telling your manager that you won over another client is different from sharing what you learned when you won over that client. In the latter case, you're giving the listener an added benefit from hearing the story. Take advantage of the fact that women are natural storytellers. "When you speak about yourself, you want others to be able to not just understand what you did, but how and why you did what you did," Saunders says.

You: "An angry customer came in while the manager was at lunch. I stepped up to handle it because I had a feeling he'd calm down once his concerns were heard, the same way my uncle does. He left satisfied and even made an additional $150 purchase!"

Tie your brag to company success. As women, we're nurturers — always looking to help somebody out. If you've accomplished something that can help your company or manager solve a problem, be direct. Mention what you did, then tell your manager that you're providing this example because it directly ties into a challenge your department faces, Saunders advises. When it's focused on what's good for the company, your brag conveys a message that benefits all.

You: "My sales numbers have doubled since I created a new script. Maybe I can share it with the team at the next sales meeting."

Brag may be a four-letter word, but it's not offensive if done right. A little self-promotion can help you get promoted — and earn more money!