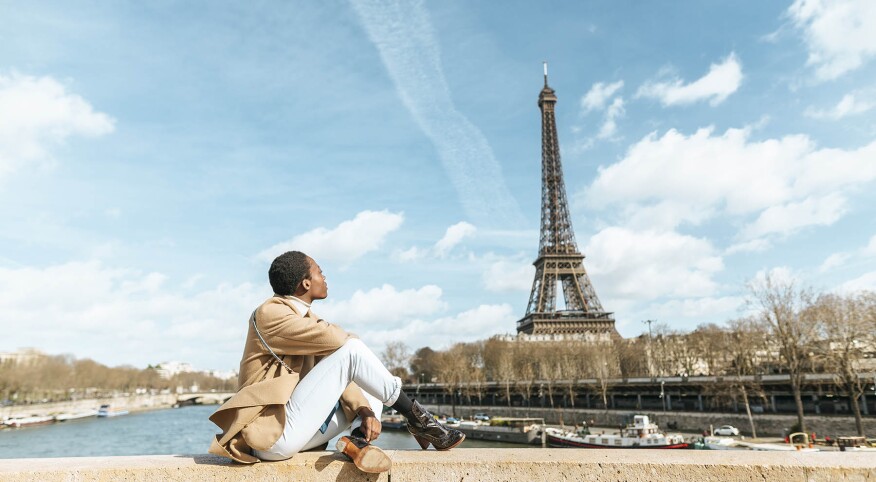 Thinking about moving abroad for a few months or a whole year? Maybe you want to pursue peace, take advantage of remote work or live out a dream. Even as we continue to deal with the pandemic and its restrictions on travel, living temporarily in a new place can be an option.

Currently the Centers for Disease Control and Prevention has issued travel guidelines for travel during the pandemic, as travel can increase the chances of exposure to COVID-19. If you've weighed the risks and seek to relocate for a temporary period, while following local guidelines, some countries may still allow you to move.

For example, countries like Antigua and Barbuda, Barbados and Dubai allow visitors to work there for durations ranging from one to two years, when they meet eligibility guidelines (which can include income minimums), reports The Points Guy, a travel website. Plus, certain countries such as Mexico and Aruba will host retirees, too, with proof of unearned income (i.e., pensions annuities, etc.) if your monthly gross qualifies. (Note that many countries have enacted travel restrictions. So you also can consider where you may want to move if travel opens up again.)

If you are still working and your job can be done remotely, you can talk with your HR department about your options, says Elayne Fluker, an entrepreneur with an online business who has lived abroad.

Considerations for living abroad

Wanderlust isn't gender, color or age-specific, and 54 percent of digital nomads are older than 38, Forbes reports. Plus, groups like Nomadness Travel Tribe and Black Digital Nomads cater to the Black expat demographic. Tykesha Burton, 43, a self-described "gutsy globetrotter" and founder of MommaWanderlust, which encourages cultural travel for Black families, has noticed travel among people who participate in private online travel groups. "With COVID, I'm seeing quite a few Black women, in particular, working abroad remotely," she says.

If you're interested in working or living abroad, there are a few things to consider.

Research your options. Look into where you want to live, including any travel restrictions and which visas and programs are available to you. If you have a partner or family, research whether your temporary relocation will include them. Many of these visas require proof of monthly income.

Review your passport and related requirements. Passports, paperwork, visas and applications should be in order before your departure. For some destinations, your passport may need to be valid at least six months beyond your final travel date. If you have questions or need a new passport, you can contact the National Passport Information Center or visit the website of the U.S. Department of State. Due to COVID, the length and time to receive a new passport is updated regularly on the Department of State's website. You also can visit the government websites of your top destinations of choice to see if the types of visas offered are compatible. And speak with a local specialist from your country of choice's immigration agency, tourism board or visa program listed online, if you have specific questions.

Talk to other travelers. If you have questions about what life is like in a certain country, ask someone who lives there now. Your network goes beyond your immediate circle, and you can get on social media and join travel groups, notes Fluker. You can search on sites like Facebook or Instagram to find private groups for expats and Black women travelers.

Connect with a network and find housing. For real-time information, community and a sense of support, a network is a helpful tool when deciding where to live and choosing housing. See if you can find Facebook groups that focus on your intended destination. To save time, you can work with a remote realtor who can show you long-term and short-term accommodations, from family rentals to luxury beachfront condos.

Review your finances. The U.S. dollar may go farther in some countries, but it also can lag against local currency. The rate of exchange also fluctuates. Plus, your U.S. expenses, including taxes and your mortgage, if you have one, also will need to be in order. Early in the process, you can consult with a certified foreign tax expert to determine your responsibilities when abroad. Once your destination is confirmed, also inform your phone providers (you may need to get your phone unlocked), the U.S. Postal Service, banks and credit card companies about where you will be and for how long.

Research health care options. Even though some countries offer universal health care to their citizens, visitors may not be eligible. Keep this in mind when researching destinations and health insurance options. You may have to pay for PCR testing for COVID-19 (considered the "gold standard" in SARS-CoV-2 detection) up front; costs vary with each destination. Some countries even require travelers to carry their test results and quarantine from seven to 14 days upon arrival.

If you have prescriptions, you can confirm whether they are permitted in your new home country; CDC offers tips on what to know. If so, consider traveling with at least one month's worth of medications until you establish a local doctor and pharmacist. You can make copies of your passport, driver's license, birth certificate and some medical paperwork in case they are lost or stolen, but avoid copying your social security card. The U.S. Embassy in your destination can often provide a list of doctors and hospitals for your review. If you have questions, including any risks for your personal health situation, talk with your health care provider.