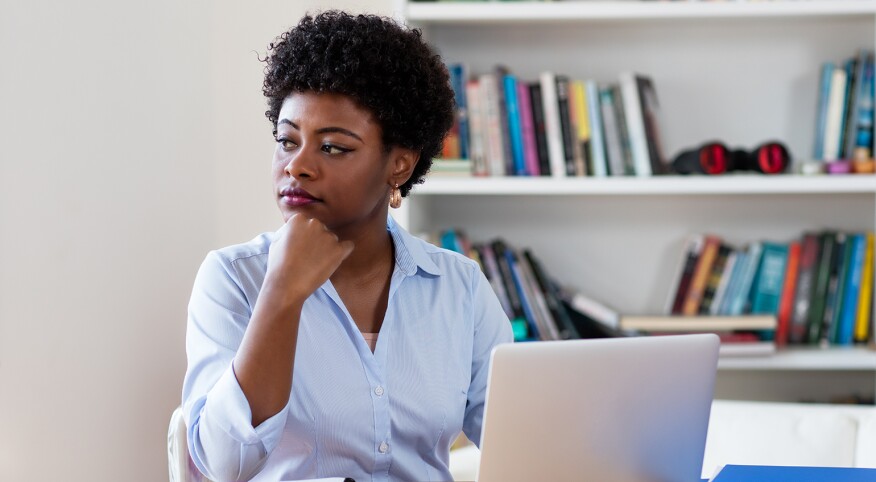 "Quit."

That's the advice my mother gave me without looking up from her sewing machine. I'd showed up at the house in tears after a few weeks at a job I realized I would hate the day I arrived. I'd taken it because the commute was shorter than the two-hour trek into my old office. My youngest was less than a year old. He would wake up just in time for me to kiss him goodbye in the morning. He'd be asleep before I stepped off the train on the way home. The new job was closer, but it came with a tyrant of a boss, lording over a dejected staff. They'd all had me fooled during my interview process.

Still the thought of leaving felt scary and embarrassing.

"Quit?" I responded, "But I just started."

"All the more reason to quit now," she said. "There is no point in staying at a place where you are not valued and where people are disrespectful to one another. Things will not change. Plus, he sounds crazy."

Crazy 'bout summed up my whole situation. I'd started the job during the launch of the company's biggest project, which meant dealing with long hours and short tempers from jump. I was used to deadline pressure, but I'd never witnessed a man screaming and cursing at a cowering staff. Their deafening silence revealed the imbalance of power.

I thought I could overlook these things, collect a check and focus on my family — but I'm not wired that way. My mother was giving me the permission I needed to walk out. Still, quitting didn't seem right either.

With two children and a new house, the prospect of becoming a one-income family wouldn't fly with my husband. Mark's not a fan of what he calls "emotional decision-making." I had already made a heart-centered decision to leave my previous good job, and now I was about to make another move based on emotions. For me, it came down to which decision would give me peace. Should I stay or try another path? Of course, it was the latter. The next step was finding the nerve to tell him.

So, I spun it. I told him, simply, that I'd made a mistake — not in leaving my job but in taking one I didn't want. Having made a similar mistake earlier in his career, Mark got it. (Not that we were keeping score, but if we were, we'd be tied in career-setbacks.)

I quit the next day.

Mark helped me with my recovery plan. One step in that plan was to reach out to a former boss who regarded me well. That boss connected me with a good friend, a hiring manager who happened to have an opening. To my amazement, about a week later, I accepted one of the best jobs I've ever had.

Quitting abruptly goes against everything we type A's practice. It's emotional, irrational, maybe even reckless. Who quits a job without another? My mother, that's who. I fact-checked this with my sister: we can recall at least three times when Mommy quit a job because she felt disrespected, or because she was doing something that was either beneath her experience level or outside of her skill set. I had evidence of what it means to know your worth and to transact based on that worth in a way that benefits your sanity, your babies and your relationship.

What I gleaned from Mommy's example isn't a "leap and the net will appear" ideal. It is a truth revealed by a woman whose working life started when she was 17 and a mother of one. While she offered no practical instruction on the things you must do before giving notice, she taught me about the mental and emotional readiness of leaving. My mother didn't job-hop; she built a career as an executive assistant in the 80s and 90s. Our family was squarely lower-middle class, and while my parents struggled plenty of times (possibly as a result of her quitting), it was never for long.

I'm glad mom passed the quitting gene on to me. It has manifested itself twice in my professional life. The first time was the day after our talk in her sewing room. The second time was a year ago, when after seven years, I quit my job as Senior Vice President Creative Director at an agency. I'd worked my way up from consultant to executive leadership. But near the end of my tenure, the transaction — using my talent to benefit someone else's business — was off-kilter. I was giving far more than I was gaining.

With more at stake this second time around, I was hesitant to leave, but never scared.

Before resigning, I shared the story of my quitting gene with a friend and mentor. She thought it was cute but let me know that thangs done changed since then. "You need an exit strategy, my friend," she told me.

Nine months later, I was ready to act on that carefully thought-out exit strategy. I'd worked up a business plan in Google Docs, collected a list of prospective clients and saved up money. I gave notice on October 1, 2017.

By New Year's Eve, I'd established my own agency, producing content and video projects for big companies. My creativity is my currency. I set the price and I earn the revenue. The success is mine, so is the failure. This work aligns with my worth. If that ever changes, I'll quit.