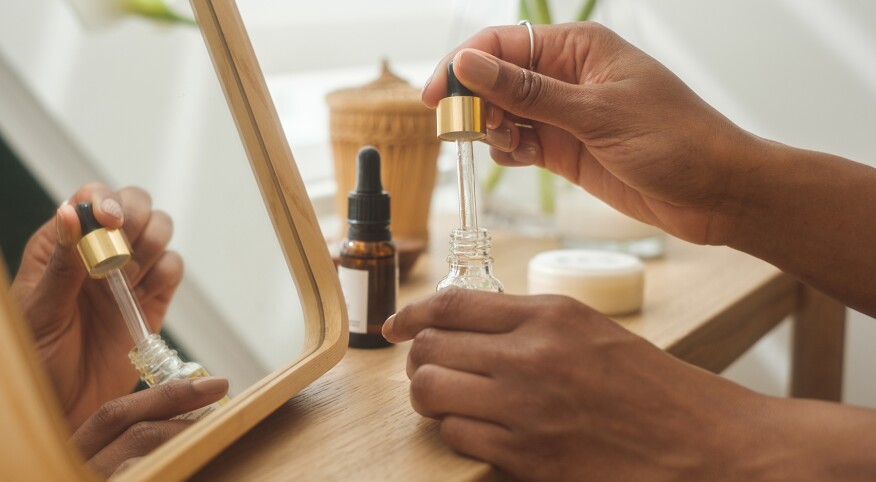 My bottles of essential oils (EO) have been in frequent rotation lately, particularly the ones that elevate my moods or comfort me. Though there is little scientific evidence of the health benefits of EO, these potent oils, extracted from plants and then distilled into highly concentrated liquid fragrance, are believed to have healing properties that, in addition to uplifting one's spirit, can lower anxiety and stress, reduce inflammation, as well as treat wounds and provide pain relief. My nonscientific opinion is … it works for me. If you find the scent of lemon oil energizing or you've noticed that lavender is relaxing, you feel me.

Aromatherapy, the therapeutic use of essential oils, had its beginnings in ancient Africa. Botanical oils were used by Coptic Africans in Ethiopia and by ancient Egyptians. The latter have been credited with the use of botanical oils and perfumes for health and beauty in ways that are still practiced today.

"My favorite uses for essential oils are aromatherapy by diffusing oils and using them in skin care," says certified aromatherapist Valencia McClure, founder of The Artistry of Essential Oils. "I love the benefits of essential oils on my skin such as frankincense, carrot seed, etc. No toxins, all clean and natural, and the benefits are great — from firming, antibacterial, lightening dark spots and great hydration when mixed with a carrier oil such as jojoba or pomegranate oil."

When choosing essential oils, buy them from a reputable company as not all EO is created equal. Also consult your health care professional, especially if you are on medications, are pregnant or have other medical conditions. Once you've picked your oils, here are ways to enjoy them:

Inhalation
Use natural mist sprays on pillowcases, eye masks, curtains or rooms.
Uncap the bottle and inhale the aroma. "You can take a quick whiff from an essential oil bottle," suggests McClure. "When doing so, it's important to remember to keep it quick, not longer than one minute."
Palm inhalation is good "for a quick mood uplift or relaxation," says McClure. "A palm inhalation is when you place two of drops of essential oils in the palm of your hand. Cup your hands a couple of inches from your face and inhale. You can do this two to three times. This can be a better method than inhaling from the bottle." Be aware that some essential oils are not safe for the skin. "Wintergreen and Cinnamon Bark are two oils that I wouldn't inhale from the bottle or palm inhalation due to the strength of the oil," McClure advises.
Steam inhalation. Put one to nine drops of essential oil in a bowl of hot water. Place a towel over your head, lean over the bowl and breathe deeply.
Dry evaporation. Place a few drops of essential oil on a cotton ball, sachet or to the beads of an aromatherapy bracelet or necklace.
Diffusion

Another method is to disperse essential oil particles into the air. Common methods are lamp rings, reed diffusers, candles and oil burners. If you are sensitive to candles, as I am, you can also use oil in a diffuser or a humidifier. Not all humidifiers can use essential oils, so check the manufacturer's directions.

An inexpensive way to diffuse oil is to place one to two drops of essential oil on a light bulb when not in use (and cooled off). When you turn on the light, the bulb will warm the oil and diffuse the fragrance into the room.


Topical Application

Essential oils are also used in bath and skin care products and in various ways for massage, in bath oil, bath salts, added to lotions and creams and more. As McClure advises, never apply essential oils directly to the skin. Use a carrier oil like coconut oil or sweet almond oil to help protect the skin from irritation and also help increase absorption. Be sure to check for allergies: Dilute EO in a carrier oil at twice the concentration you plan to use. Rub the blend into an area the size of a quarter on the inside of your forearm and check for a response within 24 to 28 hours.

For headache relief: Mix one to two drops each of lavender, spearmint (or peppermint) eucalyptus essential oils with 2 teaspoons of fractionalized coconut oil. Massage the mixture into your forehead, temples and the back of your neck. Avoid the eye area.

Calming bath soak to relieve negative energy: Mix 2 cups of Epsom salts with 20 drops of lavender and 10 drops of frankincense and put it into a warm bath. Enjoy!