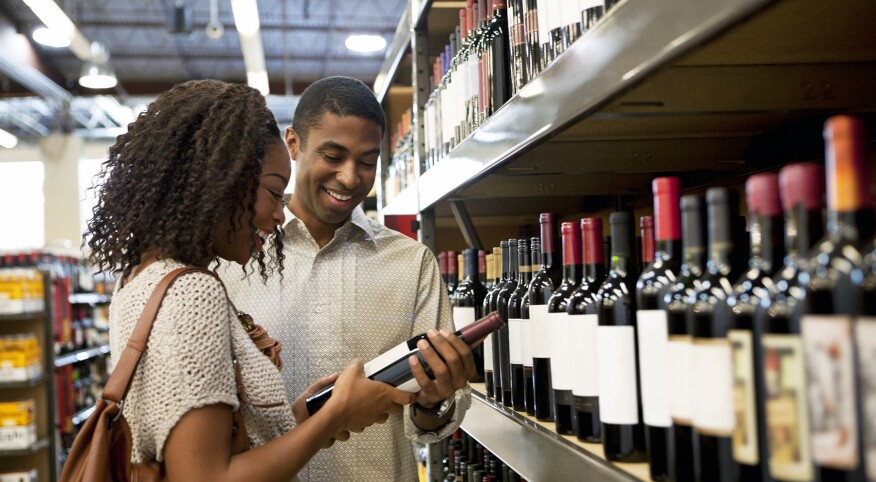 In the words of Issa Rae, "I'm rooting for everybody Black," and that includes spending dollars with Black-owned companies. This may be especially important now, as an estimated 41 percent of Black-owned businesses across the country shuttered between February and April 2020, according to an August 2020 report from the Federal Reserve Bank of New York. Meanwhile, white-owned businesses fell by 17 percent, the report noted.

So we compiled a list of Black-owned or Black-led spirit companies that also happen to be founded or run by women.

Wine It Up

Robin and Andréa McBride, also known as the McBride Sisters, have curated collections of wines such as the McBride Sisters Collection and SHE CAN Spritzers. The McBride Sisters Collections feature a chardonnay and red blend from Central Coast, California, and from Marlborough, New Zealand, a sauvignon blanc and brut rosé, and is sold in a bundle of four (for about $75) or by the bottle. Meanwhile, SHE CAN Spritzers (about $28 for four) are available in island citrus and coastal berry flavors, adding a bubbly remix to the brand's California rosé. Shop the wines and spritzers at McBrideSisters.com.

Nestled in Anderson Valley in California is Theopolis Vineyards, owned and founded by Theodora R. Lee, a Texan and San Francisco trial lawyer. This small vineyard has released award-winning wines, including a petite sirah, which gives wine drinkers a robust taste of currents, black tea, dark chocolate and tobacco. Shop the collection, with a starting price point of $22, at TheopolisVineyards.com. Varietals include petite sirahs and a pinot noir with a taste of cranberry and aroma of red cherry and rose petals.

Owned by attorney Lindsey Williams, Davidson Wine Co.markets itself as "the first urban winery" in Davidson, North Carolina. With global sourcing for fresh ingredients — grapes from international vineyards — the winery crafts 50 different kinds of wine. Offerings include merlot, cabernets and even ports. It also offers traditionally hard-to-find wines like petite verdot and barolos made from the nebbiolo grape, which is hard to grow. Order online at DavidsonWineCo.com; regular prices start at about $24.

Seeing Spirits

HH Bespoke Spirits is a family-owned business run by CEO Sharene Wood, drawing inspiration from the culture and style of the Harlem Renaissance. The brand offers a signature rum (with hints of butterscotch), gin (with moderate juniper flavors) and vodka (made in small batches). You can buy via WarehouseWinesandSpirits.com for pickup, local delivery or shipping, with each priced at $49.99.

Anteel Tequila was cocreated by Nayana Ferguson alongside her husband Don Ferguson and Mike Rowoldt, who all left the corporate world and their own businesses to create this brand. Their premium tequilas are distilled twice, combining both highland and lowland agave to garner smooth and flavorful profiles that can be consumed alone or in one of their suggested cocktails. The collection currently includes three blends: Tequila Blanco, Tequila Coconut Lime Blanco and Tequila Reposado, all available for purchase from TeeqSpirits.com, with a starting price of only $31.99.

Infusing classic blends such as green tea, peach tea and chai tea with 80-proof vodka, filtered and distilled five times through crushed diamond lava rocks, it's clear that Black Momma Vodka isn't your ordinary cup of tea. Brooklyn-born owner and operator Vanessa Braxton formerly managed construction and engineering contracts before debuting her nationally distributed vodka in the United States. Also toast-worthy? Black Momma Vodka's line of mixers that are certified kosher, organic and vegan friendly. Find the brand's vodka-infused teas for $33.99 at BlackMommaTeas.com.

Uncle Nearest Premium Whiskey, based in Tennessee, is helmed by CEO and cofounder Fawn Weaver. It was named for the first known African American master distiller Nathan "Nearest" Green, who was born around 1820 in Maryland. Today, the brand has earned more than 75 awards for its barrel-aged whiskeys that combine the flavors of maple, caramel corn, peaches and apricots and are filtered through sugar maple charcoal. You can purchase a bottle of premium barrel-aged whiskey starting at $49.99 from UncleNearest.com.

Quick Tips for Wine Tasting at Home

To start a tasting off right, be daring and adventurous, says Washington, D.C.-based wine and spirits consultant Marcia McColl, who is also the founder of Bubbles & Bourbon, a company offering virtual and Washington-based tasting soiree experiences.

If you're not sure which wines to feature, think of the seasons. In warmer months, select light wines such as a sparkling wine or rosé, McColl shares. And in the colder months, go for full-bodied options, like a cabernet sauvignon from Napa or Bordeaux. Also consider creating an intimate setting with mood lighting and even lighting an unscented candle to further enhance the home-tasting experience. Finally, have food, even if it's something simple like cheese and crackers, which pairs well with a variety of wines.