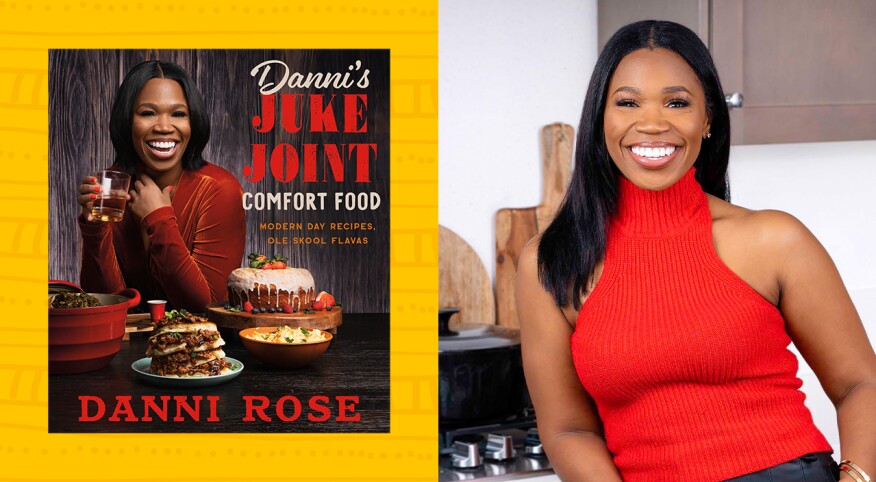 She might be Food Network's most irreverent and irrepressible personality. From Danni Rose, who serves up salty banter—and songs—alongside heaping portions on her cooking videos, comes Danni's Juke Joint Comfort Food Cookbook: Modern-Day Recipes, Ole Skool Flavas.

Enter here to win a copy of Danni's Juke Joint Comfort Food Cookbook


From the publisher: HarperCollins:
Danni Rose grew up eating real Southern home cooking surrounded by family, friends, and community—at church potlucks and at her daddy's juke joint, Haywood's Place. These memories inspire the food she shares today with her millions of fans online and in the pages of this book, like:

Cheddar Pancakes with BBQ Pulled Pork
Daddy's Fried Cheese Grits
Cajun Deviled Eggs
Jack & Pepsi Slushies
Spatchcocked Whole Fried Chicken
Ole Skool Mac 'n' Cheese
Pot Likker Greens
Church Lady Candied Apples
Every recipe is made for home cooks and packed with big, bold, and as Danni would say "sopped up flava." With origin stories, practical tips, irresistible photos, and more, Danni takes you inside the culture of juke joints—word-of-mouth hangouts where folks gathered to drink, eat, dance, gossip, and have a good time—as well as family cookouts, fish fries, social savings clubs, and more. Every page overflows with Danni's larger-than-life personality and love of good home cooking.


Recipes and remembrances from Danni Rose:
Rose writes her recipes and notes using the conversational style she's known for—the color, the colloquialisms—all of it. "I am so happy and so blessed to share with you things that are truly dear to my heart," Rose shares as she introduces her collection. "We're making some delicious and nostalgic food, and it's all just down-right SOPPED UP!...These recipes are so [endeared] to me, and I hope that you love them just as much as my friends and family do. Turn up your favorite ole skool playlist, pour a li'l drank or wine in a plastic cup, and make whateva dish makes you say, "I want that right there." Trust me, you can't go wrong."


Cajun Juke Joint Butta
Use as a rub for chicken, fish, or vegetables, or add to your sauces!

Makes 1 ¼ cups

1 cup (2 sticks) salted butter, at room temperature
2 tablespoons dried parsley
1 tablespoon garlic powder
2 tablespoons onion powder
½ teaspoon ground black pepper
2 tablespoons Juke Joint Black Cajun Seasoning, or other Cajun seasoning

Combine the ingredients in a large bowl and give everything a stir until combined. Use immediately or put it in a covered container or wrap in plastic wrap, refrigerate, and use whenever you want.


Pot Liquor Greens
Makes 6 servings

Who needs another greens recipe? You do. And you're gonna want this one, 'cuz instead of the collards that everyone makes, I use turnip greens, which are much sweeter and more tender. One of my favorite things in the world is cabbage, so we're addin' cabbage to these greens, too, and you get the best of both worlds.

And if you like me, you're gonna wanna drink this pot likker, it's so good. So go ahead and serve you up a cup.


12 to 16 ounces turnip greens, tough bottom stems removed
1 small to medium head of green cabbage
One 2 ½ -pound smoked turkey leg
¼ cup apple cider vinegar, or more to taste
¼ cup House Seasoning Blend, or Juke Joint Seasoning, or to taste
2 tablespoons beef-flavored bouillon powder
2 tablespoons brown sugar
1 tablespoon baking soda
Hot sauce, for serving

1. Gotta baptize your greens, hunny, and wash 'em at least three times 'cuz they so dirty and full of sand. When you think they're clean, rinse 'em one mo' time. Leave 'em whole and set aside.

2. Using a large, heavy knife, cut the cabbage in half and then in quarters. Cut away that tough white piece (the core) from each quarter. Thinly slice the cabbage into shreds.

3. Place the turkey leg in a large pot or Dutch oven with enough water to cover by 2 inches. Cover and bring to a boil. Reduce to heat to medium and cook, covered, at a low boil until fork-tender, about 2 hours.

4. Remove from the heat, uncover, and transfer the leg to a plate to rest. When cool enough to handle, pull the meat off the bone.

5. Now add your greens and cabbage to the same pot and bring to a boil.

6. Reduce the heat to a simmer and cook, covered, for 30 minutes.

7. Uncover and add the vinegar, seasoning, bouillon, brown sugar, baking soda, and the turkey leg meat. Return to a simmer and cook until the greens are soft and tender, about 15 more minutes.

8. Serve with a few dashes of hot sauce.


Enter here to win a copy of Danni's Juke Joint Comfort Food Cookbook