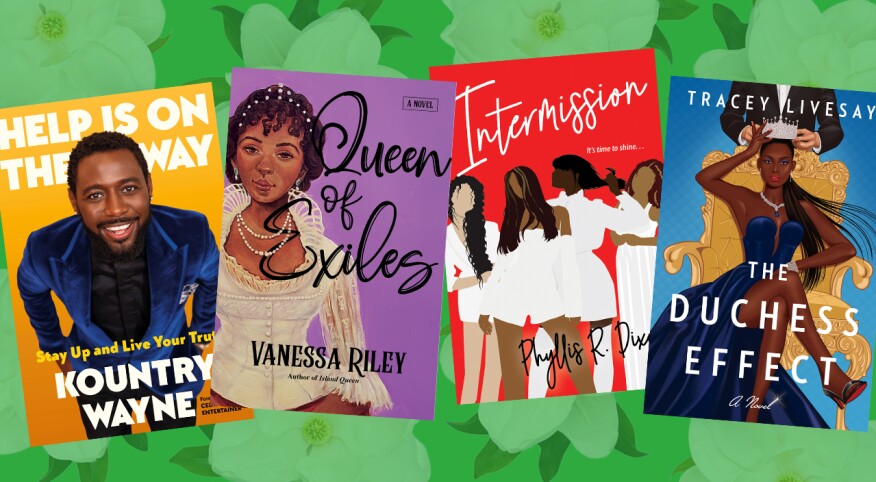 Sisters' latest book roundup highlights writers who have links to the South, just like so many of our readers do. These page-turners take us to Savannah, Georgia; 19th century Haiti; and South Carolina's Lowcountry. You'll see if the fictional 1990s girl group the Diamonds can get back together after so long and get serious with funnyman Kountry Wayne. There is something here for everyone. After all, as André 3000 said, "the South got something to say."


Intermission

by Phyllis R. Dixon | Available July 25, 2023

If you were a fan of girl music groups from the 1990s, you'll love this story about the fictional girl group the Diamonds. Angel, Carmen, Doreen and Jade were just about to take the music world by storm but created their own storm instead. The Diamonds could have shone bright if not for the secrets and the quiet betrayals that caused their unfortunate breakup. But after many years apart, as the women contend with midlife adulting pressures, an opportunity for a reunion comes along. Each woman wants to succeed for her own reasons, even Doreen, the once wild one who is now a pastor's wife. As they grapple with their personal lives and their newfound celebrity, will the women be able to reconcile their differences and become the sisterhood that they were meant to be, or will new temptations transport them to where they were back in the day?


One Summer in Savannah

by Terah Shelton Harris | Available July 4, 2023

In Terah Shelton Harris' beautifully written debut novel, Sara Lancaster exhibits tremendous courage when she decides to travel back home to Savannah with her young daughter, Alana, the product of a horrifying sexual assault. She left Savannah after the assault but returns when she learns that her father is ill. While she's there, Sara's goal is to keep Alana away from the Wylers, the family of the man who assaulted her. She is confident that she can accomplish this since her attacker is in jail and both his mother and his twin brother, Jacob, who left town years ago, do not even know that Alana exists. But Sara soon finds out that Jacob is back in town to figure out what happened to his fractured family. It is clear that they both need to confront their past, and in doing so, they come together in ways no one would have ever expected. This tender story is all about bravery, forgiveness and love.


The Duchess Effect

by Tracey Livesay | Available July 11, 2023

Is love enough? You are about to find out in this steamy sequel to Tracey Livesay's novel American Royalty. In book two, it is clear that Danielle "Duchess" Nelson, the alluring American rapper, and Prince Jameson love one another, and the public loves them too. The pair is wildly popular, which is fine with Danielle until it isn't. She is eager about signing a major deal to launch Mela-Skin, her skin care line, and start a legacy. But her enthusiasm wanes when the cosmetics company wants to include Jameson in the marketing campaign and capitalize on their celebrity couple status. This is something that is all her own, and she wants to keep it that way. Meanwhile, Jameson longs to quietly get back into his work in academia but is instead fired from the university because of the attention from his new celebrity fame. Danielle and Jameson's chemistry is undeniably hot, but complexities arise because of a new royal family scandal, compromises, secrets and the international spotlight, all of which might put out the flame for the famous couple for good.


The Thing About Home

by Rhonda McKnight | Available now

Social media influencer Casey Black's perfectly planned vow renewal ceremony was supposed to be an event to remember, and it is! All at once, Casey finds herself alone at the altar, her marriage of seven years over, and millions of her followers gone as the humiliating video goes viral. With everything in disarray, Casey quickly leaves New York and heads to South Carolina's Lowcountry. While there, she focuses on finding out more about her family and getting the answers that her mother never divulged. Unexpectedly, she finds herself on a sprawling, picturesque 300-acre farm where she begins to spend her time tending to the property's land. Soon Casey indulges in the simple pleasures of sweet tea and cooking Southern food that is good for her soul. And after combing through her ancestor's old journal, Casey slowly learns about her history and rich culture. Suddenly, she has a home, a people and possibly a new love in Nigel, the fine farm manager whose friendship she's come to cherish. It could all be hers if only she is fearless enough to leave her old life in New York for good. This is a touching story about self-discovery and in faith that everything happens for a reason.


Queen of Exiles

by Vanessa Riley | Available July 11, 2023

Vanessa Riley pens another fascinating historical-fiction novel set in the early 19th century. Queen of Exiles is based on the sensational life of Marie-Louise Christophe, wife of Henry I, king of Haiti. As her husband rules over the Western Hemisphere's only free Black nation, political chaos is rampant. Eventually, in 1820, King Henry is overthrown, and he dies soon after. Fleeing Haiti, smuggling jewelry, Marie-Louise makes her way to Europe with her two daughters. Given their wealth, Marie-Louise and her daughters become quite popular within Europe's royal society. Despite being exiled in a male-dominated foreign country, Marie-Louise learns how to navigate challenges and carry on like a queen.


Help Is on the Way: Stay Up and Live Your Truth

by Kountry Wayne | Available now

If you think about it, comedians are observant, opinionated people. They have been through some stuff, and yet they find a way to be optimistic and, of course, to laugh. The same is true for comedian Kountry Wayne, who is well known for his humorous online comedy sketches and his ever-so-funny standup. But his new book offers insight into the talented man with the jokes and the radiant smile. In Help Is on the Way, Wayne details his upbringing in Georgia and his relationship with his dad. He discusses the importance of forgiveness and why he found it necessary to forgive his father, with whom he has a great relationship today. Wayne's very candid book is filled with countless inspirational messages that will leave you encouraged.