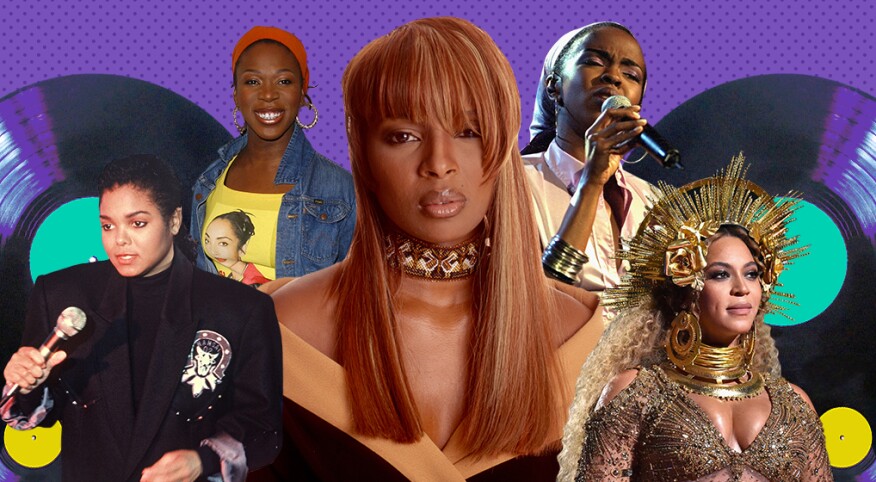 In honor of African American Music Appreciation Month, we're revisiting the albums that mean the most to us and celebrating the iconic artists behind them.

Lauryn Hill's exploration of Black love and womanhood
When The Miseducation of Lauryn Hill came out, we witnessed the inner workings of a 22-year-old Lauryn navigating the journey of womanhood. Hill's first and only solo studio album left its mark on music history, racking up five Grammys and making her the first hip-hop artist to win album of the year. But more important, her lyrical prowess schooled us in the power of truth, choice and faith. The lead single, "Doo Wop (That Thing)," teaches a lesson in self-respect. "To Zion" speaks to the joys of motherhood in the face of uncertainty. "I Used to Love Him" reminds us to fall back on faith when love ends in heartbreak. Just as relevant as it was 24 years ago, this melodic love letter serves as a safe place for sisters seeking strength and introspection.




India.Arie's reclaiming of feminine power and beauty
Every sister needs India.Arie's Acoustic Soul in her collection. It's the album you play when you just want to zone out and be in your Blackness. Mellow yet magnificent, Arie's debut album explores the nuances of Black femininity, from loving our "Brown Skin" to drawing from the "Strength, Courage & Wisdom" we all possess. In the lead single, "Video," she declares the unconditional love she has for herself while bringing relevant topics to the forefront, such as body positivity and self-worth. The vibes on this album are contagious, and Arie's authenticity inspires us all.




Janet Jackson's declaration of independence and sexuality
Control unveiled Janet Jackson's newfound independence, which would set the tone for the rest of her career. As the youngest member of one of the most famous families in show business, Jackson was finally coming of age, proclaiming she was ready to live life on her own terms. The anthems "What Have You Done for Me Lately" and "Nasty" empower us to speak our minds a little louder. But when listening again to songs such as "When I Think of You" and "He Doesn't Know I'm Alive," we reflect on the days when love was new and exhilarating. Not only did this album spawn a revolution in pop music, it redefined what being in control meant to us.



Mary J. Blige's manifesto on self-love
The road to happiness can be a hard one, but Mary J. Blige's My Life helped us get there in one piece. The album chronicles her journey to self-love amid the darkest moments of her life. Heavy with emotion, and hip-hop and R&B classics ("You Bring Me Joy," "I Love You," "Be Happy"), this masterpiece cemented Blige's place in music and in our hearts forever. She's kept it real with us since the beginning — through all the ups and downs — and that's why we love her to this day.




Beyoncé's bold truth telling
Music moments made specifically for us are few and far between. A work of art lyrically, sonically and visually, Beyoncé's Lemonade captures Black womanhood brilliantly. It's a gift to every sister who's ever felt the pain of betrayal despite her unceasing loyalty. It's an ode to Black love in all its beauty, power and resilience. It's a validation of the Black female experience, and the nerve of Queen Bey to put that experience front and center in a world where it's rarely acknowledged is praiseworthy. There's something liberating about the unapologetic nature of "Sorry" and the fury felt in "Don't Hurt Yourself." But in more vulnerable tracks, such as "Sandcastles" and "All Night," we feel a sense of hope that healing is possible.