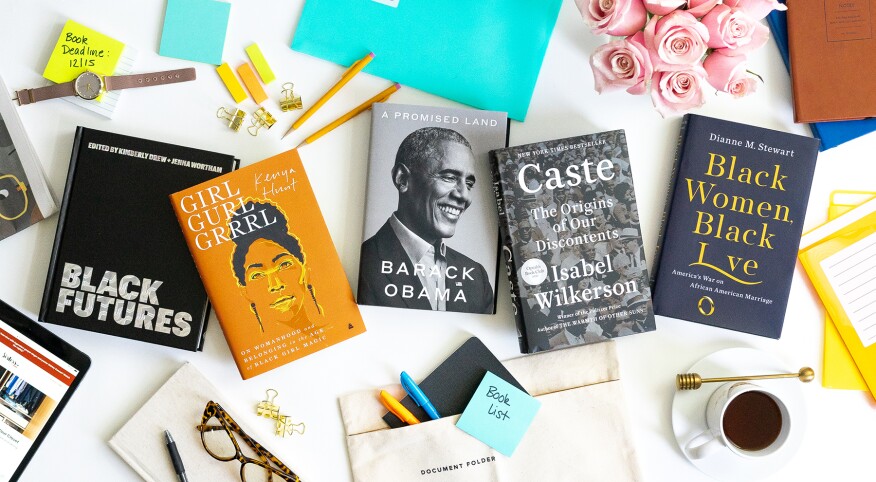 Election season may be over, but the need to educate and empower ourselves never stops. As we continue to navigate systems set up against us, we're going to need both enlightenment and inspiration to make it through — and a whole lot of Black girl joy along the way. These new and recent releases deliver. Each work proves both nourishing and necessary as it blends a study of history, culture and current events with intimate, relatable stories that will make you laugh, cry and shout amen. These books remind us that the personal is still political and the political is always personal.

Girl Gurl Grrrl: On Womanhood and Belonging in the Age of Black Girl Magic

By Kenya Hunt

Kenya Hunt opens this book with a hilarious yet heartwarming question from her son: "Mommy, why is it that every time you're on the phone or with your friends it's always girl, girl, girl, girl?" And by the end of this essay collection you feel as if you're one of the friends she likes to chat with.

As a Black American woman who has lived in London for the last decade, Hunt offers a unique perspective on culture, womanhood and race as she explores what it means to be a Black woman and a global citizen in today's ever-changing world.

What is #BlackGirlMagic? What does being woke truly mean? This book tackles these questions and much more. And, of course, the book examines the depth of the word "girl," which Hunt declares is the root word of the love language between Black women, regardless of age.

In Girl Gurl Grrrl, Hunt examines issues that Black women face around the world but uses her personal experiences to do so. While she highlights the poor maternal health outcomes for Black women in both the United States and the United Kingdom, she also shares the pain of two miscarriages and the relief of the moment she screamed and pushed her son into the world. Her essays will make you ponder what stories of your life you should be sharing.

Black Futures

Edited by Kimberly Drew and Jenna Wortham

Black Futures is much more than a book. It's an experience that explores this question: What does it mean to be Black and alive right now?

This collection of work includes images, art, essays, interviews, poetry, social media posts and much more to showcase the insights and imagination of Black artists, activists and academics.

The pictures and prose of this collection examine the Black Lives Matter movement, Black grief and the need for Black justice. Yet the pieces included also celebrate Black power and Black joy.

Photographs of intellectuals and thought leaders like Jelani Cobb and Ta-Nehisi Coates tearing up the dance floor are sure to put a smile on your face and remind you that your own joy is an act of radical resistance.

A Promised Land

By Barack Obama

Former President Barack Obama's memoir, which sold a record-breaking nearly 890,000 copies in 24 hours, offers an intimate and introspective look at his early political life, his first presidential campaign and his first years in office.

Obama offers a deeply personal account that gives readers a behind-the-scenes look at U.S. partisan politics and international affairs, detailing major milestones in his presidency, such as the passage of the Affordable Care Act and the death of Osama bin Laden, and revealing what was on his mind at every turn.

In A Promised Land, Obama discusses disappointment and self-doubt and gets honest about what he thinks he did right and what he got wrong. The book also delves into the personal highs and lows he and former first lady Michelle Obama faced and how living in the White House affected his family.

Obama's perseverance through times of turmoil and seismic sociopolitical change, along with his unwavering faith in the American experiment, is the energy we all need right now.

Black Women, Black Love: America's War on African American Marriage

By Dianne M. Stewart

The fact that Waiting to Exhale has legs as a TV series reboot 28 years after Terry McMillan's novel on Black women's relationship struggles was published makes plain the need for this new book's critical discourse. Despite the heaviness of the title, it pulsates with hope and heart. Just as we're in the process of shining a light on systemic racism in order to dismantle it, this book is bringing that same energy into our most intimate encounters. Examining white supremacy's impact on Black love from the era of slavery to the era of social media, Dianne M. Stewart argues that the fact that more than 70 percent of Black women in America are unmarried is the nation's most neglected civil rights issue.

This book calls on public servants, policymakers, activists and religious leaders to do what's necessary to create environments that foster the love Black women deserve.

Caste: The Origins of Our Discontents

By Isabel Wilkerson

There's a reason your friends won't stop talking about this book. Caste was the Oprah's Book Club pick for August and she even called it "an absolute must-read for all of humanity." Ava Duvernay recently announced that she'll be bringing the book to the screen.

In Caste, the Pulitzer Prize–winning, best-selling author of The Warmth of Other Suns blends in-depth research with captivating storytelling to examine America's hidden caste system and how it shapes our lives.

Early in the book we journey to India with Martin Luther King Jr. The moment he is introduced as an "untouchable," the lowest caste in the ancient Indian caste system, hits hard, but not as hard as King's revelation that, "Yes, I am an untouchable, and every Negro in the United States of America is an untouchable."

Wilkerson uses stories of cultural icons like King and baseball's Satchel Paige, stories of everyday citizens and her own personal experiences to demonstrate how a hierarchy of human rankings — which exists beyond race and class — affects us all. She links America's caste system not only to India but also to Nazi Germany and even traces how this system influenced the 2016 presidential election and its aftermath.

But she ends the book with a note of hope and a vision for a world where we are not divided by differences but united by our humanity.