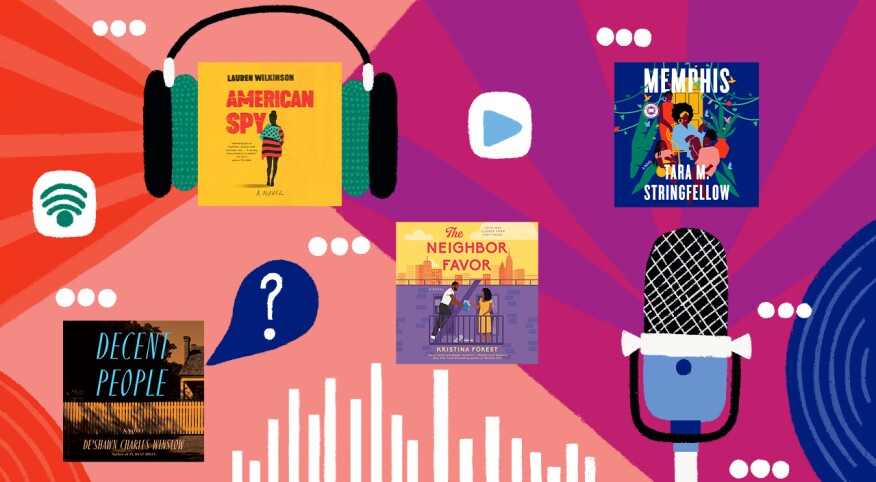 Like me, you may be in one or more book clubs and find that your reading is falling behind at times. Audiobooks to the rescue! They are a fantastic way to get through a book while doing housework, driving or on your daily walk. Audiobooks are also very relaxing, perfect for listening to while in the bathtub (via a safely located phone or speaker) or to wind down with in bed via earbuds. The soothing vocals from the right storyteller can invoke a feeling of calm.

Yet when a narrator does not get it right, it can really ruin the experience. I once attempted to listen to a story that I was very excited about, but the narrator was practically whispering. Annoyed, I decided to read the physical copy instead. My library voice is louder than hers!

On the other hand, when a narrator gets it right, they greatly enhance the story and make listening a pleasure. You may even begin to prefer listening to the audio version of a book to bring the storytelling alive! Many movies are even better on the big screen. Well, audiobooks are essentially the big screen for books, in terms of providing a rich, immersive experience. You can find reviews of narrators via AudioFile (audiofilemagazine.com) and platforms such as Audio in Black (audioinblack.com).

I recently listened to a book that was on my TBR (to be read) list for quite some time. It's American Spy by Lauren Wilkinson. The narrator was so good that I had to stop to see who it was. Turns out it was none other than narrator extraordinaire Bahni Turpin. Turpin's pauses and inflections are spot on. And the various accents she used, in addition to spoken French for at least one character, elevated an already exciting story.


The Hollywood connection
Many audiobooks are narrated by some of our most celebrated actors. Their talent and craft adds to our enjoyment. Viola Davis' narration of the audio version of her memoir, Finding Me: A Memoir, garnered her a Grammy! Added to her Emmy, Oscar and two Tony awards, it also conferred on her EGOT status.

Many other famous actors voice characters. Gabrielle Union narrates Tayari Jones' Dispossession, a novella only available in audio, as well as Union's own best-selling memoir, We're Going to Need More Wine.

Other A-list narrators include:


Oprah Winfrey
Winfrey's voice can be heard on White Oleander, a novel by Janet Fitch, as well as her own books including What I Know for Sure and The Wisdom of Sundays.


Alfre Woodard
Woodard has performed narrations for Tar Baby by Toni Morrison and Your Blues Ain't Like Mine by Bebe Moore Campbell.


Samira Wiley
Appearing in uber-popular shows like "Orange Is the New Black" and "The Handmaid's Tale," Wiley has used her talent to narrate such titles as Alice Walker's The Color Purple and Roxane Gay's Graceful Burdens.


Whoopi Goldberg
Goldberg has narrated many audiobooks including her own, titled If Someone Says 'You Complete Me,' RUN!

It's no surprise that many narrators are veteran actors, experienced in working on sophisticated productions. And, like in Hollywood, there is an award season. In addition to a Grammy nod, an audiobook can be nominated for the Audie award, also known as the Audies.



Listen up!
You might not want your book to end when these sister storytellers are narrating.

Each of these narrators have their own distinct style and delivery and do not disappoint!


Robin Miles
Why we love listening: Miles has won the Audie award multiple times. Her melodic style is impressive and engaging.
Greatest hits: Hidden Figures by Margot Lee Shetterly, The Warmth of Other Suns by Isabel Wilkerson, The Fifth Season by N. K. Jemisin and Barracoon by Zora Neale Hurston, to name a few.
On our listening list: Yellow Wife, a historical fiction novel set in the 19th century by Sadeqa Johnson, about a fierce young woman who is faced with harrowing choices.


Adenrele Ojo
Why we love listening: Multi-Audie-award winner Ojo knows exactly when to use emphasis and when to take a beat. Her voice will command your attention.
Greatest hits: Rogue Justice by Stacey Abrams, and The Mothers by Brit Bennett
On our listening list: Memphis by Tara M. Stringfellow is narrated by Ojo, Karen Murray, as well as the author herself, and was released in April 2022. The novel is about three generations of women in a family that is filled with strength and love as they navigate through past hurts and obstacles.



Bahni Turpin
Why we love listening: Once you listen to Turpin, you won't soon forget her distinctive delivery and voice. She masterfully narrates stories with various accents and tones that could make it hard to hit pause.
Greatest hits: Black Candle Women by Diane Marie Brown, Daughters of the Dust by Julie Dash and The Hate U Give by Angie Thomas.
On our listening list: Decent People by De'Shawn Charles Winslow, released in January, is a riveting novel about a community grappling with a shocking incident and the secrets that it reveals.


Adjoa Andoh
Why we love listening: You may know her as Bridgerton's Lady Agatha Danbury, but the talented British actress has also narrated countless stories. Her skillful rhythm and gravitas is especially effective for period pieces.
Greatest hits: Andoh has narrated Sister Mother Warrior by Vanessa Riley, Onyi Nwabineli's Someday, Maybe and The Girl With the Louding Voice by Abi Daré.
On our listening list: Island Queen by Vanessa Riley, which was released in July of 2021, is based on a true story and has been opted for a film adaptation. The epic saga unfolds the life of wealthy business owner Dorothy Kirwan Thomas, who was enslaved at birth and emancipated as a young woman. Readers follow her back and forth from the Caribbean to London, as she builds an empire, a family, a reputation and a soap-opera worthy love life.



Cast of characters
Some of our favorite narrators join other actors to bring varied characters to life. These productions have amazing ensemble casts.


The Help
by Kathryn Stockett
Narrated by: Octavia Spencer, Jenna Lamia, Bahni Turpin, Cassandra Campbell
Synopsis: This audiobook, which was released in December of 2008, is fun to listen to as there are multiple accomplished voices that make the story just as vivid as the movie did. Set in 1962 Mississippi, The Help is about Black women who worked as domestic workers and the various white women who employed them.


The Neighbor Favor
by Kristina Forest
Narrated by: Keylor Leigh, Malik Rashad
Synopsis: The added bonus with the narration of this novel is that there is a male voice for the male character. Lily Greene finds herself falling for her favorite author, with whom she has been corresponding via email until he suddenly stops writing. Her spirits are lifted when she meets her neighbor Nick, who she doesn't realize is her favorite author using a pen name.