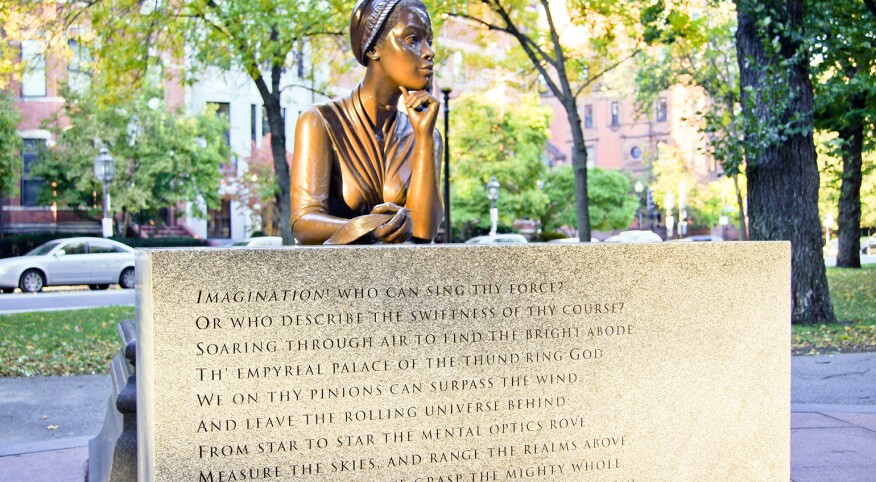 From the editors: The Black community is coping with historic challenges relating to social justice, health and the economy. We're all in this together. During this turbulent time, Sisters From AARP is prioritizing related content that is new and existing, including this story. Feel free to email us at sistersletter@aarp.org and share your thoughts on how we, as Black women, can best support one another now.

Public art has rarely celebrated Black herstory-makers — or many women for that matter. Of the estimated 5,193 public outdoor sculptures of men and women in the United States, only 394, or less than 8 percent, are of women, compared to the 4,799 of men, according to the Smithsonian American Art Inventories Catalog, which is considered the most current directory of such works, reports the Washington Post.

But that has begun to change — especially in the aftermath of the deadly Charlottesville, Va., white supremacist rally in August 2017, when monuments celebrating Confederate war leaders began to tumble amid protests by civil rights advocates.

In March 2018, Baltimore removed statues of Confederates Robert E. Lee and Thomas J. "Stonewall" Jackson. They were replaced by a dedication to Harriet Tubman.

"To me, it feels like, by taking statues down, the spaces were opened up," Elizabeth Nix, a University of Baltimore historian, told the Baltimore Sun. "They were opened up to people with other messages, different from the white supremacist message."

A statue of James Marion Sims, the "father of modern gynecology" who conducted surgical experiments on enslaved women without using anesthesia, was removed from New York City's Central Park last April—124 years after it was erected.

Still, the scarcity of public art celebrating women represents a glaring inequity, New York City's African American first lady, Chirlane McCray, told the New York Times. Next year, the city will erect a statue of Shirley Chisholm, the first Black woman to serve in the House of Representatives, who grew up in Brooklyn.

The Chisholm monument is the first to be constructed under She Built NYC , an initiative led by McCray to increase representation of women in public art and monuments. Similar initiatives are underway in cities such as San Francisco, where a Maya Angelou statue is the first of many projects planned.

Meanwhile, here is a virtual tour of existing statues:

African Burying Ground and Memorial Park, Portsmouth, N.H.
Unveiled in 2015, a life-size bronze statue of Mother Africa stands with her back against a slab of granite. Her face is etched in pain. Her arm is outstretched with fingers straining to reach around the wall to grasp those of a male figure, also with his back against the wall. The work highlights the painful forced separation of the city's first enslaved Africans.

Gwendolyn Brooks, Brooks Park, Chicago
A bronze bust of poet and writer Gwendolyn Brooks was unveiled in June in Brooks Park, named in her honor, near her beloved Kenwood community on Chicago's South Side. Brooks was the first Black woman to win a Pulitzer Prize and the first to serve as a poetry consultant to the Library of Congress.

Phillis Wheatley, Boston Women's Memorial, Commonwealth Avenue Mall, Boston
Wheatley was the first African American, the first slave and the third woman in the United States to publish a book. Her book, Poems on Various Subjects, Religious and Moral, was published in 1773, making her the first professional African American woman poet in America. She received international acclaim from George Washington and Voltaire. The city dedicated the sculpture in 2003.

Harriet Tubman, Harriet Tubman Memorial, New York City
The 10-foot-tall bronze statue, erected in 2008, stands near Frederick Douglass Boulevard in Harlem. Douglass once said of Tubman that except for John Brown, he knew of no one who "has willingly encountered more perils and hardships to serve our enslaved people." Tubman was born into slavery in Maryland around 1822 and escaped in 1849 via the Underground Railroad. She later helped others to freedom.

Barbara Jordan, The University of Texas, Austin
In 2009, the civil rights champion became the first woman to be honored with a statue on campus. The Democratic lawyer, educator, and politician was elected to the U.S. House of Representatives in 1972, becoming the first African American elected from the Deep South since 1898.

Rosa Parks, U.S. Capitol, Washington, D.C.
In 2013, Rosa Parks became the first sister to be honored with a life-size statue in the Capitol, at a dedication attended by President Obama. She helped spark the Civil Rights Movement when she refused to give up her seat on a segregated bus in 1955, triggering the historic Montgomery bus boycott.

Sojourner Truth, U.S. Capitol, Washington, D.C.
In 2009, this bust became the first sculpture to honor an African American woman in the United States Capitol. Born into slavery as Isabella Baumfree, she escaped at 29 with her infant daughter. At 46, she changed her name and began devoting her life to abolition. She is best known for her 1851 speech on racial inequalities,"Ain't I a Woman?", delivered at the Ohio Women's Rights Convention.