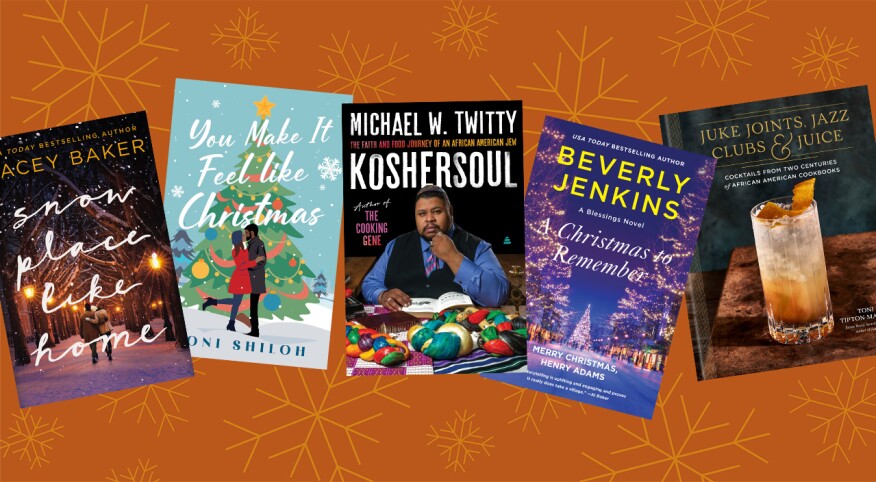 The winter holidays are upon us! It is a time to eat, drink, and be a merry reader! Are you entertaining over the holidays? If so, we've got you covered with an abundance of delicious holiday recipes. But you'll need a break and what better way to enjoy one than with cozy romance novels from Beverly Jenkins and others! Make a tantalizing drink from Toni Tipton-Martin's new cocktail recipe book, cook up a totally new-to-you dish from Michael W. Twitty's book, and learn all about Kwanzaa. Most importantly, make sure that you have a jolly good time!


Cooking and Entertaining
Koshersoul: The Faith and Food Journey of an African American Jew
By Michael W. Twitty

From the James Beard award-winning author of The Cooking Gene, Michael W. Twitty, a scrumptious serving of Koshersoul. In this fascinating read, Twitty discusses African Atlantic and Jewish diasporic foodways. He explores food traditions from each culture and reveals how and why they are deliciously intertwined. This is the perfect book to give anyone who loves cooking or trying different variations of foods. Twitty not only shares his experiences with Judaism along with other intriguing stories, but he infuses this unique book with nearly 50 recipes. This is surely a multi-purpose book to add to your bookshelf.


Juke Joints, Jazz Clubs, and Juice: A Cocktail Recipe Book

By Toni Tipton-Martin

The holidays are a time to get together with good people and good food. But let's not forget about good drinks! The incomparable, James Beard Award-winning, culinary journalist Toni Tipton-Martin has you covered with her exciting new cocktail recipe book! You'll have seventy recipes to mix up. Tipton-Martin shares old faithful drinks that you know and love along with some new delightful and tasty concoctions to pour into your cup like Gin and Juice 3.0, Hibiscus Gin Rickey, and Jerk-Spiced Bloody Mary! You'll enjoy learning about Black drinking culture and how drinks have changed over time while you sip on an old favorite with a modern twist or get topped off with a brand-new drink. Cheers!



Romantic Reads
You Make It Feel like Christmas

By Toni Shiloh

Going back home for the holidays does not feel too cheery for Starr Lewis. Not only is she now unemployed but she must partake in all of the festivities surrounding her sister's upcoming Christmas Eve nuptials. Can you guess what could make this even less cheery for Starr? How about the fact that the sister's groom is Starr's ex-boyfriend! Luckily, things start to look up when Waylon Emmerson, her brother's best friend joins the family for Thanksgiving. Starr soon helps Waylon with his mother's shop and sparks definitely begin to fly. But is it just due to it being cuffing season or could the magic between them last well beyond the holidays?


Snow Place Like Home

By Lacey Baker

The holiday season is not Ella Wilson's thing. The holidays always bring back memories of her mother's passing almost twenty years earlier and the time when her ex-fiancé left her a year ago. These memories, compounded with the fact that she lost her job as an art curator, leaves Ella feeling far from excited about the holidays. Without work to keep her busy, Ella accepts her aunt's invitation to visit. It is not long before Ella unexpectedly finds herself assisting with the planning of her small hometown's Christmas tree auction. But she is not planning it alone. She has to work with none other than Seth Hamil, the one who had Ella's heart in high school. The only problem is, they both have very different ideas about how the auction should go. Seth, a small-town widower, is not sure about Ella's big city ideas. Yet, the holiday season might just be the balm that they need to come together in more ways than one!


A Christmas to Remember

By Beverly Jenkins

The romance guru, Beverly Jenkins, gifts her devoted fans book number 11 in the Blessings series with a Christmas wedding! Well, maybe. You see, the holiday lights may be all aglow but residents of a Kansas town called Henry Adams, find their attentions caught up elsewhere! For starters, there is Bernadine Brown, whom readers of the series will recall saved the town of Henry Adams from financial ruin with the millions that she received after her divorce from her wealthy ex-husband. Bernadine's relationship with her current beau Malachi has been a bit bumpy. The couple is finally ready to make it official. But when their families begin gathering to celebrate, an unexpected occurrence could derail their romance. Then there is Preston Mays a.k.a. Brain who is heartbroken after his girlfriend decides that they should go their separate ways. Will meeting his biological father's family comfort him or go sideways? Jenkins masterfully weaves together different story lines, making this festive novel a heartwarming read.



Culture and Tradition
Kwanzaa: From Holiday to Every Day

By Maitefa Angaza

Are you thinking about celebrating Kwanzaa this year? If so, book details everything that you didn't even know you needed to know! You will certainly learn all about Kwanzaa's seven principles, Umoja (unity), Kujichagulia (self-determination), Ujima (collective work and responsibility), Ujamaa (cooperative economics), Nia (purpose), Kuumba (creativity), and Imani (faith). But, very fittingly, this is a book that keeps on giving! The author gives helpful tips on how to actually plan for each daily observance and tells you where to find the very best Kwanzaa accessories! Angaza also tempts with a spread of mouth-watering recipes and offers popular Kwanzaa songs to lift spirits. This is your go-to guide for all things Kwanzaa so that you can create joyous memories with your family, friends, and community.