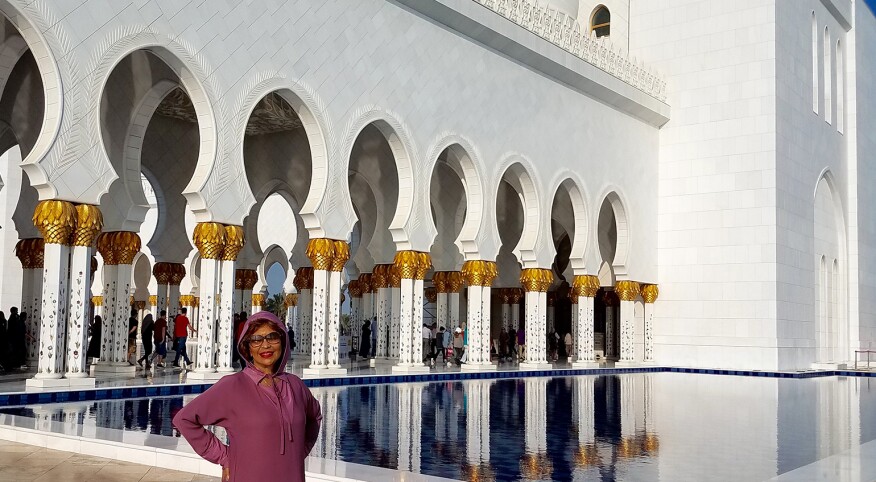 Charlotte Simpson is a retired guidance counselor from Indianapolis. She traveled with her husband to 50 states and several foreign countries for everything from family vacations and reunions to visits to her husbands' 12 siblings scattered from Oklahoma to New York. But after losing her husband of 31 years, Simpson and her daughter decided to take an organized tour to Spain, Portugal and Morocco for the first Christmas after his death. For her, this trip ignited a new chapter of wanderlust and solo travel to a few bucket-list destinations around the world.

We talked to Simpson about her newfound confidence, recommendations for first-time solo travelers and how age may change the way you travel.



Sisters from AARP: Describe the "a-ha" moment that inspired you to take your first solo trip. Where did you go and why did you choose that destination?

Charlotte Simpson: During the tour [to Spain, Portugal and Morocco], I met two women who loved traveling solo and encouraged me to give it a try. I returned home from the tour and asked friends and relatives if they'd like to go to Italy that summer. Some needed more notice to save money. Others didn't really want to see Italy or wanted to make a home improvement or other purchase. So I decided, what the heck, I'm going to do this by my darn self. I started researching Italy, booked the trip and paid the single supplement.

I travel with friends when they're available, but I don't let their availability determine my plans. I don't even ask friends anymore. They will say, 'Oh I wanted to go to [a certain place].' But they never initiate an invitation. Last year in Cuba, I met a fellow solo traveler. We hung out a bit and kept in touch through Facebook. I mentioned to her that I was going to Japan this spring, so she signed up with the company, as a single traveler also. We had a blast exploring Japan. As solo travelers, we've also met up in Kenya and Tanzania and are planning to meet in Morocco next spring. We both revel in our solitude but enjoy dinner and exploring during our free time.



Sisters from AARP: What destinations would you recommend for first-time solo travelers?

Charlotte: New York City! [It's an English-speaking city], no money issues, an easy subway system, loads of sightseeing and eating options and a variety of things to do for every budget. If you can make it here, you'll make it anywhere!

I'd also recommend London. [As an American], you already know some of the sights and customs and possible idiosyncrasies of the people. It's also a short flight — relatively speaking. It's the consummate field trip after years of seeing movies and historical events occurring there. Scotland, too, for many of the same reasons, plus the people are warm and friendly.

Lastly, Kenya and Tanzania — this fall in our tour group there was a 45-year-old solo woman traveler on her first international trip. I thought it was a bit much, but there were four of us, and we hung out and had a blast together. Considering our years of solo travel we gave her five pointers a day [including]: Pack super light — bae is not there to ever help you with your luggage, and no one may offer, either.



Sisters from AARP: What have you been most surprised to learn about yourself?

Charlotte: It really works when I say, "I can do this." From riding a humongous elephant up the edge of a cliff in a wobbly seat to whatever confronts me. I can do whatever I need to do, without fear.



Sisters from AARP: How has your age changed the way you travel?

Charlotte: I don't dwell on my age, but I respect that I don't bounce back from bumps and scrapes as quickly as I once did. Consequently, rarely do I take physical risks. In India I had an elephant encounter — we could've flown out of the wobbly seat and over the wall, into a moat or worse. It was so stressful that now I won't ride any animal taller than me. So for my upcoming Morocco trip there will be no camel ride. I don't do dangerous things to impress, go along with the travel group or for an Instagram photo. I purchased a $45 ticket to a cougar sanctuary in South Africa with hopes I'd be brave enough to pet one. As soon as I looked at his muscular speedy build, I knew I'd just get pictures from afar.

It's wonderful to be an older traveler in Asia, Africa and Latin American countries. Young people have been taught to respect their elders and are so kind. Most of them even keep their elders in their own home as they age. Tour guides have shared that it's generally elders without family who have to go to nursing homes. They take care of their own.