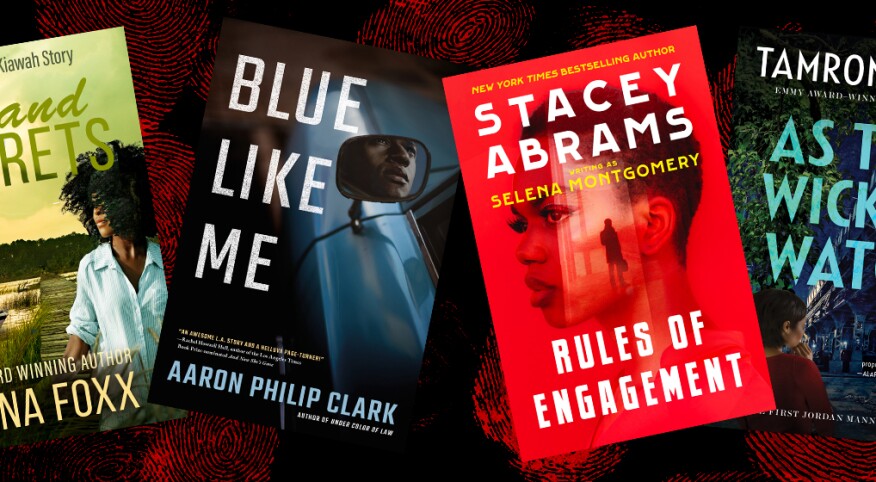 Are you the one who usually has the plot figured out before it is revealed? Do you suspect the unsuspected? If so, then put on your detective hat and get ready to decipher the clues in these page-turners. Each one of these thrillers will have you completely enthralled. The true mystery is whether you will be able to guess whodunit!


Island Secrets: A Queens of Kiawah Story
by Nina Foxx

At bookstores now

Award-winning author Nina Foxx captivates readers with suspense and engaging characters.

After his prized boat returns to shore without him at the helm, Charles Martine is presumed drowned. The police conclude that he has fallen overboard after a probable heart attack. Denise Martine, now considered Charles' widow, is determined to carry on through her grief after her husband's strange disappearance. Yet as she begins to sort through Charles' papers at their vacation home, Denise starts to question what really happened to him.

Her suspicions grow when Trent, her lover from college, unexpectedly shows up, resurfacing complicated memories of their passionate past. Putting her husband's affairs in order becomes increasingly difficult with the tempting Trent distracting her. Plus, Denise is leery about why her ex has arrived on the island and has offered to help her solve Charles' mysterious disappearance, which hardly concerns him. Or does it?



As the Wicked Watch
by Tamron Hall

At bookstores now

New in paperback, this is the first book in the Jordan Manning series by award-winning journalist and talk show host Tamron Hall. If you do not already consider yourself a mystery lover, this relatable book will change that!

Racially and politically conscious, this fast-paced page-turner follows crime reporter Jordan Manning as she conducts a harrowing investigation. Jordan has just moved from her hometown in Texas to Chicago for a new job. Known for being a sharp dresser and a sharper mind, the journalist is very good at what she does. But is good in her hometown good enough in the big city? Jordan is keen on using her impressive instincts to prove that it most certainly is. When a 15-year-old girl's body is found, Jordan stops at nothing to find the killer. Jordan's ambition is admirable as she navigates the cutthroat world of investigative journalism. But she is all too aware that her drive may threaten any chance of having a healthy relationship with her love interest, Thomas. Can she find balance in her professional and personal life as she searches for a killer who just may be hiding in plain sight?



Rules of Engagement
by Selena Montgomery

Coming September 6

Selena Montgomery (a.k.a. Stacey Abrams) serves up thrilling suspense with a heaping side of romance in this repackage of her enduring novel.

Dr. Raleigh Foster, an intelligence operative, goes undercover to investigate a terrorist group that has stolen environmental technology that could be deadly. Raleigh is in her element until she is paired with the ever-so-handsome Adam Grayson. Not only do they have to be partners in the investigation, but they must also pose as a romantic couple while doing so. This proves to be especially difficult for Adam. He and Raleigh were on a previous assignment that led to his best friend's death. Adam believes that Raleigh had a hand in it, and as a result, he doesn't trust her. Despite this, Adam, who comes from a wealthy family, while Raleigh was orphaned after her father's untimely death, has always been drawn to her. Struggling to remain professional and put their personal feelings aside, Adam and Raleigh uncover much more than their target!



Blue Like Me
by Aaron Philip Clark

Coming November 8

​This is the second book in the Detective Trevor "Finn" Finnegan series by celebrated author and screenwriter Aaron Philip Clark.

A former detective, Finn is now a private investigator. He has one goal, and that is to obtain incriminating evidence on the Los Angeles Police Department's worst police officers and bring them down. While Finn is surveilling two rogue officers, one of them is killed and the other is wounded. Finn soon discovers that the wounded cop is his former partner, Detective Sally Munoz. When Sally asks for Finn's assistance in locating the killer, Finn obliges. But this does not stop him from keeping his eye on Sally to determine if she is operating on the wrong side of the law.