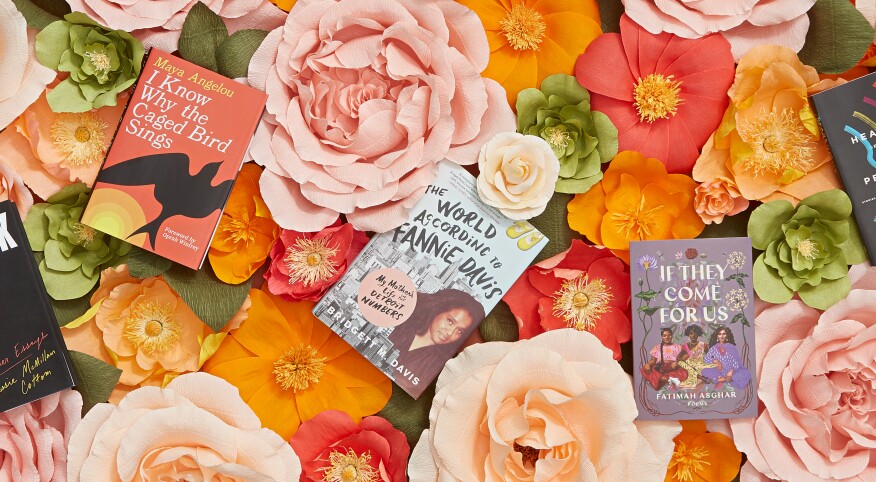 Classic
I Know Why the Caged Bird Sings by Maya Angelou

This year marks the 50th anniversary of Maya Angelou's I Know Why the Caged Bird Sings. In her later years, Angelou was popularly known for her Instagrammable quote: "When people show you who they are, believe them." But Angelou had a tremendous life before becoming Oprah's friend and mentor. In this clear-eyed memoir, Angelou recounts her early years in the segregated South and her troubled path from girlhood to motherhood. Due to its treatment of childhood trauma, it is sometimes still banned from schools and libraries, but it remains a classic of American literature. Read or reread Angelou's work and celebrate her life as a Black woman writer.

Memoir
The World According to Fannie Davis: My Mother's Life in the Detroit Numbers by Bridgett M. Davis

Straight or box? Running "the numbers" was how Fannie Davis provided for her family. In this combination of biography and memoir, writer and director Bridgett Davis shares an all-American story of grit and determination in the 1960s and '70s Detroit. This book explores the intersections of race, class and gender with the critical lens of a sociologist but the tenderness of a novelist. It is a celebration of Black history and culture, as well as extraordinary tribute to Davis' mother and to Black love.

Poetry
If They Come for Us: Poems by Fatimah Asghar

Named one of 2018's top 10 best books for adults by the New York Public Library, If They Come for Us: Poems is a dazzling debut poetry collection by Fatimah Asghar, the cocreator of the web series "Brown Girls." At once powerful and tender, this collection tackles nationality, identity and diaspora with repeated meditations on Partition (the partition of British India into India and Pakistan in 1947). Her "Microaggression Bingo" is as brilliant as it sounds. This is stick-to-your-ribs poetry.

Essays
Thick: And Other Essays by Tressie McMillan Cottom

Sociologist Tressie McMillan Cottom has the range. Her academic work Lower Ed: The Troubling Rise of For-Profit Colleges in the New Economy was a gamechanger in higher education. Now, with laser-like precision, McMillan Cottom turns her gaze to Black womanhood in her debut essay collection Thick: And Other Essays. These eight incisive pieces address race, gender, class, beauty and more. The especially haunting "Dying to be Competent" details her experience as a Black expectant mother. This collection is bold, provocative and unflinching. Be prepared to be challenged.

Fiction
Heads of the Colored People: Stories by Nafissa Thompson-Spires

Buckle up! Heads of the Colored People: Stories is a wild ride of genre-busting short fiction. In her debut short story collection, Nafissa Thompson-Spires delivers offbeat, humorous vignettes that engage race, class and difference with wit and originality. You may never have imagined a bleached blond, blue-contact-lens-wearing, Black cosplayer, but Thompson-Spires ensures he will be unforgettable. Don't be surprised to find yourself reading slowly and taking a break between stories just to savor the delectable experience.