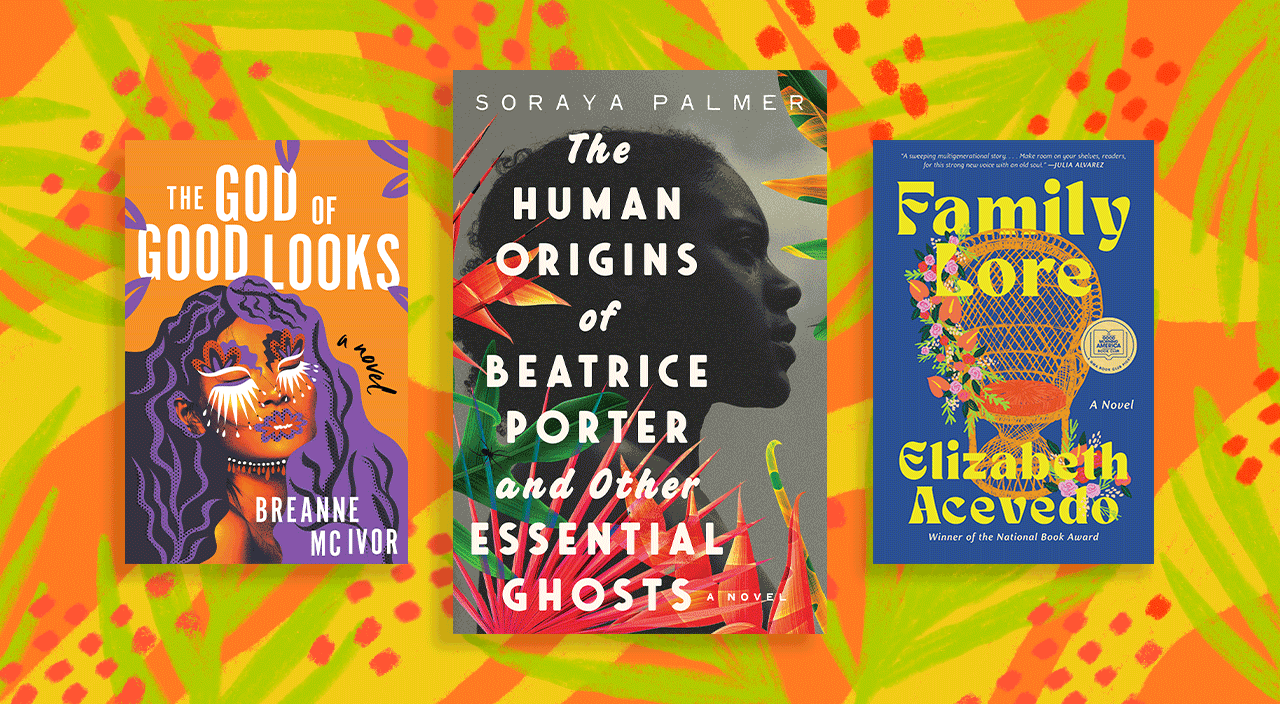 Edwidge Danticat and Jamaica Kincaid may be authors that come to mind when thinking of Caribbean and/or Caribbean American novelists. But the Caribbean canon is as vast and beautiful as the sea of the same name. Revisit or explore diverse people, cultures, landscapes, and histories with these books set in Jamaica, Dominica, Barbados, Trinidad, and other nations.


Island Man
By Joanne Skerrett

This story follows Hector Peterson who travels from the States to the island of Dominica. Hector, along with his father Winston Telemacque, go there to disperse his mother's ashes. As if that emotional undertaking isn't tumultuous enough for Hector, Hurricane Maria hits the island. Another hurricane is brewing, one between the two estranged men who are each dealing with complex issues. Hector feels the weight of his marriage, career, and fatherhood gone wrong. He longs to know more about his complicated mother. Winston grapples with the choices he made as an immigrant in Boston, and is both sustained and haunted by memories of events on the island. But just as people rebuild after a storm or hurricane, so do these captivating characters as they begin to understand one another. You will enjoy this intricate plot filled with surprising twists and turns as Skerrett's colorful writing guides readers through island life and provides an enlightened look at colonial Dominica.


Family Lore
By Elizabeth Acevedo

If you loved Elizabeth Acevedo's young adult novel The Poet X, a heartwarming story about a Dominican teenager and her family, then you will love Acevedo's first novel for adults. It is another beautiful tale of a Dominican-American family. Flor has often predicted when someone will die. Her sisters, aware of this unique capability, become curious when she requests to hold a living wake. People gather and pay their respects, but to whom? Has Flor predicted her own death and therefore intends to say goodbye to her family and friend's while she is living? Or will someone else be the deceased honored? As the sisters are left in the dark, they have secrets of their own. Unfolding during the three days before the wake and narrated by various women from the family, the story delves into their lives in both Santo Domingo and New York City.


The God of Good Looks
By Breanne Mc Ivor

Bianca Bridge, a beautiful and successful model in Trinidad and Tobago finds herself entangled in a risky affair with a powerful married man. Yet, when their assignations end, Bianca is the only one who is shamed for her part in the betrayal. To move forward, she refocuses on her dream of being a writer. So, when an opportunity arises to work for the domineering beauty industry entrepreneur, Obadiah Cortland, she accepts. Though she is put off by his seemingly arrogant demeanor, working at his magazine allows her to showcase her writing chops. Bianca uses those skills to tell her side of the story of the scandalous affair. As the repercussions pulse across the two islands, Bianca realizes that there is more to Obadiah than meets the eye. He is not truly the tyrannical workaholic man that she thought he was. Their romantic tension will entice you. This fun, witty story invites readers to think about the personas we put on for others—and explore the possibilities for showing up authentically.


River Sing Me Home
By Eleanor Shearer

This powerful debut novel follows Rachel, an enslaved woman, in Barbados. Set in the early 1830s when the British passed the Slavery Abolition Act, Rachel is soon emancipated. But her former enslaver forbids her and others on the plantation from leaving. Knowing that she will be forced to work as an "apprentice," Rachel flees, beginning her journey to find her children, Mary Grace, Cherry Jane, Mercy, Thomas Augustus, and Micah, who were sold away from her. This fast paced, emotional saga transports readers throughout the Caribbean as Rachel travels between Barbados, British Guiana and Trinidad. Although danger lurks, Rachel's steadfast hope gives her the courage to find out what happened to her children, now adults. Rachel will discover that freedom means something different to each—from acceptance into the mountain-dwelling Maroon community to concoction of a false past.


The Islands
By Dionne Irving

This delightful collection of stories each follows a unique and vibrant Jamaican woman who leaves the Caribbean to start life elsewhere, and transports readers to Panama, Florida, London and France. In one tale, a couple learns that despite an impulsive move from one state to another, the state of their marriage remains unsettled. In another, a travel writer reconnects with the mother who abandoned her. Each narrative probes the nuances of assimilation, of immigration and of things left unsaid. If a good story is what you are looking for, you will have your pick with this collection!


The Human Origins of Beatrice Porter and Other Essential Ghosts
By Soraya Palmer

This fascinating debut novel tells the story of two Jamaican-Trinidadian sisters, Zora and Sasha Porter, who live in Brooklyn among a large Caribbean-American community. Each has to deal with their violent father and sick mother, but in two very different ways. Zora, who dreams of being a writer, uses journaling as a means of escape. Sasha, having discovered her sexuality, stays away from home as much as possible with her new girlfriend. Although the siblings seem to drift further apart, their sisterly love will help them navigate old family secrets and understand the mythology that has shaped their lives. The author's gorgeous writing takes readers between the lively heart of Brooklyn and the lush beauty of the Caribbean. This immersive debut's riveting plot and compelling characters will intrigue readers from its beginning to its surprising end.