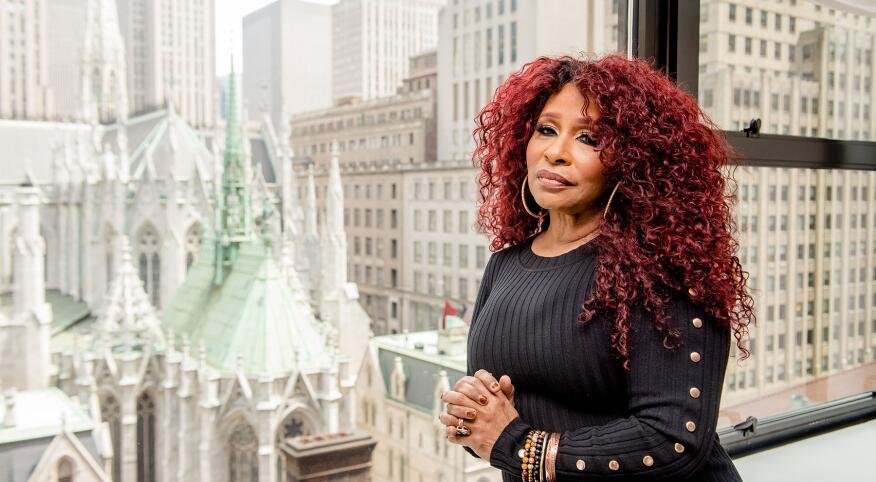 The legendary Chaka Khan will join the one and only Donnie Simpson for a live discussion with the AARP Black Community on Facebook on Tuesday, June 1, at 5 p.m. ET. We can't think of a better way to kick off African American Music Appreciation Month!

Chaka Khan never ceases to amaze us. A 10-time Grammy award winner, she can master nearly any genre of music. R&B, gospel, pop, rock, country, classical, world music — you name it, she can slay it. So, it's no surprise that the Rock & Roll Hall of Fame recently named Khan among its 16 nominees for the 2021 class.

And, as if giving us a soundtrack for life and love wasn't enough, she has been giving us inspiration to get healthy, too. After being diagnosed with type 2 diabetes 10 years ago and struggling with high blood pressure, Khan set out to drop 60 pounds and went vegan.

We're so excited to hear Khan talk music and more during AARP's Real Conversation with the vocal powerhouse. This special evening with Khan is part of AARP's Real Conversations series that has featured Iyanla Vanzant, Lynn Whitfield, Sheryl Lee Ralph, Phylicia Rashad, Vanessa Williams and other sisters we love to celebrate.

The conversation will be hosted by media maverick Donnie Simpson, who's a pro at helping us get to know our favorite entertainers beyond the stage. Whether on one of his popular radio shows or BET's Video Soul, Dr. Green Eyes has been interviewing stars for decades.

Born Yvette Stevens in 1953, Khan's iconic voice has captivated audiences since 1974 with her first hit single with Rufus, "Tell Me Something Good." Khan and Rufus kept the hits coming with "Sweet Thing," "Ain't Nobody" and other tracks that have become timeless classics.

In 1978, Khan, who grew up in Chicago, decided to fly solo with the release of "I'm Every Woman" and she soared. She'd go on to release songs like "I Feel for You" and "Through the Fire" and become a household name.

But she was just getting started. Khan made her musical theater debut in 1995 in London starring in Mama I Want to Sing. In 2002 she starred in Signed, Sealed, Delivered, a critically-acclaimed musical based on the music of Stevie Wonder, in Las Vegas. And in 2008 she made her Broadway debut as Sofia in Oprah Winfrey's musical The Color Purple.

Unmistakable and unmatched, Khan's vocals can be heard on soundtracks for many beloved movies, including Set It Off, Waiting to Exhale and Tyler Perry's Madea's Family Reunion and Meet the Browns.

Through it all, Khan has continued to serve her community through the Chaka Khan Foundation, which assists women and children at risk. Khan is a businesswoman, too. She launched a luxury line of chocolate and a line of soy-burning candles, with a portion of the proceeds supporting the foundation.

Khan has shown us that sometimes getting healthy means getting help. In 2016, she publicly announced that she'd been battling an addiction to the same medication that led to Prince's death, and she entered herself into a rehabilitation program. She's said that her faith got her through this trying time. In 2019 she released the album Hello Happiness to signify a fresh start.

Khan has been through the fire and has come out pure gold. Singer, actress, philanthropist and entrepreneur — Khan is every woman and we're excited to find out what she plans to do next.

AARP's Real Conversation with Chaka Khan is set for June 1, 2021, at 5 p.m. ET on the AARP Black Community Facebook page.