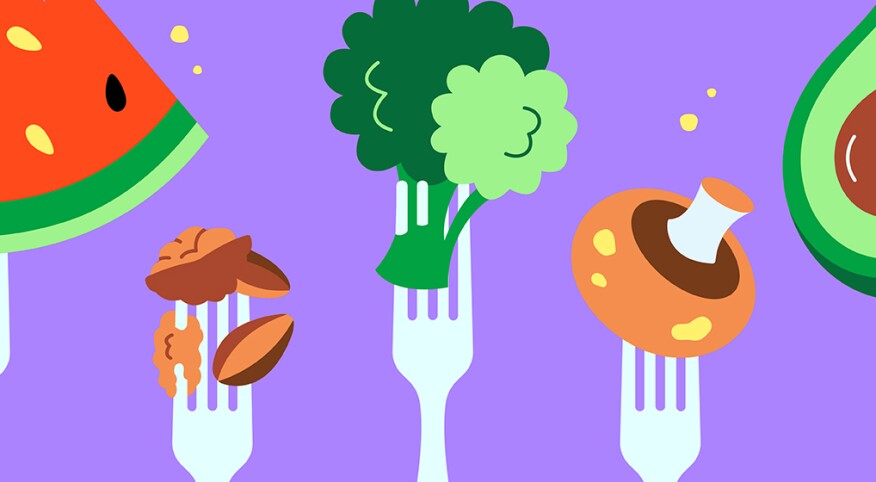 As we get older, the risk of chronic illnesses like heart disease, diabetes and Alzheimer's disease rises, particularly for Black women. But the foods we choose to eat every day can be our medicine, helping to prevent or treat those ills.

For a list of foods women over 40 should add to their grocery carts, we turned to Black female experts: Kristie Lancaster, associate professor of nutrition at New York University; Jerlyn Jones, a registered dietitian and spokesperson for the Academy of Nutrition and Dietetics; and Sequoia Ridley, a wellness dietitian based in Charlotte, North Carolina. Recipes from Black foodies will make it easy to add these items to your menu.

1. Olive oil
This staple of the Mediterranean diet is a healthy, monounsaturated fat, says Lancaster. Harvard researchers found that a diet rich in olive oil may reduce the risk of death from heart disease, cancer and Alzheimer's disease.


2. Salmon
Fatty fish like salmon contain omega-3 fatty acids, which may benefit cognitive health. They may also help reduce the risk of dementia, which is more common in African Americans. Savory: Carla Hall's Salmon and Broccoli With Sweet Chile Vinaigrette.


3. Berries
"Berries are very high in phytochemicals," says Jones. "That really helps with our immune support and fighting [inflammation]." Sweet: Marisa Moore's Mixed Berry Jam.


4. Collard greens
Dark leafy greens are "good for your blood pressure because of the potassium and calcium, and good for your eyes because of beta carotenes," says Lancaster. This can help prevent vision loss from macular degeneration. Special: Millie Peartree's Low Country Collard Greens.


5. Yogurt
Premenopausal and postmenopausal women need calcium and vitamin D for bone health. "Calcium is also really important for regulating heart rhythms and those muscular heart contractions," says Ridley. Speedy: Maya Feller's Kale and Banana Smoothie.


6. Green tea
Research shows drinking several cups a day may reduce the risk of both heart disease and stroke. Smooth: Refreshing Mango Green Tea Smoothie from Wendy and Jess at Food Heaven.


7. Almonds
"Some studies have shown that almonds can be beneficial in heart health," says Lancaster. Research shows almonds may help reduce the risk of heart disease and lower both total cholesterol and LDL cholesterol. Snackable: Marisa Moore's Gingerbread Glazed Almonds.


8. Mushrooms
Easy to add to salads or soups, mushrooms are a surprising source of vitamin D, says Ridley. The potassium in mushrooms can help reduce tension in blood vessels, potentially helping to lower blood pressure. Starter: Jerlyn Jones' Wild Mushroom Soup.


9. Carrots
These crunchy veggies are a good source of carotenoids, which are important for eye health. They are also sources of vitamin C and potassium, says Lancaster. Sublime: Gregory Gourdet's Grilled Carrots With Herby Coconut Yogurt and Spicy Beet Vinaigrette.


10. Sweet potatoes
These root veggies are a good source of vitamins A, B6 and C, potassium and fiber. Compounds in sweet potatoes may help control blood sugar. Skillet: Tirzah Love's Breakfast Sweet Potatoes.


11. Quinoa
This seed is an alternative whole grain. "High-fiber foods help with keeping us regular," says Jones. "It also helps with lowering … cholesterol." Simmered: Food Heaven's Hearty Quinoa Chile.


12. Spinach
Fresh or frozen, this dark-green leafy vegetable is easy to add to everything from sauces to soups. "It is a good source of carotenes as well as vitamin C," says Lancaster. Surprising: Bryant Terry's Spinach Salad With Blackened Chickpeas.


13. Edamame
A young soybean, edamame is a complete protein, which means it contains the nine essential amino acids that our body cannot produce on its own. So Easy: Marisa Baggett's Edamame Hummus.


14. Oats
"Studies have shown that [oatmeal] helps to reduce cholesterol in the body and is good for heart health," says Lancaster. It can also slow the absorption of blood sugar, she adds. Stick to Your Ribs: Jerlyn Jones' Fruity Overnight Oats.


15. Watermelon
"When you're looking at the watermelon pieces, you can actually see the fiber in them," says Ridley. The red color comes from lycopene, an antioxidant that may help curb the risk of cancer and diabetes. Showstopper: Kwame Onwuachi's Citrus and Watermelon Salad With Spiced Shrimp.


16. Sunflower seeds
Nuts and seeds also add heart-healthy fiber to your diet. A portable snack, sunflower seeds pack a lot of nutrients, including vitamins E and B, iron and manganese. Their potential benefits include lowering both blood pressure and the risk of heart disease.


17. Soy milk
If you can't drink or don't like dairy products, soy is the closest to cow's milk in terms of health benefits, says Ridley. In addition to protein, it offers the calcium older women need for bone, teeth and heart health. Stir It In: Carla Hall's Vanilla Bean Hot Cocoa Mix.


18. Eggs
"Eggs give us not only protein, but also the yolk gives us vitamin D, choline and lutein, which is good for our eye health," says Jones. "You don't want to skip out on the yolk; you want to eat the whole egg." Hard-boiled, they supply portable protein throughout the week. Sweet Splurge: Maya Angelou's Banana Pudding.


19. Sardines
These small fish contain omega-3 fatty acids, which may support cognitive health. "It is possible that they may help with diseases like rheumatoid arthritis and lupus, as well as eczema," says Lancaster.


20. Farro
An alternative to other whole grains, farro is a nutty ancient grain that is high in both protein and fiber. Seasonal: Jenné Claiborne's Arugula Pesto + Farro Pilaf.


21. Black beans
Nutritionally packed, black beans are a good source of fiber, protein and carbohydrates. Plus, they are the dollar-saving superheroes of any grocery list. Together with rice, they make a complete protein, Lancaster says. Seasoned: Tabitha Brown's Black Bean Veggie Burgers With Crispy Potato Wedges.


22. Walnuts
These mellow nuts are a source of heart-healthy omega-3 fatty acids, says Lancaster. Research shows they can help lower the "bad" LDL cholesterol and total cholesterol. Simple: Rosalynn Daniels' Apple Walnut Vegan Bread Pudding.


23. Mustard greens
Raw, steamed or sautéed, these sharp-tasting leafy greens are popular in Southern cuisine. "Mustard greens have fiber but also calcium," says Ridley. Standout: Jocelyn Delk Adams' recipe.


24. Tuna
Seafood like tuna offers both calcium and vitamin D, says Ridley. Sophisticated: Nina Compton's Tuna Toast.


25. Turmeric
This yellow-orange spice contains the compound curcumin, which fights inflammation and may help manage blood sugar to prevent or treat type 2 diabetes. Stewed: Marcus Samuelsson's Black-Eyed Peas With Coconut Milk and Ethiopian Spices.


26. Millet
This ancient grain has the nutrient niacin, which supports healthy skin, and beta-carotene, which is good for the eyes. Spoonable: Marisa Moore's Creamy Coconut Cherry Millet Porridge.


27. Lentils
This legume provides a plant-based protein as well as calcium. Supper: Pat and Gina Neely's Lentil and Kale Salad.


28. Garlic
Research shows that in addition to promoting healthy arteries, garlic can help reduce inflammation for sore joints and muscles, and even prevent cartilage damage from arthritis. Seafood: Nyesha Arrington's Honey Mustard Marinated Black Cod.


29. Flaxseed
This source of unsaturated fat offers omega-3 fatty acids, which may support cognitive and heart health, says Lancaster. She recommends buying flaxseed ground and adding to cereal for a nutritional boost. Sans Meat: The Best Vegan Meatballs from Jenné Claiborne.


30. Peanuts/Peanut butter
Nuts are beneficial for the heart. Plus, "you make a peanut butter sandwich and you have a complete protein," says Lancaster. So Comforting: Lola Osinkolu's West African Peanut Soup (Maafe), Nigerian Style.


31. Brussels sprouts
These cruciferous greens contain a compound that may help prevent the type of damage to DNA that's associated with cancer and tumor growth. Serve to Company: Quin Liburd of Butter Be Ready's Maple Roasted Brussels Sprouts With Pork Belly.


32. Cantaloupe
A cousin of watermelon and honeydew, cantaloupe adds variety to your fruit basket. It contains 100 percent of your daily needs for vitamins C and A. The potassium supports the health of your heart and blood pressure. Sip: The Sisters Squad loves it pureed with a little citrus and cinnamon for a luscious chilled summer soup.


33. Cucumbers
Cucumbers are low in calories, keep you hydrated and provide antioxidants like flavonoids that may help fight disease. Sear on the Grill: Quin Liburd of Butter Be Ready's Steak Salad With Maple Balsamic Vinaigrette. Also, add them to a green smoothie.


34. Tofu
This versatile soy product provides calcium that women need as they age, Ridley says. It can also help reduce the severity and frequency of hot flashes in menopausal women. Start the Day: Deborrah Cooper's Delicious Fast and Easy Tofu Scramble.


35. Chia seeds
Jones recommends chia seeds as a source of calcium. They also contain a variety of antioxidants such as quercetin, which may help reduce the risk of heart disease, cognitive decline and some cancers. Scrumptious: Food Heaven's PB&J With Homemade Chia Seed Jam.


36. Broccoli rabe
If you're lactose intolerant, you'll get 15 percent of your daily calcium from a 1-cup serving, plus about 5 grams of fiber and 5 grams of protein. Other nutrients support vision and immunity. Sauté: Patti LaBelle's Garlicky Broccoli Rabe.


37. Peas
Whether you eat green peas or snap peas, they contain carotenoids that help protect the eyes from age-related issues such as cataracts and macular degeneration. Smokey: Sunny Anderson's Peas and Pasta Salad.


38. Grapes
Jones recommends snapping up seasonal fruits like grapes because they will be easy to find and provide nutritional variety from produce available the rest of the year. With their vitamin C content, grapes can help fight infections. Spread: Rasheeda McCallum adds them to charcuterie boards.


39. Avocados
Mashed into guacamole or sliced for a sandwich, this green fruit helps protect your vision with antioxidants that absorb light waves that are harmful to the eyes. Summery: Essence.com's Orange and Avocado Salad.


40. Water
"Hydration is super important," says Lancaster. "When we're not adequately hydrated, our brain shrinks, and that gets to be more of an issue as we get older." Squeeze: Add some lemon to water for a healthy start to the day, like Tracye McQuirter does.