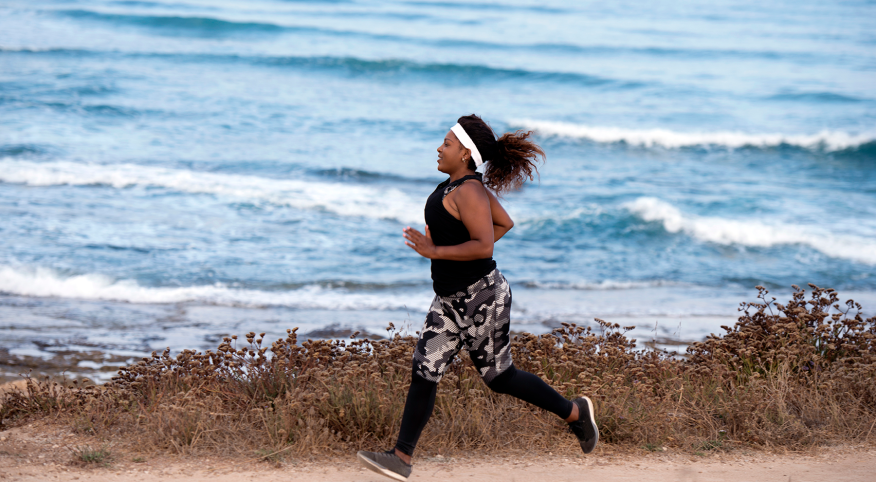 Consistent aerobic exercise (a.k.a. cardio, which is short for cardiovascular) is associated with a long list of health-specific perks, including lower blood pressure, better sleep, less stress and anxiety, weight loss, and joint pain relief. But did you know that the benefits of brisk walks, swimming, treadmill runs, cycling and other forms of cardio workouts go beyond your physical health?

Turns out, it has beauty perks as well! If you've ever noticed how your complexion appears more toned and radiant after a good sweat session, there's a scientific reason for that. When you get your body up and moving, especially through cardio, you're promoting healthy blood flow. And since blood carries oxygen and nutrients to your cells while eliminating toxins, you're left with glowing skin. Increased blood flow can also boost your body's ability to make its own collagen, which is important for reducing the appearance of sagging skin as we get older.

Need another reason to take up cardio? We've got four more.

(The CDC recommends adults get at least 150 minutes of moderate-intensity physical activity a week, which can break down to 30 minutes a day, five days a week. If you're new to cardio, start with a few minutes a day and work your way up, or see what your doctor recommends.)


Have the best sex of your life

A boost in your sex drive? Stronger orgasms? Yes, please! According to The Journal of Sexual Medicine, long-term cardio fitness is correlated with more sexual satisfaction among female participants. The same study also concluded that male participants were less likely to experience erectile dysfunction. Halle Berry once listed "increased sexual arousal" as her favorite cardio benefit. Enough said.


Strengthen your immunity

More than two years into the COVID-19 pandemic, with new variants on the rise, enhanced immunity is now more important than ever. One way to do that besides eating a diet rich in foods that mirror the colors of the rainbow? You guessed it: cardio. Research published in the Journal of Sport and Health Science in 2019 found that less than 60 minutes of moderate to vigorous aerobic activity can improve the way your immune cells get circulated within your body, making it easier for them to detect and fight off infections.


Reduce your risk of falls

Millions of older adults fall every year, but lessening the chances of broken bones and potentially life-altering injuries happening to you is easier (and a lot more fun!) than you think. A small study concluded that women ages 72 to 87 were able to improve their balance and agility after doing hour-long aerobic dance sessions three times a week for 12 weeks straight. Good to know: Who needs coffee? A great playlist celebrating Black womanhood (think Beyoncé and Lizzo) can make for a much-needed energizing start to your day.


Sharpen your memory

With age, cherished memories from our past become even more precious to us — and you'll be happy to learn that just a few minutes of cardio could help boost your concentration and memory. So go on and have fun creating new ones, sis!