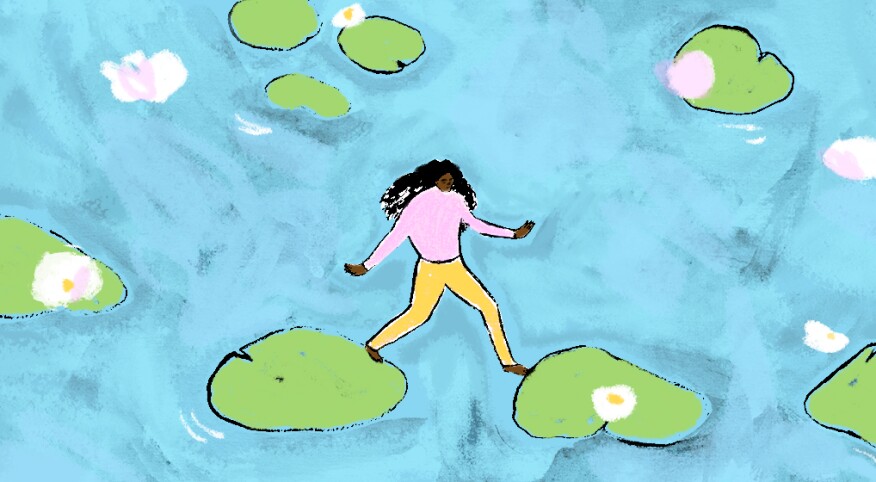 You resolved that this would be the year you would finally make taking care of yourself your top priority. But your wellness goals seem to have already fallen through the cracks. Don't give yourself a hard time about this. You're not alone. Studies have shown that 80 percent of people fail to keep their New Year's resolutions.

Hope is not lost! Declare that February is the new January and start again. Instead of setting daunting goals, take small steps to put yourself on the path to healthier living.

AARP is here to help you along the way. Did you know that AARP members get access to special health content? And there are many other AARP benefits that can help you be well all year long.

Know your numbers. Did you set a goal to lose 20 pounds just because one of your sister friends did? Stop that! Instead of setting arbitrary health goals, be intentional and well-informed. Do you know your BMI? BMI, or body mass index, is often used by doctors to determine if you're at a healthy weight. While most health care professionals agree that BMI shouldn't be used as a sole measure of health, it's a good place to start. Check out the AARP BMI calculator to see where you stand. Be sure to have your doctor check your vitals, such as blood pressure and blood sugar levels. Measure your waist circumference, too. According to the CDC, a non-pregnant woman with a waist circumference of more than 35 inches is at a higher risk for developing obesity-related conditions, such as type 2 diabetes, high blood pressure and coronary artery disease.

Ditch the fad diets. If you find that you do need to shed some pounds, resist the urge to try a fad diet. A diet that promises you'll lose more than two pounds per week, that severely restricts calories and that requires you to cut out entire food groups is a fad diet and won't help you make long-lasting changes. Instead opt for an eating plan that encourages variety and portion control and be sure to add exercising to your healthful habits. If you need more help on your weight loss journey, check out the free Healthy Habits eBook from WW (formerly known as Weight Watchers). If you want to try building a customized weight loss plan through WW, don't forget that AARP members save up to $120 on a six-month membership, and AARP registered users save up to $50 on a six-month membership.

Manage your meds. Some health conditions can't be managed through diet and exercise alone. Don't let high prescription costs keep you from taking the medication you need to live your best life. You can get a free prescription discount card from AARP® Prescription Discounts provided by OptumRx® that you can use at more than 66,000 pharmacies across the country. This program is open to anyone and can help you save on any FDA-approved medication. AARP members can get even deeper discounts and other perks, such as home delivery and coverage for dependents.

Don't forget to mind your mind. Mental stimulation, regular exercise and a Mediterranean diet are just three things that can help keep your mind young. Get access to interactive games, brain-boosting recipes and more through Staying Sharp by AARP.

Stick to the plan. Once you find a diet and exercise plan that works for you and your lifestyle, stick with it! Stay consistent with taking your meds and any supplements your health care provider suggests. And to look as good as you feel, develop a regimen for smooth, even-toned and glowing skin. If you get your health and beauty products from Walgreens, remember to link your AARP and myWalgreens™ memberships for exclusive Walgreens cash rewards.

Explore Your AARP Membership Benefits
Your AARP membership includes access to hundreds of carefully chosen discounts, programs and services designed to help you thrive in every area of your life.