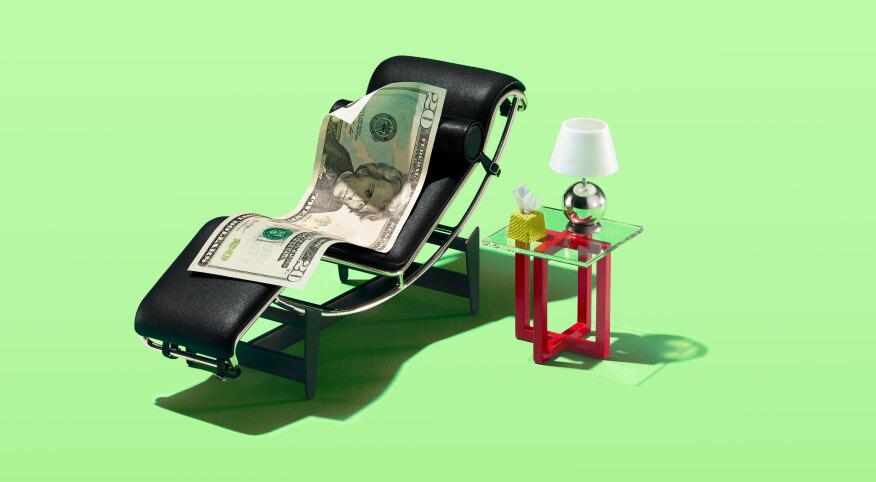 From the editors: The Black community is coping with historic challenges relating to social justice, health and the economy. We're all in this together. During this turbulent time, Sisters From AARP is prioritizing new and existing content that supports our readers' mental, physical and economic safety and well-being, including this story. Feel free to email us at sistersletter@aarp.org and share your thoughts on how we, as Black women, can best support one another now.

When Myisha T. Hill began having depressive episodes, she traced them back to her finances. For Hill, a 37-year-old mental health and social justice advocate from Oakland, California, money had always been tight. But as an adult, a chronic lack of resources resulted in both unexpected physical and emotional distress.

With mounting past-due bills and a car that needed repairs, Hill, a single mom of three, took out a payday loan. But she quickly found herself in a conundrum when she couldn't pay the loan back and the interest began mounting. The financially-induced stress led Hill to be short-tempered with her children, family and close friends. She began feeling tingling sensations throughout her body. And before she knew it, negative self-talk and processing her money woes landed her in the doctor's office and on her therapist's couch.

Of course, Hill isn't alone in her stress from money issues. In fact, with the markets in decline and our day-to-day lives upended with the news of the coronavirus, your mind also may be in turmoil. Worrying about finances can stem from health concerns, caregiving issues, unplanned financial or health emergencies, debt and more.

How can stress affect your health?
Perhaps you've experienced bloating, headaches or fatigue. How about trouble sleeping, perhaps around the time monthly bills are due? Stress, even from finances, can affect the body.

Symptoms of stress also can affect your thoughts, feelings and behavior. Stress may bring on feelings of anxiety, restlessness, sadness or depression — and it can be connected to behaviors like overeating, angry outbursts and substance misuse, according to Mayo Clinic. Unchecked stress also can contribute to many health problems, such as high blood pressure, heart disease, obesity and diabetes.

Taisha Williams-Johnson, a physiatrist (physical medicine and rehab physician) and associate medical director of the Police & Fire Clinic in Washington, D.C., screens patients for work- and finance-related stress regularly. She says some patients arrive with obvious physical health conditions.

"I have seen patients who come in because of financial stress and have lost sleep or have heart palpitations. Patients have also made complaints of feeling physically ill to their stomach because of the combination of financial and work-related stress. Elevated blood pressure and even excessive weight gain are also common physical indicators that stress is affecting the patient's body," Williams-Johnson says. "If the systolic blood pressure is 160 or greater, I refer the patient to ER or urgent care."

You can fight back against financial stress.
Though symptoms can be difficult, you can manage stress associated with money concerns. A first step is to recognize the symptoms. Then, consider these ways to cope.

Consult your health care provider. If you have concerns about physical or mental health symptoms, talk to your provider so you can be evaluated and treated, if needed. And since symptoms like shortness of breath or chest pain can indicate an emergency, always immediately seek medical attention in these cases.

Consider seeing a therapist or joining a mental health support group. For Hill, a therapist and mental health support group has been crucial in helping her to address the stress related to her finances. "My therapist suggests mindful meditation and taking quiet moments when situations around money arise," says Hill. "Because money resulted in me trying to eat away my pain, my primary care physician helped me to implement a sound eating plan," she continues.

Hill also participates in a peer support group, Brown Sisters Speak, that seeks to remedy the source of financial stress for its members by providing valuable money-saving tips and workshops. "We hold each other accountable for how we're spending or saving our money," she explains of the Bay Area-based group.

Work on your personal finances. Once you get your health under control, remember that you can improve your current financial situation. For instance, AARP's Money Map can help you create an action plan for unexpected expenses by connecting you to payment resources while helping you plan for future costs. Read this Sisters story to learn more.

Also consider reading more about personal finance best practices, including how to save when you're living paycheck to paycheck and tips to consider for investing. For specific advice, consider a session with a certified financial professional.

Implement self-care. Financial problems can creep up, whether we expect them or not. But self-care can help. As Mayo Clinic reports, getting regular physical activity, reserving time for hobbies, practicing relation techniques (like deep breathing, meditation and yoga) and spending time with people you love also can serve you well.