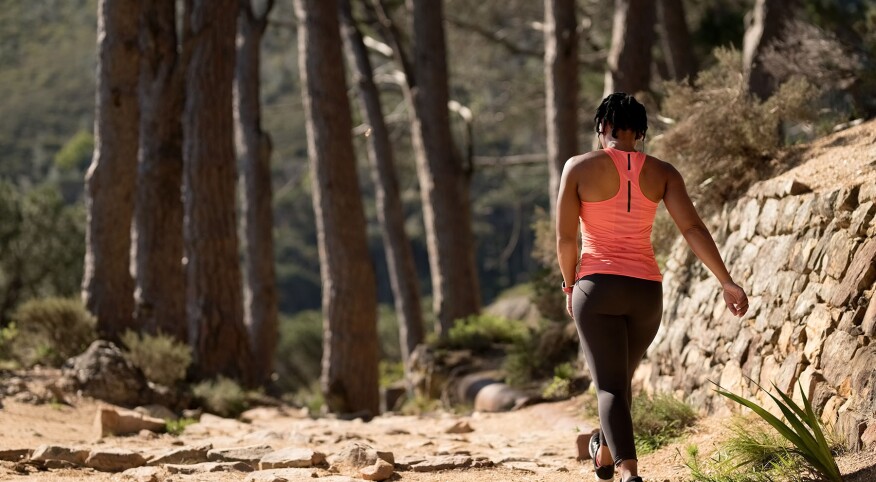 Note: AARP member Shawn N. Simmons, 51, is on a walking streak with the goal to walk 30 minutes every day for 365 days! Are you celebrating a wellness win like Shawn? Contact us and share your story, using "My Wellness Win" in the subject line of your email. You may be featured in a future issue of Sisters! Shawn, thanks for being an inspiration to the Sisters community! With you as a role model, I'm on day 32 of a meditation streak. Let's do this! — Editor In Chief Claire McIntosh

I like to say that walking daily for at least 30 minutes gives me a little piece of peace. During the pandemic, I made a commitment to walk every day. Walking improves my mood and my stamina and helps me maintain a healthy weight. I'm uplifted by nature.

Health, fitness and self-care have always been part of my lifestyle. I taught Jazzercise. In my younger years, I was a multisport athlete (competitive basketball, volleyball and softball). And I usually work up a sweat five days a week at the gym.

But, of course, in 2020 my fitness routine changed. My gym shut down, so I had to find other ways to stay in shape. Before the pandemic, I joined GirlTrek, the grassroots movement that inspires Black women and girls to walk at least 30 minutes daily. Periodically, I met up with Seattle-area members for a 2.5-mile loop. I enjoy bonding with other Black women.

During the fall of 2020, I started posting about my walking journey each month on social media. I walk around my neighborhood and on weekends I drive to a park and walk. I walked 30 out of 31 days that October and 28 out of 30 days in November. I was determined not to give up, even when it rained, which it does a lot in the Pacific Northwest. I bought some rain gear and a Hairbrella, a cute satin-lined rain hat designed by a Black woman, and kept it moving.
Although I wouldn't call myself a cook (my vision is to attract a husband who likes to cook), I know how to prepare healthy meals for myself.
I was an assistant principal and athletic advisor for a middle school, and in a nod to my educator roots, I mark my calendar with stickers to celebrate how many miles I walk each day. In December, I walked 30 out of 31 days. That's when I made a resolution to walk every day in the New Year!

I said to myself, "We're going to do this!" In January, I reached my goal of a perfect month. In February, the snow disrupted my plans. I don't have snow gear and at six feet tall, I often joke, "I'm too tall to fall." But I still managed to get in my 30 minutes 24 out of 28 days. However, in March I celebrated another perfect month! Now, I'm grateful for the nicer weather. I love hearing the birds chirp and watching the flowers bloom.

I still miss lifting weights at the gym. I also miss playing tennis and gathering with my girlfriends to play board and card games. But during my 7:30 a.m. solo walks, I've discovered that I like my own company. For sisterhood, I enjoy reading this newsletter. Every time I get the Sisters From AARP email, it's fun to click on articles that directly connect to me. I like to see Black women empowering and encouraging Black women. I've been an AARP member since 2019. Occasionally, I'll don my mask to do a weekend walk with ladies I met through GirlTrek.

Part of my routine is rotating five pairs of walking shoes from various brands. This helps to prolong the life of the shoes and to provide the right support. (Note: Shawn is on to something! Rotating walking shoes also helps to prevent injuries due to imbalances and discourages the growth of fungus and bacteria by allowing shoes to air out between wearings.)

I believe my body is my temple, and I do my best to take care of it — mind, body and spirit. My grandparents grew their own fruits and veggies, so I grew up eating healthfully. I make sure to get enough water every day.

Although I wouldn't call myself a cook (my vision is to attract a husband who likes to cook, or as they say, burn in the kitchen), I know how to prepare healthy meals for myself like grilled salmon, salads and sweet potato dishes. To connect with God, Jesus Christ and the Holy Spirit, I do a lot of Bible study. To keep my mind active I enjoy reading books on plant-based eating and other topics.

My goal isn't to lose weight, but rather to stay in shape as I mature gracefully. I plan to start hiking again, which keeps me fit without putting stress and pressure on my joints. And I will keep on walking!

Learn more — Girlfriends, here's what to consider before you start a health or exercise streak:


Whether it's walking, running, meditation or yoga sessions or increasing your water intake, a streak is good way to kick-start your routine.
Maintaining a streak can boost your confidence and improve muscle memory.
If your goal is to lose weight and get toned arms like Angela Bassett, however, the results depend on the type of workout or regimen you're doing and other healthy lifestyle choices, including diet, sleep quality and alcohol intake.
Don't overtrain, and always listen to your body. If you need to take a break, do so. If you've walked 26 days out of 31, that's still 26 days you can be proud of!