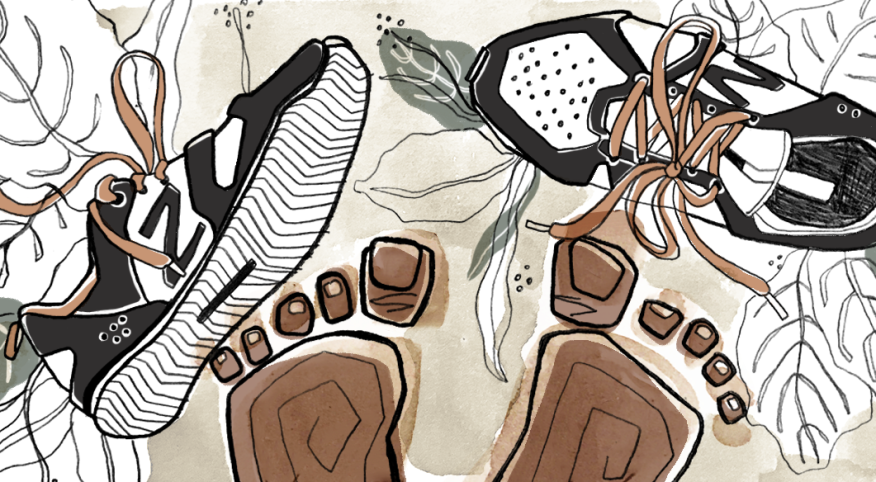 I had been waking up feeling depressed from disturbing quarantine dreams. Sometimes I just didn't want to face another day of bad news. On dreary, cloudy days, I was just as dreary. Then one morning, I misted my bare feet with a secret herbal concoction meant to ward off mosquitoes (don't ask, it doesn't work) and tipped a toe inside the grass. Then, in spite of being a mosquito magnet, I went for it and put both feet firmly on the ground. The backyard soil felt cool and the blades of grass soothing.

This is what my meditation teacher encouraged students to do one Saturday afternoon when COVID-19 forced us all into lockdown in New York City. He wanted us to get outdoors (practicing social distancing, of course) under the trees, planting our bare toes in the grass. After just one week of being in nature first thing in the morning, I didn't feel as gloomy. I noticed that I was able to fall asleep a lot easier, and I had more energy. I was getting more done, with less time spent sulking.

I guess I'm a biophiliac at heart. Biophilia is the hypothesis that humans have an innate connection with nature and need it to thrive, hence the current popularity of experiences with trendy eco-therapy names like forest bathing, which originated in Japan. Shinrin-yoku (forest bath) involves soaking in nature by spending time among the trees (sans tech). And then there's grounding or earthing, a therapeutic technique that grounds you and reconnects you to the earth's energy via bare feet or hands touching soil, sand or water (ocean and lakes). It's believed that these experiences help to reduce stress and enhance mood, leading to overall health.

Much of this is theoretical, and yes, it could be that Mother Nature simply gave me a dose of vitamin D, which is pretty much nature's Prozac. Still, nurturing our nature just feels right. A 2019 article in Scientific Reports states that at least two hours of weekly exposure to environments such as parks, woodlands or beaches is beneficial to health and psychological well-being. In addition, researchers at the University of Colorado at Boulder identified that a soil-dwelling bacterium, Mycobacterium vaccae, contains molecules that are beneficial to our physical and mental well-being by regulating the immune system, suppressing inflammation and stress-related disorders.

Additional studies have shown that natural environments have therapeutic and health-boosting effects. One concluded that with just 20 minutes connected to nature, stress hormones dropped.

Our tech-obsessed lifestyle and the restrictions we face during the pandemic have caused us to have less contact with the outdoors. That's a real concern since exposure to nature has been shown to have dozens of health benefits, including better sleep, improved focus, reduced depression and lower risk of cardiovascular issues. (A lot of this has to do with our increase in physical activity when we are outdoors). Spending time in nature even has benefits for those recovering from surgery and for cancer survivors.

And there is evidence that exposure to sunlight helps prevent weight gain.
Even when I am unable to get to the land, one of my favorite visualizations is to imagine my toes in the cool earth, the warm sand or the ocean … with my entire mind, body and spirit being held.
— Luella Toni Lewis, geriatrician
Geriatrician Luella Toni Lewis, founder and president of Liberation Health Strategies, is sold on the nurturing benefits of nature. Growing up in rural Illinois she heard stories from her mom Alsandra Lewis about going out with her dad to his place of respite, Blue Heaven, a pond in the country. "As a little girl, I always played in the dirt and to this day, whenever I go home, one of the first things I do is get my shoes off," she says. "There's just something about my feet being in the land where my ancestors walked. Grounding in my current home of BedStuy, Brooklyn, whether it's on my [yoga] mat or Von King Park, calms me and centers me," she continues. "Even when I am unable to get to the land, one of my favorite visualizations is to imagine my toes in the cool earth, the warm sand or the ocean . . . with my entire mind, body and spirit being held."

We need to be smart about social distancing and other safety measures to prevent the spread of the coronavirus, but there are still plenty of ways to stay connected to the web of life. And as fall progresses and the days become shorter, we need to be intentional about carving out daily nature breaks. Here are some simple ideas:

6 Ways to Nurture Your Nature

• Take a few moments to walk around or sit or lie down in the grass. If you are diabetic or have foot injuries, check with your doctor before going barefoot.

• No backyard? Grab your face mask and take a stroll in the park. Sit in the grass or at the base of a tree. Take note of the changing colors and the crispness of the air.

• If you can get to a beach, walk or sit with your feet in the sand. Wade in the ocean. Cooler air temperatures can mean fewer crowds, but the water temperature cools more slowly, remaining at a comfortable level past Labor Day at some beaches. The ocean also has the benefit of magnesium-rich sea salt. (Before swimming at the shore and in lakes, make sure the area is clean and be sure to check out the CDC's health guidelines.)

• Plant a garden. Fall is the time for harvesting veggies and planting bulbs. Get your hands dirty, whether at home or in a community garden.

• Bring nature into your home. Put a few plants on your balcony or in a room in your home.

• Take a salt bath. You can simulate the ocean's beneficial minerals by soaking in a bath of sea salt. A 2018 study on bathing found that it has positive physical and mental effects on the body.