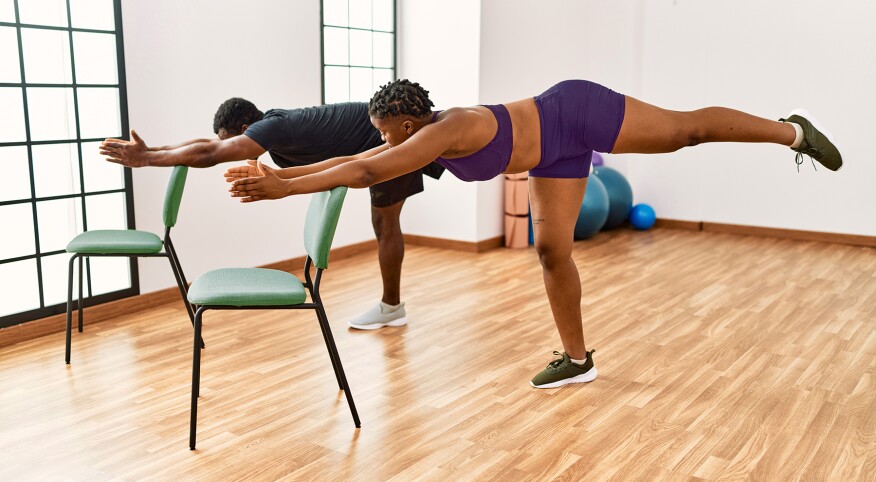 I'm seated in a sturdy, comfortable chair in preparation for a rigorous, pain-free physical workout. Breathing deeply, creating positive thoughts with every inhale and letting go of fear and negativity as I exhale, I'm full of feelings of gratitude. It's time for chair yoga class, which on this day is happening outside in the sunshine and fresh air, one of my favorite things about the class. All around me others are also preparing their minds as we get ready to move and stretch. This is my brave, new world.

Yoga is an ancient form of exercise that focuses on strength, flexibility and breathing to boost physical and mental well-being. Its main components are a series of movements designed to increase strength and flexibility. Yoga is often associated with participants rising from their floor mats and moving into and out of a variety of complex postures that can be easier for participants who are limber and in good health and physical condition.

In contrast, many of the moves involved in chair yoga are practiced from a chair. Depending on the rigor of the class, chair yoga can be considerably less demanding on muscles and joints and can be successfully practiced by people at various levels of physical conditioning. Breathing, improved strength, increased flexibility, plus pain and stress reduction are among its reported benefits.
"For the first time in my life, I reveled in the pure joy of movement that didn't involve shame or the possibility of failure. I loved the emphasis on positive affirmations and mindfulness."
As with any form of exercise, participants should seek the advice of their physician or medical professional before beginning an exercise regimen.

My personal journey to chair yoga was rather convoluted. For decades, my most energetic exercise consisted of wishing I could develop a sustained workout schedule. Today, I'm a chair yoga enthusiast who can triumphantly declare I've finally discovered an athletic activity that even a couch potato can master.


The treadmill and stationary bike I never used; the gym I joined but didn't visit.

As a kid, I was an uncoordinated bookworm who would much rather read than play dodgeball or jacks with the neighborhood kids. At school, I was typically the last person picked for any type of organized team play. Solo activities like bike riding and skating usually ended in a spill and a skinned knee (ouch!), not a great incentive to continue with physical exploits.

Shamed by these failures, for years I gave up on exercise except for short walks near home. I tried out a treadmill and an exercise bike. Maybe because they were solo activities, they just didn't stick. I even joined a gym near my work, thinking I'd feel too guilty to bypass it as I drove home. Sadly, though I religiously paid for the membership, I didn't reap the benefits.

As I approached 65, depressed, overweight, with an assortment of aches and pains, my doctor ordered me to get busy reducing my weight and cholesterol.

Thankfully, a girlfriend kept after me to join her chair yoga class. She said it wasn't too strenuous and not competitive. The yogi offered a special regimen that kept me moving but at my own pace. I gave in and tried it. For the first time in my life, I reveled in the pure joy of movement that didn't involve shame or the possibility of failure. I loved the yogi's emphasis on positive affirmations and mindfulness. With regular participation, I saw a definite improvement in my coordination and balance and my attitude also saw a boost. Many others have reaped these benefits.

"Though I've lost ten pounds, learning to breathe deeply, enjoy movement and reduce stress are my real goals."
Bolstering anecdotal reports, scientific research supports the benefits of chair yoga. A Florida Atlantic University study found that chair yoga is an effective alternative treatment for lower extremity osteoarthritis. The study found benefits including pain relief and improved quality of life for people with osteoarthritis.

I've grown to enjoy the feeling of stretching my muscles, working my upper body with light weights and mastering modified sit-ups, leg lifts and more. Be assured. It's totally possible to get a thorough heart-pumping workout in a chair yoga class. I confess that weight loss is a much-wished-for by-product of my fitness journey. Though I've lost ten pounds in the year since I began, I remind myself that learning to breathe deeply, enjoy movement and reduce stress are my real goals. And I've seen definite progress in these areas. I've also learned a few qigong and tai chi moves, reaping the calm and mindfulness these practices famously endorse. Between classes, I repeat these moves at home, building confidence in my ability.

I'm still in the early days of this fitness journey. Gratefully, I can honestly say I'm better physically and mentally, compliments of the patience and encouragement of my yogi Chinook Wusdhu of Dallas. I've learned to enjoy movement. I feel upbeat and have lots more stamina and energy for day-to-day activities. If you're looking for a modest, enjoyable and effective exercise regimen, you might try chair yoga.

Inspired? An internet search for chair yoga classes will almost certainly identify both online and in-person classes, some of which may be offered at little or no charge. Be sure to check with your area's Y and recreation centers. AARP's Virtual Community Center is a wealth of real-time exercise and healthy living options, and this previous Sisters' article lists free, full-body chair workout videos designed for various fitness levels.

I leave you with the ancient Hindu greeting, namaste, and wish you success in your fitness journey.