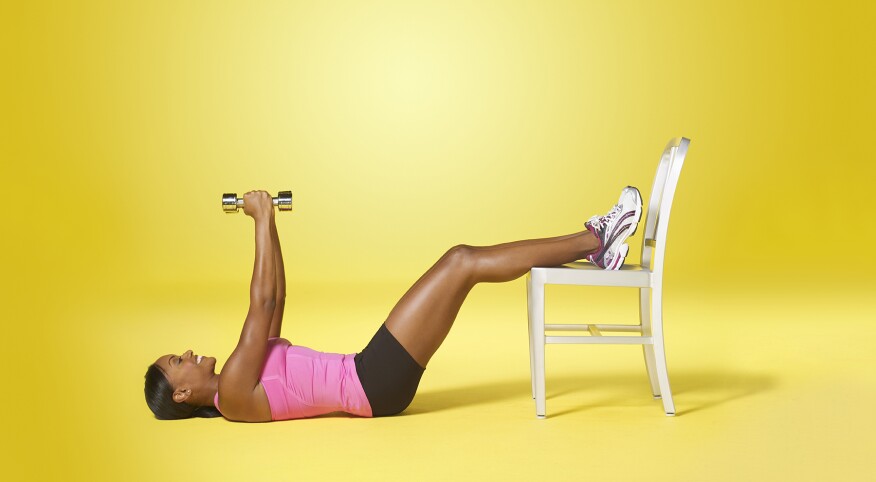 Chair workouts are a great low-impact way to add more movement to your week. Anyone can enjoy them, but according to WebMD, workouts done while seated are an option for those who may avoid physical activity due to concerns about falling, or the desire to safely improve balance, endurance, strength or flexibility.

Just because you're working out in a chair doesn't mean you don't burn calories. Registered dietician Shirley Matenda says people can burn 120 to 250 calories in a 32-minute session. Adding weights or resistance bands can burn even more.

We've rounded up free online routines that are super fun while offering the right amount of challenge for exercisers of different fitness levels. Most movements are done from a seated position (using a chair without arms allows for a freer range of motion). Others are performed standing, while holding the chair for balance and support. Remember to check with your physician before beginning any exercise program.

Twist on Yoga
Name: Intermediate Chair Yoga
Run time: 20:20
Presenter: Erica Rascon
Level of difficulty: Intermediate

Shot in an airy plant- and candle-filled setting, this video's serene vibe gives viewers the feel of a boutique yoga studio. Besides a chair, it's helpful to have a mat, a yoga belt and a foam block to fully benefit from the poses. In addition to flexibility and balance activities, Rascon demonstrates some leg- and butt-strengthening squats.

Dance Party Vibes
Name: Fuzion Fitness with Alexis #31
Run time: 26:22
Presenter: Alexis Perkins
Level of difficulty: Easy to moderate

With fun choreography and upbeat energy from everyone on the set, this routine felt more like a dance party. But don't be fooled, it's a complete workout. There's also a nice mix of R&B and reggae music to keep you in your zone.

10 Minute Fat Torch
Name: 10 Minute Chair Workout for Weight Loss
Run time: 12:58
Presenter: Donovan Green
Level of difficulty: Intermediate to mildly difficult

Green demos a spirited workout in a simple no-nonsense setting. His instruction is clear, concise and informative. He's also inspirational and upbeat during what is a surprisingly tough, but low impact, workout. Who knew you could do jumping jacks while seated?

Lower Body Boogie
Name: Chair One Fitness - Boogie Wonderland
Run time: 4:54
Presenter: Alexis Perkins
Level of difficulty: Intermediate to advanced

Perkins' routine features a fair amount of leg lifts. But thanks to the groove of Earth, Wind & Fire, we forgot how hard we were working out.

Fully Equipped
Name: In-Home Silver Sneakers Class!
Run time: 22:37
Presenter: Ian
Level of difficulty: Easy to moderate

A solid workout that's also fun and offers fantastic music. This class was unique in that the instructor included small weighted balls, resistance bands and hand weights.

Fast Full Body
Name: Full Body Chair Workout With @KeairaLaShae
Run time: 12:19
Presenter: Keaira LaShae
Level of difficulty: Intermediate to advanced

LaShae invites her mom (What? They look like sisters!) to join the workout and demo modified moves. If this is the routine that gave this lean and lovely matriarch her muscle tone, it's one you'll want to bookmark. In keeping with the homey vibe, this instructor isn't teaching in a fancy space, but her direction is clear and motivating. Truly a full-body workout, it engages arm, shoulder, leg and core muscles.

High-Powered Half Hour
Name: Turbo Chair Fat Burner
Run time: 30:00
Presenter: Paul Eugene
Level of difficulty: Easy to moderate

With an infectious smile and energy, Eugene gets viewers moving at a heart-pumping pace. His commentary throughout helps keep you going. We appreciate that he explains exactly which muscles are activated during the moves.