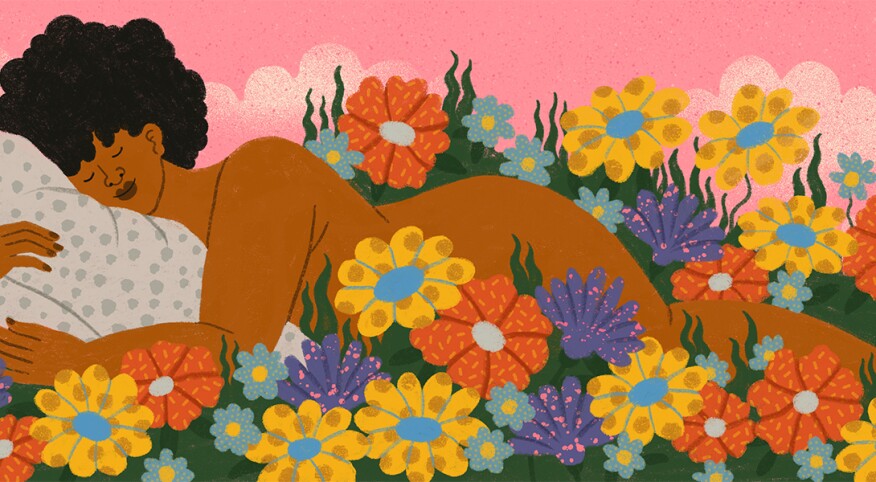 Ciara, Meagan Good-Franklin and Tamera Mowry-Housley became poster girls for abstinence before marriage; the indie film Cecilia the Celibate put a rom-com spin on it; and groups like the Alexandria, Virginia-based Journey to Purity create spaces for Black women to talk about chastity.

"I wouldn't say celibacy is a growing trend," says Marya Shegog, director of health programs at the University of Nevada Las Vegas' Lincy Institute, "but there's more discussion about it and people are more willing to consider or admit to it."

Abstinence has long been a faith-driven choice among many unmarried women, but there are other reasons for it says Tiffany Rush-Wilson, a Chicago-based licensed psychologist who has researched Black women's sexuality. "Those who have been traumatized in past relationships may choose celibacy to guard against future hurt," she says. "Others want to regain the focus that they believe was clouded or impaired by a lot of sexual activity." Some single sisters opt out until they enter a committed relationship.

Some partnered women, says Shegog, "perceive that their partners put them at risk by not adhering to their agreements as far as fidelity." In other cases, conditions like diabetes, hypertension and cardiovascular disease can impact their partner's ability to perform. You can read more about sexless marriages here.

Women ranging in age from their 30s to their 70s discuss their seasons without sex:

At 45, she's sick of on-and-off relationships and meaningless encounters.
Status: Involuntarily celibate for 2 years

I like men, I've loved men, but I would say 95 percent of them have been bad choices. At a certain point I was like, I'm not putting up with this s--- anymore.

When I was younger, I would barely leave one relationship before I got into another one because I didn't want to be celibate. Yet, I always feared that I would not have a lover at this age. It worried me then and it frustrates me now. I feel less feminine and bad about my body.

During times when I was not dating anybody officially, I kept sex partners, but these days I'm fresh out. To deal with somebody for 10 years on and off is not satisfying. It's like, well, what am I doing? I don't want to keep doing one-offs even if the sex is great. Sex for me is a lot about pleasing a partner and really being into each other. Without that it doesn't feel good.

At 62, she's craving companionship.
Status: Celibate two years

I have gone long stretches without sex. Occasionally, I feel a bit lonely. It's not about the sex so much as it is about the companionship — having a partner to move through life and wind down my days with would be just lovely. But finding one has been sort of hit or miss. Thus far, that has not been the path that the universe has laid out for me.

I don't even know how people, especially at this age, meet potential partners. I tried online dating, but it felt weird to me. I'm used to meeting men more naturally and authentically.

Now 39, she took the goods off the shelf while shopping for a husband.
Status: Married and having sex

To me celibacy is like a season, something you may go in and out of. Before marriage, I chose to be serially monogamous. If I wasn't in an exclusive relationship, sex wasn't happening. I went through periods of celibacy once during my 20s and twice during my early 30s.

Abstinence enabled me to date more than one person at a time. I was looking for a life partner. Also, the few times that I attempted to break my celibacy for the sake of getting some taught me that I am constitutionally unsuited for casual sex.

Instead, I made pleasuring myself part of my self-care. It ultimately helped me understand my body. I can better communicate what I like.

Age 63, she's a recovered sex addict.
Status: Celibate for 10 years

In the '70s, I partook in the self-indulgence of the disco era. I was a fashion model, dressed provocatively, did coke and had a lot of sex. Eventually I became aware that I was a sex addict, so I started therapy to address certain things in my life and heal.

I no longer need sex like I once did. It's like I was in a candy store and ate all the candy. Men still approach me, but if I sense that it's not someone I can partner with, there's no need to go to the next level. I've worked hard to become healthy.

I look much younger than my age. There's a man I fantasize about. He's 32. He's clearly attracted to me. I'm attracted to him. He has a girlfriend. I will in no way engage. But I do masturbate and think about him.

At 50, she says men are "too much work."
Status: Celibate and sensual for five years

After my divorce, I went through what I call my "ho" phase because a fine-looking man couldn't walk down the street without me saying, "Come here!"

I didn't decide to be celibate, but life happened. My last partner was raising a child as a single father and I was caring for my terminally-ill mom. It became less convenient and more onerous to schedule sex. It's more trouble than it's worth when I can just, as the guys say, "rub one out when I need to." Then I don't have to worry about cooking breakfast, doing this and being this and, please, I'm tired of men. Too much work.

Two years ago, I decided to snatch myself up and get really healthy. I lost 75 pounds, I work out like a beast and my body has not looked better. I feel infinitely feminine.

At 70, she's "alone but not lonely."
Status: Contentedly celibate for eight years

With the right person, sex is a beautiful way to communicate. I broke up with the last person I was involved with probably more for political reasons than noncompatibility. As I've gotten older, I know my worth and I am not willing to settle for less.

I have male friends, but there's no sexual spark. I do wonder when I might have sex again, but intimacy remains a priority over the actual act.

When I was younger and not in a relationship being celibate wasn't a big deal to me. Even today I don't think of it as a punishment. I'm alone but I'm not lonely.

Here's good advice for when you don't have a lover:
Abstaining can promote self-reflection and personal growth, but it can also leave you feeling lonely, less sensual or doubting your worth. Pro tips for taking care of yourself follow. [2021 update: Follow current CDC guidance to protect against coronavirus transmission.]

Interact face-to-face, not just on social media, advises Shegog. Meet up with friends, participate in social functions, take a class or try a new a hobby where you can meet others who share your interests.

Don't skimp on your sexy. Wear attractive clothing. Try a luscious shade of lipstick. Take up burlesque or belly dancing and revel in the sexy moves. "Being a sensual woman is achieved not by being sexually active but by engaging in self-care and practices that influence and define how a woman sees herself," Rush-Wilson says.

Learn about your body and your sexual responsiveness without a partner, says Rush-Wilson. "There are workshops that help women get comfortable with learning about their desires." Female-friendly sex toy shops like Babeland and Pleasure Chest offer a variety of courses, or stream a class at virtual destinations like O.school and LoveHoney on YouTube.

Invest in quality sex toys. "Use ones that take rechargeable batteries for convenience," says Shegog.

Welcome non-sexual touch, a basic human need. Cuddle a pet. Give and receive hugs. Spring for the foot massage when you get a pedicure.

Don't tie your self-worth to performing sexually for a partner, Shegog advises. "Sexuality is only a part of a person's makeup and value."


Read more relationship articles from Sisters From AARP here. AARP supports you in connecting to your passions—and discovering new ones—at every age and stage. Join us or renew your membership to explore the possibilities for fun, friendship and fulfillment.