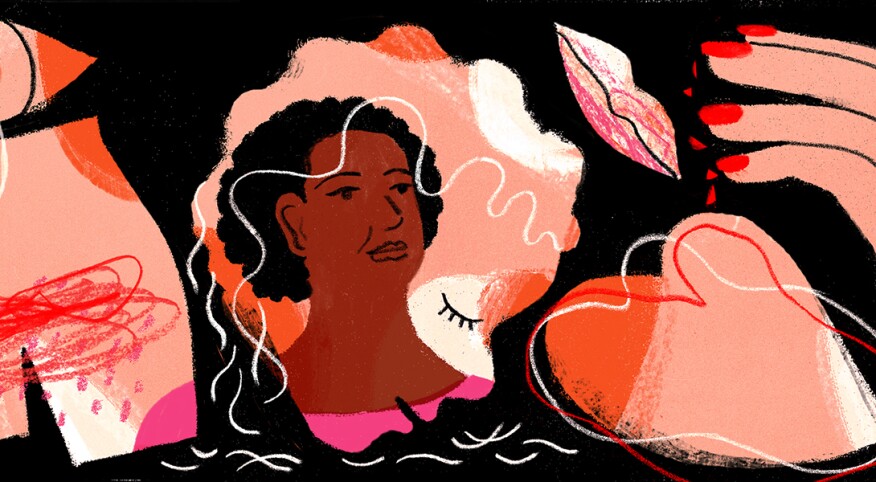 I first noticed it in staff meetings with my then-boss: We'd be sitting around the conference room talking when, out of nowhere, she'd start glistening as if she'd just walked out of a mist. I was still in my 30s then, and I didn't know what was happening. Now that I'm the one "glowing" in meetings I understand: She was probably having a hot flash.

If you're good-and-grown enough to find yourself in a room full of women in midlife, you'll hear about the change. The folding fans unfurl, sweaters are stripped off, tissues are whipped out and sisters will run down the other symptoms of menopause: sleeplessness, forgetfulness, moodiness. Changes in vaginal discharge, including being dry down there when, um, it would help to be wet.

Technically, these irritating changes aren't menopause, which happens when your ovaries no longer release eggs and you don't have a period. "You don't become menopausal until you go through 12 months without a period," explains Hilda Hutcherson, a gynecologist, author and professor of obstectrics and gynecology at Columbia University Vagelos College of Physicians and Surgeons. "Most people, when they're complaining of symptoms, are in perimenopause."

Perimenopause is the time when the ovaries begin to make less estrogen, and it can begin several years before menopause. Some women start to notice subtle shifts — irregular periods, changes in flow — in their 40s. Others start experiencing changes as early as their 30s or as late as their 50s.

Evelyn B. Varnado, an ob/gyn in private practice in Greensboro, North Carolina, cites the SWAN study (Study of Women's Health Across the Nation) that found that Black women may have symptoms for up to 10 years! (In comparison, Asian women can expect to be done with all that in just four.)

It's not all bad news, however. For example, once estrogen levels begin to taper, fibroids start to shrink, says Hutcherson. Black women are more prone to have these benign tumors—and the pain and heavy bleeding that come along with them. But the tumors and their symptoms tend to ease as periods stop.

Hormonal fluctuations also may leave you with more testosterone, which can boost your libido and make you feel sexy. "If you're perimenopausal and still having sex then you retain some [vaginal] elasticity," Varnado says. That means you may also have fewer concerns about dryness, decreased sensation or difficulty achieving orgasm.

During the perimenopausal stage you'll have to be prepared for anything since your cycles may be irregular. That means you'll need to keep period protection on hand in case of unexpected bleeding.

You also want to maintain a reliable birth-control plan. Varnado says the chances of having a viable pregnancy during perimenopause are pretty slim, but it is still possible to get pregnant. And pregnancy at an advanced maternal age, which doctors define as over 35, comes with a host of possible complications.

What else can you do to ease the transition?

Look for little ways to stay active. Muscle tone and bone density are affected by testosterone and estrogen depletion. "Exercise can protect bones and muscles so your posture stays great," says Hutcherson. It can also boost your mood. About 30 minutes of exercise a day, even in small increments, helps.

Eat well. Do what you can to get to a healthy weight now. After menopause itself, your metabolism slows down, and it can be harder to lose weight, Hutcherson says.Get in the habit of eating well-balanced, low-fat meals in addition to following your fitness plan.

Quit smoking (if you do). "Smoking contributes significantly to your hot flashes," according to Varnado. According to research published in Maturitas in 2015, "women who quit smoking were less likely to suffer from hot flashes, less likely to have severe hot flashes and less likely to have frequent hot flashes than women who continued to smoke" — though they were still more likely to have more severe hot flashes (among other symptoms) when compared with women who had never smoked.

Talk to your health care provider. If your symptoms are mild, over-the-counter remedies may ease them, according to Varnado. But consult your doctor about all of your treatment options.

Practice radical acceptance of your changing body without judgement. Focus on gratitude and stay positive. Perimenopause can feel different, and you may feel stress, but your mindset can help. Accept the change as a natural life stage, Hutcherson advises, and remember that symptoms are not going to last forever.

And finally: Don't be afraid to break out a fan.