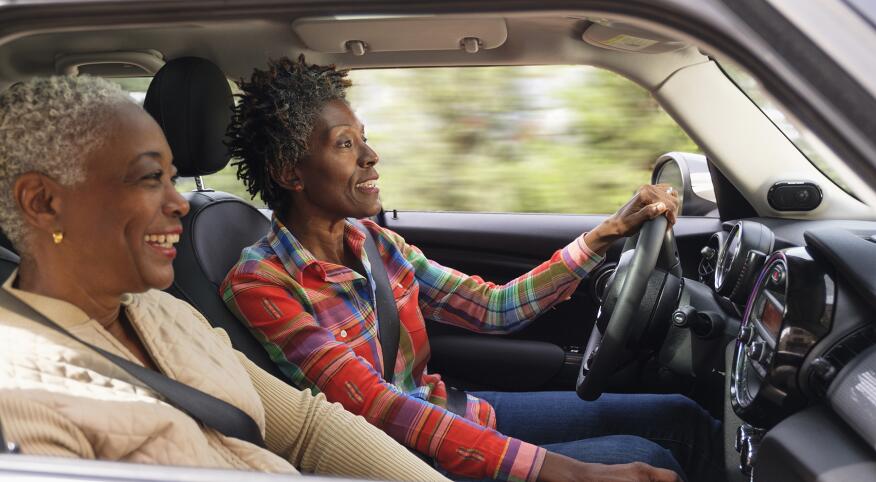 I've had my driver's license for nearly 40 years. In all that time, I've only ever been in two minor fender-benders and gotten one speeding ticket, which I fought and won. So, aside from helping my son study for his driver's license 10 years ago, I don't give the skill of driving much thought. That is until recently when I was asked by my editor to "test drive" the AARP Smart Driver™ course. And let me tell you, after six self-paced hours online learning about new vehicle technology, tips and tricks for safer driving and mitigating my risk of an accident, I can confidently say I'm a more-savvy driver today than I've ever been.

Taking a refresher driving class may seem like much ado about nothing, but according to data from the Governors Highway Safety Association, fatal accidents "disproportionately affect Black, Indigenous and people of color." Being older puts folks at greater risk, too. Though they are healthier than ever, drivers 70-plus are still more fragile than younger people, so if they do crash, they are more likely to experience serious injury than drivers age 35-54. The good news is that 90 percent of crashes are preventable. And if all of that doesn't move you, check out how much money you could save on your auto insurance just by taking this course. I'm saving 8 percent on my policy for the next three years.

Click here to learn more about the AARP Smart Driver™ course

The driving course advertises that it's designed to help you boost your safety awareness, refresh and improve your driving skills, minimize your risk of a crash, increase your confidence, prolong your mobility and maintain your independence. But I learned so much more.
"The good news is that 90 percent of crashes are preventable. And if all of that doesn't move you, check out how much money you could save on your auto insurance just by taking this course. I'm saving 8 percent on my policy for the next three years." 
One of the things that really struck me was the reality that, as I get older, some things will become more physically difficult for me. The world has changed, and we all need to adapt to changes. And, as the course says, "that means learning new strategies for better driving." Meaning, it's important to put my ego aside and admit that I might not know everything about driving and, yes, I am getting older.

One thing I was surprised to learn was the plethora of things that can impact driving — medicines, mental health issues and our mobility. It's vitally important that we stay flexible, and that means working out regularly as much as we can and stretching to the best of our abilities. Driving is physical. You have to turn your head, so your neck muscles need to stay supple. Getting in and out of a car requires twisting, lifting and squatting. The course offers a few simple exercises we can all do daily to maintain flexibility, which can help us to be more alert and able to react quickly if we need to.

One of my favorite things in the course was learning about all of the new technology available in new cars. Frankly, it even made me feel a lot more comfortable understanding the various gadgets in my own 2004 Lexus. I discovered newfound confidence around my car and when I'm ready for a new car, I'm more excited about all the features rather than intimidated by them.

Monique R. Evans, Director of the Eastern Federal Lands Highway Division (EFLHD) in the Federal Highway Administration is one of the featured speakers in the course. In addition to the many topics she covers, one thing she said really stuck with me — the "importance of embracing lifelong learning in all that we do." Most of us drive every day and don't give a lot of thought to it. But, as Evans says, even if you've been cooking for decades, you've still got to continue to try new recipes.

I found this course to be a lot more than just a way for me to save money on my auto insurance (although I can't lie, that was huge). It also reinforced the notion of continuing to learn, even those things we do every day, such as cooking or driving.

So I'll continue to learn, stay as fit as I can and maybe someday I'll have enough money to have a limo at my beck and call. But barring that, I intend to keep going till the wheels fall off.

Click here to learn more about the AARP Smart Driver™ course