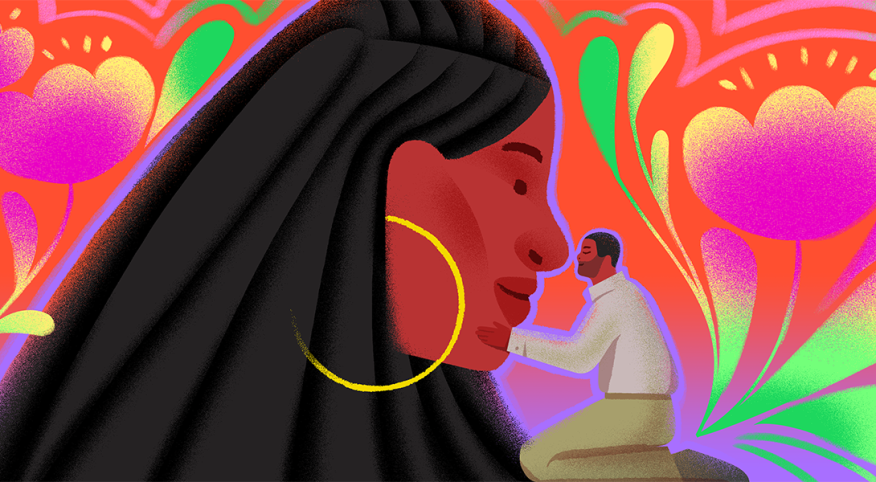 When we met, I was 42 and Paul was 34.

A mutual colleague told me he had a slight Jamaican accent, lived near my Philadelphia neighborhood and had two small children. I was a single, smart, attractive poet and he was as well, so she thought we should connect.

I was also an administrative assistant at the Community College of Philadelphia and Paul came in to interview for a teaching position in the English department. Aside from greeting him when he arrived, I paid little attention as he waited, continuing to transcribe minutes from the previous month's board meeting. As far as I was concerned, he was just another candidate for a job.

But at the start of the fall semester, our paths crossed for the second time. As we passed on the staircase, Paul asked me a question that would turn any Black woman's head:

"Can I touch your hair?"

What?! Was this some kind of Caribbean pickup line? Granted, I was wearing a faux loc-style (and later learned he was curious because he'd once worn locs). For a moment, I considered ignoring him. But I didn't.

Two weeks later, we had lunch and learned we shared the same birthday. When Paul pulled out his ID to prove that he, too, was born on January 22, I glanced at the year and noticed that he was eight years younger than me, a detail my matchmaking friend had neglected to mention. When he moved to America at 16, I was already a grown 24-year-old woman with a full-time job and a 7-year-old daughter. If we'd met when he was born, my 8-year-old self would have asked if I could hold the baby.

It bothered me but our age difference didn't matter to Paul. And within a few months, the man my father referred to as a "young buck" was speaking the language of commitment. I suggested we should hold up, wait a minute. After all, I had a lot on my plate: I was the primary caretaker of my mentally disabled mother, who lived in a nursing facility. My now adult daughter had recently moved out of the home we shared for 20-plus years. I hadn't planned on getting involved with a father of two young children, and I worried that his parenting of a 2-year-old daughter and 5-year-old son would leave little time for our relationship. How was this going to work? It all seemed more than I could manage.

Of course, when two people love each other but one person wants to control the flow of the relationship, tension is inevitable. And eventually Paul grew tired of my hesitation. So we agreed to downshift from a committed, exclusive relationship to occasional dating. For the next two years I "kinda sorta" dated other men, both older and younger, but I was miserable being "just friends." Then my mother died and I created more drama by quitting my job so I could take time to fall apart.

It was almost four years since the day Paul had popped that attention-getting question on the staircase when he invited me to go to Disney World with him and his children. Before I answered, I took a deep breath and asked him a question of my own: Could he be ready for a woman who'd changed her mind?

Since he'd previously floated the possibility of marriage and I hadn't been ready, Paul's immediate response was that he was willing, but only if I made all of the arrangements. So I did. We agreed that we didn't want our celebration to be traditional or expensive, so he sported a red sweat suit and I wore a brightly patterned halter top and sarong to our casual wedding, weeks later, at an Orlando courthouse. His children served as witnesses, and his sister and niece dressed in pretty, pastel sundresses. And just as the court clerk pronounced us husband and wife, his young nephew asked if we were going to have sex, which, in his 5-year-old brain, meant kissing each other.

This summer marks 20 years since we met. We've been married for nearly 16 years and Paul's children, now young adults, have nicknamed me "Mama Two." We still tease each other all the time about our respective ages. But Paul and I agree on the most important thing: We'll grow old – and older – gracefully together, through good times and bad.