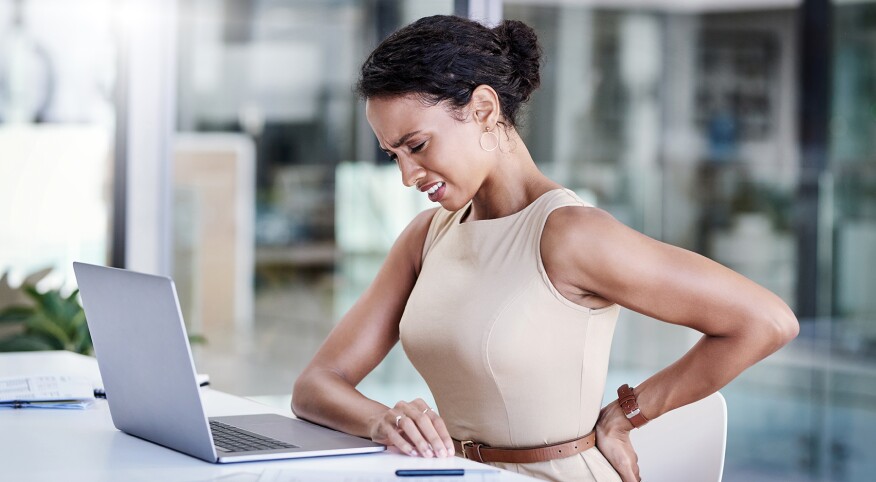 Oh, no sister. Are you hunched over the computer? Is your neck craned over your cell phone? By all means keep reading, but sit up straight! Our parents and teachers were on to something when they barked out that command, along with stand up straight and stop slouching, when we were kids.

Practicing good posture can yield amazing body benefits — less need for pain relievers, for one, since headaches and back pain are common ailments caused by poor posture. Good posture helps to keep your bones, muscles and joints properly aligned, relieving extra strain on the body. According to Cherese Scotton-Bratcher, doctor of chiropractic at the Joint Chiropractic in Knightdale, North Carolina, good posture can contribute to better body functioning overall. For example, it can increase lung capacity and make it easier to breathe. Proper body alignment can also support nervous system maintenance and even hormone production. Your whole body will show you love when it's able to move more efficiently.
Your whole body will show you love when it's able to move more efficiently.
7 posture perks

You'll look thinner. According to fitness and medical experts, good posture will help you look trimmer and taller because your body will be less compressed.
You'll feel less pain. No strain, no pain. Sitting too much and slouching can put stress on the spinal column putting you at increased risk for herniated lumbar discs, putting pressure on the surrounding nerves and causing severe pain. You can also experience neck pain when working on laptops from craning your neck toward the computer screen. Cell phones and other tech devices play a role, says Bratcher. "Constantly looking down puts increased stress and strain on your neck."
You'll feel renewed vitality. In addition, sitting slumped at the computer too long is also bad for your overall health. "Sitting is now called the new smoking and can be just as detrimental to our health, due to a lack of motion and increased sedentary lifestyle," adds Bratcher. With more movement (with good posture, of course) you'll lower your blood pressure and cholesterol levels and have a healthier heart. Sitting and standing straight will reward you with increased lung capacity, better digestion and less stress on your body.
Your focus may improve. We may chalk up brain fog to advancing age or shifting hormones, but it can also occur due to lack of blood and oxygen flow from slouching, says Bratcher. Since fixing your posture increases your lung capacity and delivers more oxygen to the brain, the perk is better brain function and concentration.
You can enjoy heightened self-esteem and body confidence. Maintaining good posture "improves how a person looks and their self-esteem," according to Bratcher. A study done by Ohio State University found that body posture can affect how others think about us, as well as our own positive thoughts about ourselves. This suggests that posture can influence confidence.
You can experience better moods. A study showed that sitting up straight instead of slouching inspired higher self-esteem, better moods and lower fear in the face of stress.
You may cope better and tire less easily. Another study found that changing from a slumped to an upright position helped reduce negative effects and fatigue in people with low to moderate depression when undergoing stressful tasks. This suggests that you are better able to face stressful situations when maintaining good posture.
Easy ways to improve your posture

Do five-second posture checks throughout the day. Bratcher suggests checking in with yourself throughout the day "to keep your shoulders rolled back, your head held high and your spine as neutral as it can be." Try setting smartphone reminders to help you build his habit.
Don't stand soldier-straight. The extreme upright bearing known as military stance can cause fatigue and muscle strain, says Bratcher. Also, take care not to lock your knees, which can interfere with circulation.
Strengthen your core. Consistently training the muscles around your spine and shoulders will make it easier to maintain a healthy posture, states Bratcher. Focus on large muscle groups, as well as the smaller stabilizing muscles. She suggests jumping jacks, shoulder squeezes, elbow or shoulder planks and lateral raises. Be sure to check with your doctor before starting a new fitness routine.
Try out posture-correcting tech. Upright (iPhone/Android) uses a device placed between your shoulders to monitor your posture that vibrates when you're slumping. Darma Pro (iPhone and Android) comes with a smart seat cushion that monitors how you sit to address posture problems, and it also reminds you to take breaks from sitting.

Keep your head up

Practice correcting your posture consistently and before you know it, when your body says ooh child, it won't be from pain. It'll be because things really are getting easier and brighter.