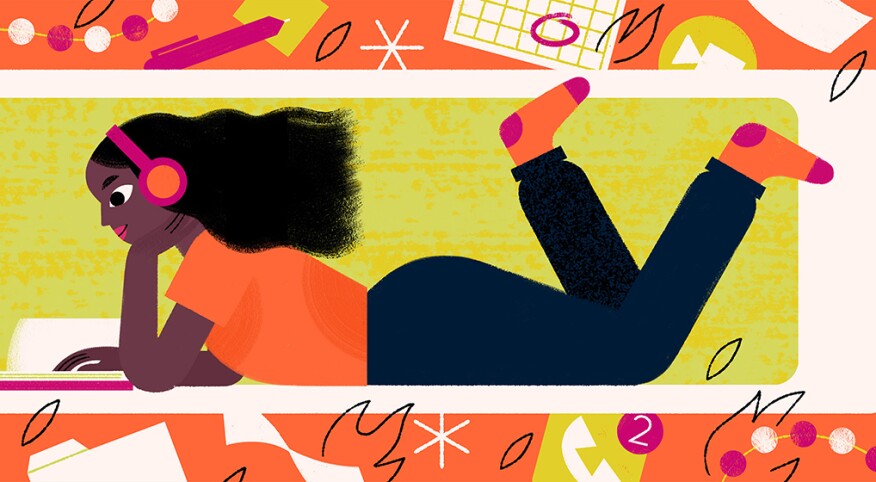 Quiet quitting. The Great Resignation. Burnout. These are all words buzzing both on the internet and in workplaces across America. And they all lead us to the same conclusion: We're exhausted! Even if you're retired, you may find yourself overwhelmed with obligations to your church, community or family.

Too often we Black women wait until we've reached our breaking point before we take a break. But what if instead of recharging after being burned-out, we precharge so we can avoid burnout altogether?

That's what actress Keke Palmer does, she revealed in a recent interview with Women's Health magazine. Before heading out for a promo tour for two of her biggest projects to date — starring with Daniel Kaluuya in Jordan Peele's Nope and providing the voice of Izzy in Disney/Pixar's Lightyear — Palmer retreated to a compound in California's Desert Hot Springs. There she meditated, practiced Reiki and yoga, and sipped wheatgrass juice. "I've learned over the years that to keep my sanity, and to physically keep this machine running, I have to pour into myself as often as I can," Palmer said.

But you don't have to take a jet-setting trip to a Reiki retreat to practice precharging for yourself.

How to "Precharge" and Beat Burnout

One of the best ways to avoid burnout is to make sure you're living a life that's more fulfilling than it is draining. La'Tish Thomas, a New York-based licensed clinical social worker and psychotherapist and the owner of Therapy Healing Spaces, says that to do this we must first get clear on our values.

Realign with your values. Thomas says we should frequently check in with ourselves to ask, "Am I aligning with my meaning and my values?" So if you say you value creative expression but you're not making time to write, draw, sing or dance, things might feel off. If you're thinking you don't have time for the things you value most, this could be a sign that you need to learn to ask for help.

"Are you communicating what you need, or are you assuming that other people around you know what you need and how to help and provide support?" Thomas asks. If relinquishing responsibilities at work or home is hard for you, start by delegating small tasks to build more trust in your partner, family members or colleagues, Thomas recommends.

Get comfortable with saying no. The first step to doing so is examining why you're always so quick to say yes, Thomas says. "Why is it OK for me to say yes to everyone else and not be able to say yes to myself?" she says you should ask yourself. "We've learned to not say no, to not set boundaries … and initially, it's going to be uncomfortable," Thomas says. "But as you practice and implement more, it'll become easier." At work, you may need to say no to taking calls and answering emails after a certain time or on the weekends. At home you may need to say yes to yourself by prioritizing self-care.

Reimagine self-care. Self-care doesn't have to be a trip to an exotic island. It can be as simple as escaping to the bathroom for a few minutes to listen to your favorite song, Thomas says.

Racquel P. Jones, a licensed clinical social worker and psychotherapist who specializes in therapy for Black and brown people, says that some of her favorite self-care practices to recommend to clients include journaling, meditating and reciting affirmations. "These things don't have to take that long," Jones says, adding that even 15 minutes of alone time each day can make a difference. "You can remind yourself that you're beautiful, that you're strong, that you're a good person and that you deserve to have a good life," Jones says.

And in case you need the reminder: Self-care isn't selfish.

"You can't do everything — that's impossible — and you're building an early grave," Jones says. "I remind [my clients] that they can't take care of anyone else if they're not taking care of themselves, because they're just going to be burned-out and tired and unhappy. And that doesn't help anyone."


I tried precharging for myself

I'm a full-time freelance writer and writing coach, and I recently had lots of writing assignments and appointments with clients on the horizon. So I decided to try precharging for myself. I didn't have the time or the funds to drop everything for a retreat in the desert, but I could attend a "Hump Day Getaway" being hosted by a local wellness center.

When I walked into the center that Wednesday evening, I immediately felt at ease as the sounds of Maxwell and Jill Scott flowed from the overhead speakers. A nice chair massage helped me fully relax. I then got to chat with other busy Black women about the importance of self-care while noshing on some healthy snacks. The evening was completed with a meditation session that took my sense of self-love to another level and made me confident I could continue a meditation practice on my own at home.

The precharge was a huge success! The mood boost I got at the hump day getaway elevated my sense of gratitude. I started to see everything on my to-do list as an opportunity, not an obligation. And as meditation continues to boost my self-love, I am committed to pouring into myself daily so I'm never running on empty again.