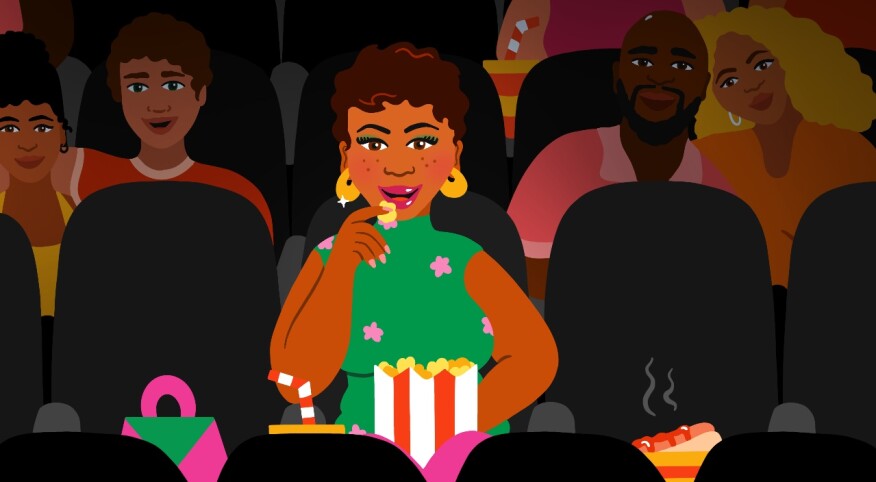 It's date night. Before heading out the door, I slick a fresh coat of color on my lips and spritz on a bit more of my favorite fragrance. And I do a quick mirror check to make sure my dress is fitting just right.

These are all the things I do before an outing with my husband and even with my girls, but tonight is neither. Tonight's outing is a solo date.

Since entering my 40s I've become a big fan of the solo date. Many marriage experts say you need to date your spouse, but I think you need to date yourself too. Whether you're single or in a committed partnership, your relationship with yourself needs to be a top priority.

"One relationship that we tend to neglect is our relationship with ourselves," says Mary Kashaa, an Alabama-based licensed professional counselor who believes solo dates are invaluable. "Practicing being in our own company is important as it gives you time and space to quiet the noise of your everyday life and check in with yourself mentally, emotionally and physically."

I started taking solo dates for the sake of my creativity, but I kept them going for the sake of my confidence.

In the classic book The Artist's Way, Julia Cameron recommends that artists and writers take themselves out for weekly artist's dates to fuel their imagination. As a writer eager to keep my muse moving, I gave it a try. But I soon found that solo dates not only helped my writing but also helped me feel more comfortable in my own skin.

For me, self-care boosts my self-confidence and solo dates have become my ultimate act of self-care. On a solo date you don't have to worry about making anyone happy except yourself. You can go to that restaurant your partner doesn't like but you love. You can check out that movie that your best friend says looks too silly.

Solo dates can also boost your confidence, simply because you learn to appreciate and enjoy your own company and you start to realize just how great you are!

"Regular solo dates have the ability to increase self-esteem and self-worth as you choose something intentionally to do just for you," Kashaa says. "This time also allows you to gather your thoughts and connect with yourself unfiltered."

I suppose I don't go on these solo dates completely alone. I usually bring my journal so I can have some moments of self-reflection.

Here are some things Kashaa says we should ask ourselves during our alone time:

Are you proud of yourself?

Are you frustrated?

Do you need more from yourself?

Do you need less of something?

"Solo dates are just as important as dates with your partner or spouse," she says. "Without intentional time with yourself, the harder it can become to know how you are feeling, what you need, as well as identify when you need help."


How to Feel Safe and Secure on Your Solo Date
It's completely normal to feel weird sitting in the movies or at a restaurant alone during your first few solo dates. But the more you take yourself out, the more comfortable you'll get with being alone in public spaces.

Feeling safe can be a bit of a challenge too. Here are some things to keep in mind:

Make sure someone knows where you are. Update the location sharing settings on your phone so that you can share your location with a trusted friend or family member.

Be aware of your surroundings. Avoid being alone in dark alleys and parking lots. If you go to a late concert, for example, walk with a crowd after the show. Or better yet, go to the matinee.

Keep an eye on your belongings. Keep your cellphone and wallet tucked away and your purse close to your body.

If you go out to eat, never leave your food or beverages unattended – especially if you're sitting at the bar.


Ways to Spend Your Solo Date
Try a DIY spa night. Ease into the idea of a solo date with a cozy night in. This is a great option if you're single or if your partner is out of town and you have the house to yourself. Light your favorite scented candles and press play on a calming playlist. Apply an exfoliating or moisturizing face mask and watch your favorite movie or binge a show you've been wanting to dive into. Try a hair mask and some under-eye patches too if you'd like, or a nice body scrub while you're taking a relaxing bath. Pamper your hands and feet, too, with a DIY mani/pedi.

Brunch so hard. If being out alone at night is too intimidating, opt for a solo Sunday brunch instead. If the restaurant has a bar, have your meal there if the buzz of other people nearby makes you feel more comfortable. Remember to bring a book or journal to avoid scrolling through your phone the entire time.

Try an artist's date. Take Julia Cameron's advice and take your inner artist on a date. Boost your creativity with a cooking, pottery, dance, painting, candle-making or floral arrangement class. Or head to your local art museum to browse the latest exhibits. You could go to a poetry reading or open mic night. Go see a play or catch Alvin Ailey American Dance Theater when they come to your town.

Take a walk. Go for a stroll through your local botanical gardens or along your favorite trail.

Start planning your first or next solo date today.