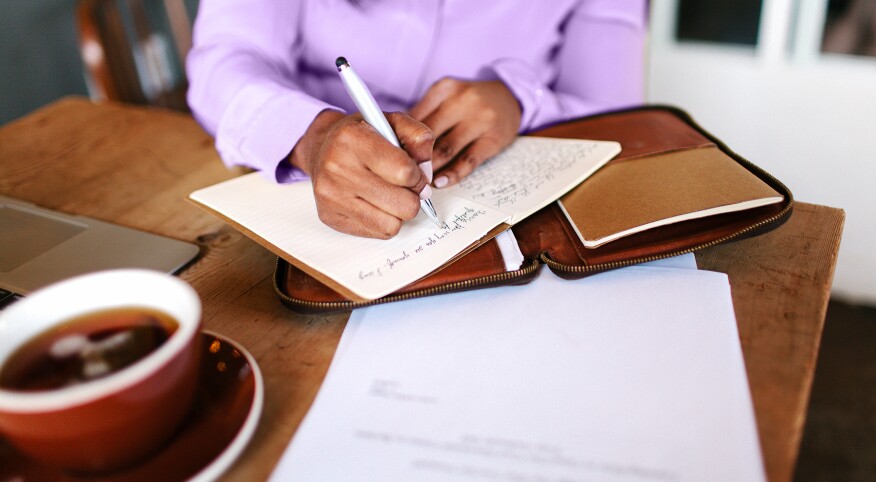 Iyanla Vanzant once said, "When you stand and share your story in an empowering way, your story will heal you and your story will heal somebody else."

Sharing my story helped me hold on to hope when the side effects from chemotherapy and the burns from radiation started to take a toll. Sharing my story also allowed me to connect with other breast cancer survivors and even women who weren't facing cancer but still had their own battles to fight.

First, I had to share my story with myself through the act of journaling.

How do I feel right now, and why? I'd sit on the side of my bed, on my sofa or in the cold chemo chair and allow myself to feel all my feelings without judgment. I wrote about how, while dreaming, I heard the hums and beeps of the infusion machines. I wrote about being angry that on most days, food tasted like sand.
I believe that no matter what war you're fighting, writing can be one of your greatest weapons.
Journaling was also practical. I noted advice from my doctors and nurses. I kept track of which foods I could eat and which ones made me gag. During treatment I walked every single day for at least 30 minutes — even on surgery days — and I journaled about how my walks made me feel, too. Cancer and cancer treatments can make you feel as if you have no control over your own body. But I felt I was reclaiming my power with every step.

I wrote about how surprised I was that I didn't cry when locks of hair began to fall into the shower after chemo. All my life I've been "the girl with the long hair," so I thought I'd lose my sense of self. I didn't. With no tresses to hide beneath, I felt I was seeing myself for the first time.

But this doesn't mean I didn't have dark and twisty thoughts. I kept thinking that even after I was done with active treatment, life would never be good again. Sure, I'd be alive. But with the side effects of follow-up therapies and worries about recurrence, would life be worth living? Will my heart race like this forever? Will my daily 30-minute walks always feel like 30 miles? Will the tingling in my hands ever go away?

What lies are my dark thoughts telling me, and what is the truth? Journaling has long been believed to improve mental health. But by helping to reduce stress, the act can improve your physical well-being, too.

But I knew that I had to process my feelings also. That meant examining those scribbled thoughts that had me crying myself to sleep.

Through journaling I drowned out these thoughts, reminding myself that whether or not life was good was completely up to me, not cancer.


Write about the future you desire

You may not be locked in battle with cancer right now, but I believe that no matter what war you're fighting, writing can be one of your greatest weapons. Try journaling in response to the questions above. But don't stop there. Try scripting as well.

Scripting is a type of journaling in which you write about the future you desire. I wrote about trips I wanted to take as if I were already on the beaches of Barbados or walking the Palm Jumeirah Boardwalk in Dubai. I wrote about the magazines I dreamed of writing for as if I had already seen my byline. I even wrote about the tacos and queso I hoped to enjoy again as if I could taste them in that moment. And with each word I'd get more excited, and more determined to see the future.

I would often do some scripting about December 31, 2020. I love New Year's Eve, and I knew that by the end of the year I would be done with active treatment. So, I wrote about how my husband and I would have a party of two to celebrate. And about how I would be able to eat queso dip and not get sick. Following my scripts, I'd take photos showing off the 1 inch of hair I'd grown back and post them on Instagram. I added a quote from my favorite Lucille Clifton poem:

come celebrate
with me that everyday
something has tried to kill me
and has failed.

Full-time freelance writing kept me sane. But my work also motivated me to share my story. Just as the women I interviewed for articles had stories that inspired others, I realized that my story could do the same. So, I began to share on social media, on my blog, in articles and interviews with print and digital media, and eventually in my book, which is a collection of essays showing how you can write your way through anything.

Soon women began to reach out to me to say they were inspired by how I was tackling cancer with grit and grace. Others were inspired to get the mammogram they'd been putting off. Survivors who'd felt ashamed of their diagnosis told me they would hide no more. With each woman my story touched, my sense of purpose grew, and I didn't feel that the tough times had been in vain.

I've always believed that stories have the power to change lives. But now I know stories have the power to save lives, too. Even though white and Black women are diagnosed with breast cancer at similar rates, Black women have a 41 percent higher death rate. I've encouraged other sisters to perform breast self-exams, get screened and learn about breast health.

This is the transformative power of words. I believe you should write, too. To benefit from the power of sharing your story, just start journaling. When you're ready, consider sharing a revelation or two with a friend who may benefit from your words.

These days my friends say I'm the epitome of the phrase, "You don't look like what you've been through." On December 31, 2020, I did all the things I'd scripted in my journal. I'm cancer-free, and I have the strength not only to walk but even to run and lift weights. I haven't been to Dubai or Barbados yet, but I go to a local beach to celebrate being alive.

Lulled by the ocean waves, focused on the blue horizon, I wrote this in my journal:

Though she knew her life and her body would never be the same, she also knew that different could be good. At the beach, she bared her scars and buried her toes and her cares in the sand. She danced along the shore, sunshine and saltwater caught in her curls.