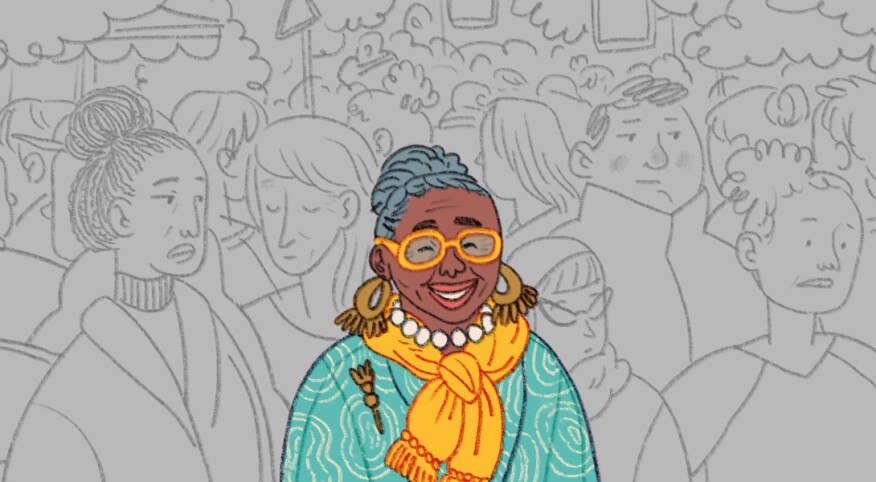 When I turned 70 and retired a couple of years ago, I noticed a difference in the way I was being perceived by strangers: I began to feel invisible. My friends and family acknowledged me, of course, but the greater public — the "just walking down the street" public — totally ignored me. No one seemed to notice or care who I was. It was as if everyone in this culture of ageism had agreed: You are done, your work is done. You are no longer needed. And with the kids and husband gone, your purpose to us is questionable.

Curious as to whether this was a unique experience, I observed other older women in my neighborhood. There was a common thread: Since there was no longer a need to dress up for work, we had reduced our daily wardrobe to what I call drab wear — gray, black, white, navy or brown garments, dark jeans, black yoga pants. We were camouflaged into the urban landscape and rarely interacted with others.

I, too, was beginning to fall into this pattern.

After a couple of months of noticing this, I decided to rebel against this trend. I took action. I changed my daily attire, becoming more visible by simply wearing more eye-popping colors as I went about my normal activities. I made no new purchases. These garments were in my closet, items I had purchased, maybe on impulse, but never felt daring enough to wear: a pair of red cropped pants, a chartreuse shirt, a hot pink cashmere sweater, a coral dress, a rust colored coat. I noticed an immediate difference in my interactions with others.

When I wear colorful clothes, I receive smiles, nods and positive comments from strangers and have some sparking conversations I otherwise would not have had. One day while crossing the street, two young women commented on how much they liked my orange suede jacket. One of the women was wearing purple, and we acknowledged how well our two colors went together. They were just returning from a multigenerational women's meeting and suggested that I join the group.

Another time, an older gentleman, who himself was wearing a pair of goldenrod corduroy slacks, started a conversation about the importance of color in his life. It turned out he is an author and was headed to the local bookstore to do a reading, which I attended. I made a new friend!

Why would such a small change make such a difference? I poked around online to find studies on how different colors influence our moods or behaviors, studies that try to find the psychological benefits of wearing colors. Numerous studies have been done, and while there are some differences of opinion among researchers, there are some general agreements as well.

For example, yellow tends to promote joy and is associated with optimism; green is associated with health and prosperity; red is an attention-getter; blue has been proven to be a calm, soothing color; orange or rust can produce feelings of warmth; while black and gray imply detachment. Research on color is most widely used by consumer marketing experts to influence our buying behaviors. Just check out the cacophony of colors in the supermarket.

Prove it for yourself. Experiment by adding more eye-catching colors as you go about your daily routines. You can expect positive interactions with others. Wearing colors will not stamp out the ageism often imposed by society, but we have the power to create more opportunities for conversation, making us all the more visible.