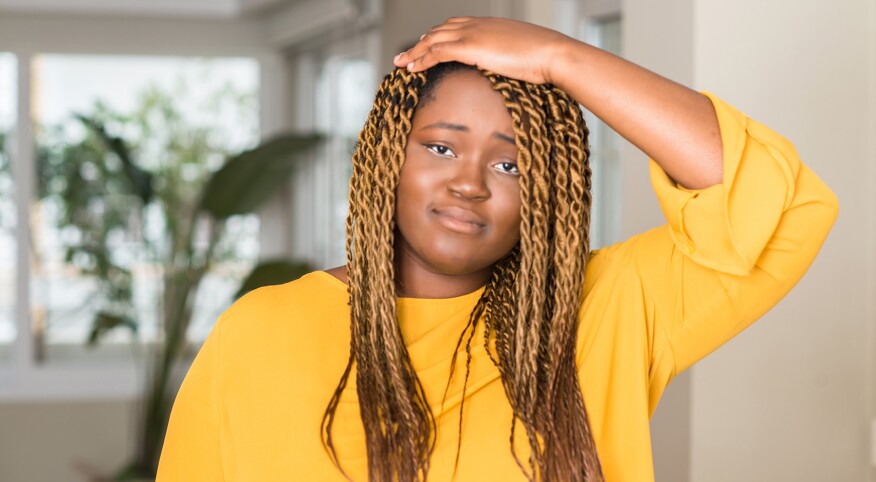 Braids, locs, twists — we love them all. These go-to styles are meant to protect your mane and can even promote hair growth if installed correctly. But sometimes, these stunning styles end up doing your tresses more harm than good. If rocking your favorite protective dos is putting stress on your scalp and strands, it might be time to drop some bad practices and start paying attention to the red flags. Here are some of the signs that your protective style is damaging your hair.


1. You're frequently popping painkillers

Many sisters are under the false pretense that their style will last longer if it's installed super tight to the point where it's pulling their scalp and causing headaches. But these are only the beginning stages of damage, according to Victoria Elliott, a London-based consultant trichologist at Trichosynergy Hair and Scalp Micropigmentation Clinic.

Folliculitis, inflammation of the hair follicles, can result from wearing tight protective styles. "The hair is pulled upward out of the follicle, with consistent traction allowing bacteria to enter the space," explains Elliott. She adds that if the person scratches the scalp, bacteria from the fingernails has an opportunity to enter the follicle, and any oils added to the scalp will also enter the follicle, causing sensitivity and itching.


2. Red bumps start to appear around your hairline

Red bumps with white tips around your hairline, itching, burning skin and pus-filled blisters while wearing your protective style are obvious signs of folliculitis and call for your style to be removed immediately. Applying a warm compress to your scalp several times a day might ease your symptoms. You can also try applying cortisone cream to your scalp to reduce itching and inflammation or an antibiotic ointment to prevent infection. To sooth your hairline, wash the area twice a day with unscented, antibacterial soap. If your symptoms don't improve, or if they start to get worse, see your doctor.

To allow your scalp to heal, you might consider avoiding braids, locs and twists and opting for low-tension styles, such as loose buns and ponytails that won't cause more inflammation to your scalp. If you decide to start rocking protective styles after you heal, Elliott suggests reinstalling your style every six weeks and using a deep treatment on your hair beforehand. Regular cleansing is also a must since poor scalp hygiene is a major factor in folliculitis.


3. You experience a burning sensation on your scalp

According to Elliott, when your strands are untethered, the follicles are relaxed and fairly closed. But when your tresses are in a tight style, they're being pulled at the root, causing a burning pain. "There is a blood supply and thousands of nerve endings and pressure sensors, [so] if your scalp begins to burn or there is any tightness … stop the installation immediately," she advises.

Good to know: Synthetic braiding hair is often coated in an alkaline base, which can irritate your skin. Avoid this by soaking the hair in an apple cider vinegar rinse, one part apple cider vinegar to three parts water, for about 20 minutes before installing.


4. You really feel the weight of the added hair

Love rocking those waist-length braids, twists and locs, but don't love the weight of them? Well, your scalp may not love it either. "Proportion will help a lot in this case because if the weight of the [hair] is not supported by the part, then it can be heavy and damaging," explains Alaya Ayala, professional braider and owner of NYC Butterfly Braids and DIY Hair Supply. Elliott adds that this type of pressure on the hair can cause breakage and traction, resulting in folliculitis. She also suggests changing your style direction-wise to minimize traction on particular areas.

Consider this: Knotless braids can be much kinder to your tresses, causing less tension compared to traditional braids.


5. You're losing hair or you notice thinning

There's no doubt that protective styles done wrong can wreak havoc on your strands. But as we age, our follicles begin to shrink and harmful styling practices can exacerbate thinning and hair loss. Try lightweight styles, like crochet braids. As Ayala explains it, you'll get lots of volume with this option, but the weight will be more evenly distributed because you'll have cornrows or a net that will take the pressure off follicles that might already be super fragile.

Pro tip: Amp up the moisture by spraying a mix of water and oil to your scalp and tresses as needed. "I like how the water carries through braids, twists and locs [versus just using an] oil sheen, which just sits there," says Ayala.